Keto Desserts ~ Easy Low carb Keto Dessert Recipes
Keto Desserts ~ Easy Low carb Keto Dessert Recipes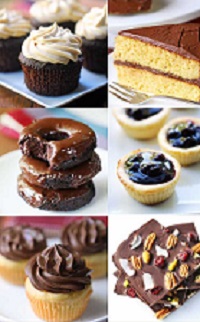 Eggs, vanilla essence, low-carb flours, and sweeteners that are compatible with the keto diet are used to make keto desserts. You can use a variety of natural keto sweeteners. Do not use artificial sweeteners such as aspartame or sucralose.
What Are Keto Desserts?
The term "ketogenic" refers to a low-carb diet. Fewer calories from carbohydrates and more from protein and fat is consumed.  The easiest-to-digest carbohydrates, such as sugar, soda, pastries, and white bread, are reduced the most.
The sweet course that comes after a meal is called dessert. Desserts that are high in fat, moderate in protein, and low in carbohydrates are known as keto desserts.
Keto desserts are packed with nutrients because they concentrate on good fats, high-quality protein, and no added sugar. Even if they are just dessert bits, those are the ones that matter.
Keto Dessert Recipes
If you have a sweet tooth, keto sweets can be a healthy way to satisfy cravings while also staying on plan.
Below are healthy keto desserts:
Keto chocolate recipes:
Chocolate chip cookies
Chocolate macadamia fat bombs
Crunchy keto berry mousse
Keto Death By Chocolate Cake
Hot Chocolate With Marshmallows
Keto Low-Carb No-Bake Chocolate Cheesecake
Low-Carb Chocolate Chip Cookie Dough Fat Bombs
Low-Carb White Chocolate Butter Pecan Candies
Halo Top Chocolate Cheesecake.
Keto Chocolate Pots de Créme
Chocolate Peanut Butter Cheesecake Bites
Dairy-free keto recipes:
Dairy-free custard tarts
Low-Carb Chocolate Chunk Cookie
Dairy-free keto egg custard tart
Keto ice-cream desserts:
Once you've made your own keto ice cream, it's difficult to taste the store-bought varieties. Below are some keto recipes to enjoy:
Keto coconut ice cream
Keto ice-cream sandwiches
Sandwiches with keto ice cream
Keto ice cream basics
Vegan vanilla ice cream
Mason jar ice cream
Creamy dairy-free keto vanilla ice cream
No-bake Keto recipes:
No-bake keto cheesecake
No-Bake Coconut Crack Bars
Keto No-Bake Cookies
No-Bake Keto Cheesecake
Baked keto recipes:
Keto brownie: you can serve a little scoop of any keto ice cream on top of a warm brownie
Lemon bars with a shortbread crust: they have the flavour of a warm summer day.
Cakes with coconut and lime: the keto lifestyle is made enjoyable and delicious by cupcakes with vibrant flavors.
Keto Carrot Cake
Keto lemon bars with shortbread crust
Low-Carb Italian Cream Cake
Keto Cheesecake With Raspberry Swirl
Keto Chocolate Mug Cake
Low-Carb Cinnamon Roll Coffee Cake
Keto cinnamon rolls
Quick Swedish keto hazelnut cookies
Low-carb coconut Instant Pot yogurt
Easy and Quick Keto Desserts:
These super easy keto desserts are as impressive as they are simple.
Mousse is decadent and simple to make: The pecans tucked into the mix of cream and berries provide a satisfying crunch.
No-bake cheesecake with toppings
Tips for easy keto dessert baking
If you prefer baking as a form of therapy, you might be interested in learning more about keto baking with products, such as sugar-, gluten-, and keto-friendly.
Baking Ingredients
Full-fat dairy products: can help since gluten-free dessert recipes cannot use the proteins in dairy for structure. The fat gives baked items flavor and a softer texture.
Eggs: Eggs provide baked goods structure, offer protein and fat, and aid in binding dishes like cakes, custards, and pancakes.
Almond flour: To add volume to keto-baked items, almond flour, which is produced from finely ground almonds, is frequently utilized. It can give baked goods a thick appearance and has a faint almond flavor.
Coconut flour: is extremely thirsty because it is made from dried coconut. Coconut flour baked goods frequently need a lot of eggs for structure.
Cakes do seem to be lighter when made with coconut flour, especially when combined with almond flour, which does have a mild coconut flavor.
Psyllium fiber powder: commonly known as ground psyllium husk, It also serves as a binding agent. A surplus of psyllium will result in sticky baked items.
Chocolate: Cocoa powder behaves like flour and gives cakes or brownies a velvety texture. Choose a sugar-free baking bar and add your own sweeteners if you're using chocolate solids, or use chocolate that has at least 85% cocoa content.
Sweeteners: use natural sweeteners in a lot of our keto sweets. Frequently, cream, berries, or other additives are sufficient for sweetness.
Fruit: The ideal sweetener for your keto baked goods can be found in nature. Berries can provide the ideal amount of sweetness when used sparingly.
Baking powder: A leavening substance that helps cakes rise and become fluffier.
Butter is measured once it has melted.
Your preferred milk: chose unsweetened almond milk, but any milk suitable for keto dieters would do.
Vanilla essence: is a necessity for any delectable dish.
Homemade keto chocolate frosting: which is created with chocolate.
Instructions:
In a small bowl, add the dry ingredients and whisk to combine.
Then, combine the eggs, butter, milk, and vanilla in a mixing dish and whisk until well-combined and frothy.
Blend until smooth after gently incorporating the dry ingredients.
Once the greased 9-inch pan is filled evenly with cake batter,
Bake for 37–40 minutes, or until a spear comes out largely clean.
Before frosting, the cake, take it out of the oven and allow it to cool fully.
Instructions for freezing and storing
To freeze: Put the desserts that have been frosted in an airtight container and keep them frozen for up to six months.
Other keto recipes:
Keto Dalgona Coffee
Keto Magic Bars
Avocado Brownies
Gluten-Free Low-Carb Spiced Keto Cookies
Keto Strawberry Rhubarb Crumble
Gluten-Free Keto Coconut Macaroons
Keto Brown Butter Pralines
Superfood Gluten-Free Gingerbread Cookies
Peanut Butter No-Egg Cookies
Fruit Pizza with Cream Cheese
Chocolate Almond Butter Protein Balls
Candied Pistachio Dessert Cups
Health Benefits of Keto Desserts
The ketogenic dessert might aid in weight loss: the ketogenic diet may aid in weight loss in a number of ways, including metabolic enhancement and appetite suppression.
Foods that fill you up are part of ketogenic diets, which may also lower hormones that make you hungry. These factors suggest that adopting a ketogenic diet may decrease hunger and aid in weight loss.
May cure acne: Acne has a variety of reasons and, in certain individuals, may be related to diet and blood sugar levels.
Eating a diet rich in processed and refined carbohydrates may change the balance of gut bacteria and create major swings in blood sugar, both of which can be harmful to the health of the skin.
May lower risk of some cancer: according to one study, certain cancer patients may benefit from using the ketogenic diet as a safe and effective supplemental therapy in addition to chemotherapy and radiation therapy.
Could raise heart health: cardiovascular disease risk can rise with high cholesterol levels. Because a keto dessert lowers cholesterol, it may lessen a person's risk of developing cardiac problems.
The review did come to the conclusion that the quality of the food is what determines how well the diet affects heart health. As a result, it's critical to eat a dessert that is nutritionally balanced and healthy.
May keep the brain functioning: a according to certain research, the ketones produced by the ketogenic dessert have neuroprotective properties, which means they help support and safeguard the brain and nerve cells. Because of this, a ketogenic diet may aid in the management or prevention of illnesses like Alzheimer's disease.  However, further study is required to determine how a ketogenic diet affects the brain.
Other symptoms include:
Significantly lessens seizure frequency
Reduction of PCOS symptoms
Side Effects of Keto Desserts
Numerous potential health advantages of the ketogenic dessert exist. However, may have negative health effects, including an elevated risk of the following conditions:
Kidney stones
Blood protein levels are too high
Deficits in vitamins and minerals
Fat accumulation in the liver
Many individuals refer to the negative side effects of the ketogenic diet as "keto flu." These negative outcomes could consist of:
Constipation
Fatigue
Low blood glucose
Nausea
Vomiting
Headaches
Poor capacity for exercising
FAQS
What dessert can I eat on keto?
The Finest Keto Desserts near you:
Chocolate bars from Lily's.
Dark chocolate choczero.
The Slimfast Keto Fat Bomb
Pecan Delights by Russell Stover.
Nut roll bar from Atkins.
Ketogenic Protein Bar.
Ice cream made by Rebel.
How do you satisfy a sweet tooth on a keto diet?
Almond butter smoothies and chocolate chia puddings filled desires.
A high-fat, low-carb diet is required for the ketogenic lifestyle.
Greek yogurt topped with fruit and peanut butter
Nut butter or nuts
Chia pudding with chocolate protein, strawberries, and peanut butter.
Protein smoothie with spinach, cinnamon, and almond butter.
Is Nutella a keto?
You might be wondering if Nutella is allowed on the Keto diet.
Although technically you can consume anything while on a ketogenic diet, even a small amount of something like store-bought Nutella, which is particularly high in refined sugar, is likely to cause you to exit ketosis.
Can I eat cheesecake on keto?
Since cheesecake contains a tonne of cream cheese, and eggs, and is extremely low in carbohydrates and heavy in fat, it is the ideal keto dessert.
Other than the sweetness and wheat for the base, not many items need to be changed.
What color is your pee when in ketosis?
Depending on the number of ketones present, ketones urine strips that have been dipped into urine will change color from pink to purple. Higher ketone levels are reflected by a deeper hue.
Can I eat popcorn on keto?
You can allocate your daily carbohydrate intake however you wish once you've determined how many your body needs to be in ketosis, but popcorn is a simple addition to a ketogenic diet
It is, in essence, a keto-friendly cuisine, according to Rissetto.
Which fruit is keto?
When consumed in moderation, fruits including avocados, raspberries, and lemons are suitable for keto diets. You would assume that fruit is off-limits on the popular, high-fat, low-carb ketogenic diet since it is heavy in carbohydrates.
What to eat on keto when you're craving carbs?
Consume vegetables low in carbs.
Asparagus, kale, spinach, broccoli, and other low-carb vegetables are among the foods with the highest nutritional contents. Fibre, an indigestible carbohydrate, is one of those nutrients.
Even though fiber is a carb, it won't cause you to enter or exit ketosis, a state when you burn fat.
What can I eat on keto when hungry?
Eating more nutrient-dense foods is one of the secrets to staying full on the keto diet.
Keto meats like ribeye steak, lamb, and pork are among the foods high in all nutrients, including fats, proteins, vitamins, and minerals. Fatty fish, including salmon, anchovies, and mackerel..
Do you poop less on keto?
Due to the body having less fibrous waste to eliminate, most people who follow a ketogenic diet defecate less frequently.
How often should you be pooping on keto?
A decent frequency to aim for is once daily or more. Your bowel motions ought to be just as simple, if not simpler, as they were while you were eating your old diet.
Is peanut butter keto-friendly?
As long as you monitor your intake and organize your other food choices, you can enjoy it while following the ketogenic diet.
How long will it take to reach ketosis?
If you consume less than 50 grams of carbohydrates per day, it usually takes 2-4 days to reach ketosis.
Nevertheless, certain individuals may require more time based on their degree of physical activity, age, metabolism, and carbohydrate, fat, and protein intake.
Is Cool Whip keto?
Cool Whip is keto-friendly because it won't cause you to enter or exit ketosis. However, Cool Whip isn't good for anyone when it comes to overall health and sugar in general.
Is whipped cream keto?
Whipped cream or heavy cream are frequently used by those following the ketogenic diet to produce treats like chocolate mousse that are suitable for the diet or as a sugar-free coffee creamer.
How do I know I'm in ketosis?
Once your blood ketone levels reach 0.5 mmol/L or above, you are in ketosis. Your ketone levels may decrease slightly after your body switches to using ketones as fuel.
How long can you stay in ketosis?
Although some people can successfully follow the ketogenic diet for a long time, there isn't many long-term data available, according to White Plains, New York, RDN Jill Keene.
Before adding additional carbohydrates back into your diet, Keene advises staying on the keto diet for no longer than six months.
Do you pee out the fat on keto?
The body creates ketones during the process of metabolizing fat; these ketones are then eliminated from the body through increased and frequent urine.
How fast is weight loss on keto?
Anecdotally, people claim to have lost anything between 1 pound (0.5 kg) to 10 pounds or more during the first week (5 kg). You are more likely to lose water weight after starting a ketogenic diet if you are larger.
Can you eat bananas on keto?
Fruits have a variety of health advantages, however, some fruits are problematic for those following a ketogenic diet. For example, grapes and bananas are abundant in carbohydrates.
A medium banana offers 24 grams of carbohydrates, compared to roughly 26 grams in 1 cup of grapes. These fruits should generally be avoided.
What vegetables can you not eat on keto?
Celery, tomatoes, spinach, and mushrooms are some of the greatest veggies for keto diets. Starchy veggies including beets, potatoes, and sweet corn may be avoided by a person. The intake of carbs is capped on ketogenic diets.
Can you eat yogurt on keto?
The keto diet is compatible with a variety of dairy products and dairy substitutes, including cheese, plain yogurt, cottage cheese, cream, half-and-half, and several unsweetened plant milk.
Can I have a cheat day on keto?
On the keto diet, you should stay away from cheat meals and days. It can take several days to a week for your body to return to ketosis after eating too many carbohydrates.
Your weight loss may be hampered in the interim.
How do you stay full on keto?
Ensure you appropriately complete tasks.
Make an effort to eat less.
Vegetables low in carbohydrates should be included.
Be sure to consume entire foods.
Ensure that you consume enough protein.
Consume some leafy vegetables.
Eat plenty of fats.
Drink a lot of water.
What food is unlimited on keto?
Suitable Foods for the Ketogenic Diet
Seafood and fish.
Low-carb vegetables.
Cheese
Avocados
Poulltry
Eggs
Healthy oils, seeds, and nuts.
Yogurt and cottage cheese plain.
Why did I gain weight on keto?
Even when in a ketosis state, people who overeat calories risk gaining weight. Compared to diets heavy in carbs and proteins, foods high in fat often have the much higher calorie content.
As a result, it's critical that people maintain track of their daily caloric intake.
What happens if I don't eat enough calories on keto?
You will feel hungrier on a keto diet if you don't consume enough fat. When you're starving, you're more likely to devour whatever food is nearby.
You will consume more calories and possibly more than you need if you snack frequently.
What is the whoosh effect on keto?
The whoosh effect is the idea that after a certain amount of time on a diet, your cells start to discharge all the water and fat they've accumulated.
The "whoosh" effect occurs when this process starts.
Does keto make you fart?
In addition, there is something known as a "keto fart," which is never to be trusted because it is always accompanied by looser stools and diarrhea and is never just a fart.
You've been made aware
Can I eat bacon on a keto diet?
It is (and also encourages you to eat it). Bacon is a particularly fatty kind of pork, making it a prime contender for a keto-friendly, low-carb breakfast.
What are the top 10 keto foods?
Olive Oil and Olives
Seafood, poultry, and meat
Low-Sodium Dairy (Cheese, Butter, and Cream)
Chocolate, dark
Berries
Allium vegetables such as garlic, onion, and others
Cocoa Butter
Seeds and nuts. Any diet can benefit from including nuts and seeds.
Can you eat oatmeal on keto?
Yes! Oatmeal that is pure and raw, rather than cooked beforehand, is a fantastic source of resistant starch, which is crucial for the Keto diet. And just 12 to 24 g of readily available carbohydrates are present in 1/4 cup to 1/2 cup (dry measure).
Can you eat apples on keto?
Even while an apple a day may keep the doctor away, a keto diet certainly isn't the place for them.
One medium apple contains more than 20 g of net carbohydrates, which is more than one person should have in a day.
Will a 16-hour fast put me in ketosis?
Eat a substantial meal at some point in the day to prevent hunger from taking control of your life.
Additionally, it's possible that fasting can induce ketosis in your body (without the need for the keto diet itself)
How can I speed up weight loss in ketosis?
Seven suggestions for overcoming weight loss plateaus
Track Carbs
Monitor calories
Watch Ketones
Trying to put sleep first
Reduce Stress
Consume Enough Protein
Fasting on occasion.
What foods increase ketones?
Pick low-carb keto diet foods that will assist your body in generating ketones. Your body can either use fat or sugar to produce energy, but it cannot do both at the same time.
Other excellent options include:
Asparagus
Cayenne peppers.
Broccoli
Sprouts from Brussels.
Cabbage
Cucumber
Eggplant
Green beans
Is Jello Pudding keto-friendly?
Because it is a high-carb processed meal and contains unhealthful additives including acesulfame K, palm oil, and modified starch, Jell-O Sugar-Free Vanilla Pudding Snacks should be avoided when on the keto diet.
Is almond milk keto-friendly?
Unsweetened almond milk is a healthy, keto-friendly alternative because it is fortified with essential nutrients and has just 1.4 grams of carbohydrates. On the other hand, sweetened almond milk has too many carbohydrates and sugar to be a part of a balanced keto diet.
Is Sour Cream keto?
A sour cream is a keto-friendly option, but it's crucial to avoid low-fat and nonfat varieties and always check the labels.
Is honey a keto?
The quick response is no. The keto diet calls for taking virtually no carbohydrates, yet honey happens to be high in carbs, which are healthy and acceptable sources of fuel for the body when consumed in moderation.
Can you have milk on the keto diet?
Dairy milk is not suitable for keto because it contains a lot of carbohydrates.
What are the negative side effects of the keto diet?
This could result in the keto flu
Could harm your kidneys
May result in changes to the gut flora and digestive problems.
Potentially cause nutritional deficits
Might lead to dangerously low blood sugar
It May be harmful to bone health
May raise your risk of developing chronic illnesses and dying young.
How do you survive the first week of keto?
During the first few days of keto, here are some suggestions for reducing physical and mental fatigue:
For the first week, eat very few carbohydrates (no more than 10g of net carbs per day)
Beginning your diet with an intermittent fast will help.
Strategically combine both low-intensity and high-intensity exercise
Can you do 5 days on 2 days off keto?
An ideal set of guidelines for a cyclical ketogenic diet does not exist. The conventional ketogenic diet should be followed 5–6 days a week, with 1-2 days of greater carb intake, for anyone who wants to start it.
How much weight can you lose in a month on keto?
In the first month, the usual weight loss is 10 to 12 pounds.
Will you gain all weight back after keto?
Thankfully, the response is no.
If you are careful during and after the change, you may not necessarily regain weight. People may decide to discontinue following a high-fat diet that keeps them in a state of ketosis for a variety of reasons.
Is peanut butter keto-friendly?
Per two tablespoons (32 grams) of peanut butter, there are 7 grams of total and 5 grams of net carbohydrates.
As long as you monitor your intake and organize your other food choices, you can enjoy it while following the ketogenic diet.
How many eggs a day on a keto diet?
Six complete eggs
The Keto diet is heavily reliant on eggs. Eggs are widely available, flexible, and packed with nutrients. Plus, due to their numerous advantages, eggs are frequently referred to as superfoods.
Can I eat salad on keto?
Salads are the perfect food for adding protein and remaining on the ketogenic diet because the keto diet is low in carbohydrates.
These keto-friendly salads, from egg to cobb, are the ideal side, main, lunch, or dinner for all your dietary requirements.
How long should you do keto?
3- to 6 months
Registered nutritionists caution that if you use it for an extended period of time, nutrient shortages may occur.
Can lemon kick you out of ketosis?
No.
How much do you lose a week on keto?
Anecdotally, people claim to have lost anything between 1 pound (0.5 kg) to 10 pounds or more during the first week (5 kg). You are more likely to lose water weight after starting a ketogenic diet if you are larger.
How many carbs will break keto?
The majority of ketogenic diet guidelines advise keeping your daily carbohydrate intake to 15–30 grams, or 5–10% of your overall calorie intake.
Consuming more than 50 grams of carbohydrates can endanger ketosis. The carbohydrate limits for ketogenic diets, however, differ from person to person.
Conclusion
A ketogenic diet, particularly keto desserts, drastically restricts or limits carbohydrate intake. Some carbs do, however, provide health advantages.
People should eat a range of nutrient-dense, fiber carbs, such as fruits and vegetables, coupled with wholesome protein sources, and healthy fats for a less restrictive dietary approach.
Remember that there aren't enough studies on the long-term advantages of the ketogenic diet. It is unknown whether following this diet for longer periods of time is more advantageous than following less restricting healthy eating patterns.