Keto Pancakes ~ Low Carb Keto Pancake Recipe
Keto Pancakes ~ Low Carb Keto Pancake Recipe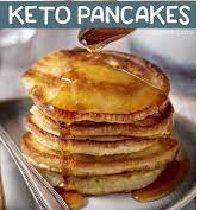 A pancake is a flat, mostly thin, and round cake made from a starch-based batter that possibly will include milk, eggs, and butter and cooked on a hot surface for example a griddle or frying pan, often with oil or butter. It's a kind of batter bread.
Pancakes made the old-fashioned way are not low carb. Sugar and all-purpose flour are two of the primary components of pancakes. They contain enough carbohydrates to increase blood sugar and destruct your keto diet.
Keto Pancake Syrup is a must for keto pancakes and it's less expensive to make than buying it from the store
The good news is that eating keto pancakes while following a low-carb diet is completely okay as a result; eating keto pancakes are good for those on the keto diet.
What Are Keto Pancakes
A pancake is a flat, frequently round, and thin cake made from a starch-based batter that may also include eggs, milk, and butter. Pancakes are cooked in heated oil or butter on a hot griddle or frying pan.
It is a variety of batter-baked bread. A keto pancake is made with ingredients that have nearly no carbs at all.
What is keto pancake mix made of?
Birch Benders Keto Pancake & Waffle Mix is grain-free and gluten-free with no added sugar.
It makes the best Keto, low-carb, and diabetic-friendly pancakes and waffles!
5g Net Carbs,
9g protein,
5g Fiber per serving.
Made with almonds, eggs, tigernut, coconut, cassava, and buttermilk
Nutritional Value of Keto Pancakes
180 calories
Cholesterol 115mg——-38%DV
Total fat 15g————–19%DV
Sodium 125mg————5%DV
Total carbs 4g————1% DV
Protein 7g—————14% DV
Potassium 140mg——3% DV
Iron 1mg —————6% DV
Calcium 53mg ——–4% DV
Keto Pancakes Recipe ~ Keto Pancake Recipe
Different keto recipes are depending on the major ingredients used. Here is a list of the best keto pancake recipes:
Fluffy Buttermilk Pancakes
Keto Blueberry Ricotta Pancakes
Keto Pancakes no flour
Peanut Butter Pancakes
Almond Flour & Flax Seed Pancakes
Keto Pumpkin Pancakes
Dirty Blondie Pancake Stack
Keto cream cheese pancakes
Keto banana pancakes
Vegan keto pancakes
Keto pancakes no egg
keto coconut flour pancakes
Coconut keto pancakes
3 Ingredient Keto Pancakes (Quick & Easy)
This super easy Keto pancake recipe is made with just almond flour, cream cheese, and eggs which is why it is called cream cheese keto pancake.
Ingredients:
Half cup almond flour
4ounces cream
Softened cheese
Eggs
Baking powder(optional)
Oil for frying
Instructions:
As you prepare the batter, heat a pan to medium and allow it to become hot.
The eggs should be quickly whisked together in a medium basin. They will become fluffier the more you whisk into them.
Whisk together the cream cheese and almond flour after adding them to the beaten egg whites.
About three teaspoons of your batter should be poured into your hot pan.
flip and heat until golden (about 2 minutes on each side).
Continue working with the remaining batter.
Butter and sugar-free syrup are ready to serve.
Keto Pancake with Almond Flour
There are several recipes for keto pancakes, including ones using cream cheese, coconut flour, almond flour, and others. Almond flour keto pancake is widely known.
How to Make Keto Pancake with Almond Flour
The quickest method is to cook a single, enormous, thick, and fluffy pancake in the microwave; this process takes less than a minute. These pancakes can also be prepared on a stovetop too.
Ingredients
Dry Ingredients
Almond flour: the appropriate texture can only be achieved with almond flour that is this fine.
Baking Powder: gives products a lift; use only fresh baking powder for best results.
Sea Salt: is optional but advised to balance the flavors.
The Wet Ingredients:
Eggs: utilize full, sizable eggs. These aid in leavening and assembling keto-friendly pancakes. A popular egg replacement is flax eggs.
Unsweetened Almond Milk: You may use any other keto-friendly milk for this, such as diluted heavy cream or coconut milk beverage (the liquid variety, not the thick one, in a can).
Essential Oil: any essential oil with a neutral flavor that is liquid at room temperature, like light olive oil, should work. Use regular olive or avocado oil; avoid using extra virgin; the oil should be nearly clear.
Vanilla Extract: is optional but flavor-enhancing. Additionally, you can combine it with other extracts, such as maple or banana.
Oil for Frying: To keep the number of ingredients modest, you can use the same oil from the batter for frying, or you can use ghee for a richer flavor.
Sprays made of coconut oil or avocado oil work as well. Avoid using butter since it can burn easily.
SHORTCUT: Use keto pancake mix: Simply incorporate eggs, oil, and your preferred milk.
Substituting the Almond Flour
These keto pancakes made with almond flour are gluten-free, as we've already discussed. It is therefore advisable to make them with almond flour.
Avoid using coconut flour as a replacement at all costs. Almond flour is not highly absorbent, while coconut flour is. Sunflower seed flour is the BEST option.
Traditional Pancakes on the Stovetop
As previously stated, you can also prepare these low-carb pancakes on your stovetop in a pan. Due to how thick and fluffy they come out, this recipe for almond flour pancakes may be the greatest one.
Additionally, the thick and fluffy taste of these keto pancakes truly comes through when they are cooked on the stovetop.
The steps include:
First, take a pan and place it on the stovetop with medium heat.
Pre-heat a pan and spray it with baking spray or butter.
Pour some of the pancake batters onto the pan once the oil or butter is heated.
Instructions for Cooking
How thick you create your pancakes with almond flour will undoubtedly affect how long you cook them. There are a few signs, though, that they are primed for a flip.
The pancakes will initially begin to develop a few bubbles. At that point, you'll also start to see that the pancake's "outer ring" is becoming lighter in color than the center.
When it occurs, it's a reliable sign that your keto pancake is prepared to be flipped.
Flip it over and then cook the other side for only a few seconds.
It shouldn't feel damp or spongy.
when the pancake feels firm to the touch, turn it from the fire
Put it on a platter and drizzle some own sugar-free maple syrup over it.
Alternately, try serving them with some of our keto caramel sauce.
Additionally, since these pancakes only have 2 NET CARBS, you can cook another batch if you get hungry again.
Storing and Reheating
Leftover keto-friendly pancakes should be refrigerated in an airtight container. They will continue to be edible for a few days. Use in 3 to 5 days.
The remaining keto pancakes can be frozen. Then, freeze them for an hour or two after spreading them out on a baking sheet or pan. Once they have become solid, place them in a freezer bag or other airtight container. For three to six months, freeze them.
Pancakes can be reheated in the oven or microwave. They should be covered with unsalted butter and heated through. They won't get dried out because of the butter.
How to Eat Keto Pancake
They are the ideal family-friendly keto breakfast option but could be eaten in the following ways:
It can be eaten as a main dish
Add some fresh berries or your preferred low-carb topping.
Pour some sugar-free syrup and add some butter for some serious goodness.
For pancakes, a pat of butter is always a good option.
Topping with sugar-free whipped cream is incredibly simple and delicious
You can either sprinkle nuts on top or chop them up and fold them into the batter.
you may either fold in chocolate chips or add them immediately before baking.
Health Benefits of Keto Pancake
Pancake made with almond flour is high in macronutrients and micronutrients. Protein, fiber, calcium, iron, magnesium, phosphorus, potassium, zinc, and copper are all abundant in this healthful low-carb bread.
The vitamins thiamin, riboflavin, niacin, B6, folate, choline, vitamin A, and vitamin E are also present in keto bread.
Aids in Weight Loss: Fibre-rich and keto bread are both excellent tools for losing weight. Studies show that eating foods with low carbohydrate content helps you lose weight quickly.
Promotes a healthy heart: Keto pancake is a great source of fiber, magnesium, and zinc for a healthy heart. These three combinations are all extremely beneficial for the heart and lower the risk of developing heart disease.
Skin Damage Reduction: The almond flour keto pancake contains a lot of vitamin E. This fat-soluble antioxidant reportedly shields the skin from UV rays by functioning as a free-radical scavenger.
Prevents Stomach Disorders: like Gas, Constipation, and diarrhea. Glutamate in keto pancake lowers the likelihood of stomach issues such as gas, constipation, bloating, and diarrhea by enhancing and strengthening the intestinal barrier.
Keto pancake prevents diabetics: keto pancake has a lot of fiber, a well-known anti-diabetic substance. Foods high in fiber may help prevent type 2 diabetes, as well as help lower the HbA1c and fasting blood sugar levels associated with pre-diabetes.
keto pancake reduces blood pressure: Keto pancake has a reduced carbohydrate content, which lowers blood pressure. Potassium-rich keto almond flour bread has the potential to lower blood pressure.
Strengthening Bones & Teeth: getting enough calcium helps prevent bone conditions like osteoporosis. Additionally, calcium contributes to tooth strength.
Zinc promotes mineralization, osteoblastic bone production, and bone development while magnesium lowers the risk of osteoporosis and aids in maintaining bone integrity.
Side Effects of Keto Pancake
Keto almond flour pancake has the same negative effects just like all keto diets do. The side effects of keto almond flour bread, include an elevated risk of the following conditions:
Kidney stones
blood protein levels are too high
deficits in vitamins and minerals
fat accumulation in the liver
Many individuals refer to the negative side effects of the ketogenic diet as "keto flu." These negative outcomes could consist of:
constipation
fatigue
low blood glucose
nausea
vomiting
headaches
poor capacity for exercising
FAQs
What are keto pancakes made of?
Eggs and cream cheese are the main components of many keto pancake recipes. They're not terrible, but they have an excessive amount of tang and are a little eggy.
These pancakes are slightly more cakey thanks to the addition of almond flour, and the flavor is further enhanced by the addition of lemon zest.
What do Keto pancakes taste like?
I think they'll taste almost identical to normal pancakes.
Which pancake mix has the lowest carbs?
birch benders keto pancake and waffle mix.
lakanto pancake and waffle mix.
swerve pancakes and waffle mix.
bob's red mill low carb all-purpose baking mix.
What can I eat on my Keto pancakes?
Topping ideas for your Keto Pancakes:
Low carb syrup
Sugar-free jam.
Butter
Bacon
Berries
Peanut Butter.
Can you buy keto pancake mix?
A variety of low-carb and keto-friendly pancake mixes and syrups are now produced by firms including PBCo, The Monday Food Co, Lakanto, and more and are great for whenever you feel like a pancake.
Which pancake mix has the lowest carbs?
Low Carb Pancake Mixes
Birch benders keto pancake and waffle mix.
Lakanto pancake and waffle mix.
Swerve pancakes and waffle mix.
Bob's red mill low carb all-purpose baking mix.
Does Costco have keto pancake mix?
Costco fan account @costcobuys was delighted to discover Birch Benders keto pancake mix at their neighborhood store.
Is gluten-free pancake mix Keto friendly?
The fact that Bob's Red Mill Gluten Free Pancake Mix is a processed product with a high carb content and contains unhealthy elements like sugar and tapioca fiber makes it incompatible with the keto diet.
Why do my keto pancakes fall apart?
If that occurs to you, you might not have given the keto pancake enough time to cook before flipping. Allowing the pancakes to bubble before flipping them is the key to preventing them from crumbling.
Conclusion
For those following a ketogenic diet, a keto pancake is a simple and fast breakfast option. The preparation time is less than 10 minutes, and getting the ingredients is simple.
Different nuts can be used to decorate it. However, allergy and carb concerns should be considered. The good news is that when stored properly, it lasts a long time.