Power Horse Drink for longer lasting and Performance Booster
Natural Power Horse Drink for longer-lasting and Performance Booster
What to drink to last longer in Nigeria – Traditional drink for satisfaction fulfillment?
It is an African culture or will I say a Nigerian thing for a man or woman to perform and the man wanting to impress her partner or both trying to impress each other normally.
A lot of young men out there are suffering from erectile dysfunction, weak erection, and premature ejaculation.
Apart from eating natural foods to help you last longer; there are power horse drinks that can help you become a master of the game
What do Nigerian men drink to last longer in bed? Power horse Energy Drink
This drink will make you boost your libido and enhance your performance and stamina
It will turn you from a 14 seconds man to a 3 hours man and you will become a celebrity in the eyes of your woman overnight because of your "gbegbesugbe" activities.
Power horse Drink: Natural herbs to last longer Nigeria
The ingredients used in the formulation of this power horse drink are all-natural, and they are all made from herbs and plants namely:
Ginger
Alligator pepper
Bitter Kola
Ginger – Power horse Drink
In a man's body, what does ginger do?
Ginger is high in antioxidants, which protect your body's DNA from stress and harm. They may aid in the prevention of chronic diseases such as high blood pressure, heart disease, and lung disorders, as well as promote good aging.
Here's what scientists have to say about ginger and intimacy
Ginger may help men and women feel more aroused and intimate by lowering blood pressure and increasing blood flow.
Is it true that ginger might help you stay longer?
Ginger juice is a powerful aphrodisiac that can aid with impotence and premature ejaculation. It also makes you last longer during gbegbesugbe
Pepper Alligator – Power horse Drink Ingredient
Alligator pepper benefits for man. This herb has a spiritual side to it, but we won't get into it today. Check out one of my videos titled "Alligator Pepper seed for True Love."
The spice alligator pepper is no strange name to West Africans. It boots intimate desire in a short period." It aids in easier penetration, firmer, and longer erections. Aids in the delay of ejaculation
Other Alligator pepper benefits include:
Treating wounds and burns. Contains properties that are rich in a high fiber, which ensures the fast regeneration of tissues and wound healing
Addresses erectile dysfunction
Helps in weight loss
Maintaining blood sugar
Boosts libido
No wonder it's so expensive in the market.
Bitter kola – Power horse Drink Ingredient
What role does bitter kola play in the human body?
Bitter kola has long been used to treat diseases ranging from the common cold to hepatitis. According to a 2018 study, bitter kola can aid in the treatment of coughs, bacterial infections, and viral infections. When infection first appears, eating bitter kola may help you fight the infection and recover faster.
Bitter kola is beneficial for improving passion performance, particularly in guys. Bitter Kola boosts the performance of males who drink it, as well as increases their passion. It is recommended that you chew the kola for at least two minutes before the act for it to be effective.
How to Prepare Power Horse Drink
This is very easy and doesn't take much time. Please refer to the video above on how to make this power horse drink
Other drinks to help you last longer in Nigeria include:
These drinks, herbs, are the Nigerian natural remedies you can use but I advise you to stay away from the dangerous ones I termed illegal and unsafe.
Kakai Bitters
Adonko bitters
3. Bie Gya Bitters
4. Agya Appiah Bitters
5. Chairman Bitters
6. Orijin Bitters
7. Joy Dadi Bitters
8. Pashew Bitters
9. Shatta/SM Bitters
10. Cargo Gin Bitters
11. Don Papa Ginseng Bitters
12. Alomo Bitters
13. Pusher Gin Bitters
14. Ogidigidi Bitters
15. Captains Bitters
16. Joy Twedee Ginger Bitters
17. Herb Afric Gin Bitters
18. Alafia Bitters
19. Odo b3b3 Bitters
20. Playboys' Bitters
21. Big Boss Herbal Gin Bitters
22. Odenden Bitters
23. Nana Takyi Bitters
24. Happy Man Bitters
25. Opeimu Herbal Bitters
26. Kalahari Bitters
27. Soloku Bitters
28. Barima Nsuo Bitters
29. Boboobo Bitters
30. Piaaw Bitters
31. Adutwumwaa Bitters
32. Prekese Bitters
Hammer Bitters
34. Atadwe Bitters
35. Kpokɛkɛ Bitters
36. Odo aba Bitters
37. Hye so Bitters
38. To mpa Bitters
39. Atene Bitters
40. Sei hor Bitters
41. Butubutu Bitters
42. Burukutu
43. Joy sokoo bitters
43. Round 2 bitters
44. Odeneho bitters
45. K 20
46. Amotekun Bitters
47. Pasa Bitters
48. Kakaraka Bitters
49. Yaahu
50. Igboya herbal bitters
51. Action Bitters….
52. Alabukun
53. Boonfit manpower
54. Jekomo manpower
55. Senuebo Manpower
56. Baby oku
57. Mudet
58. Kolaq
59. Erujeje
60. Black Wood
61. Bajinotu Poka
62. Kogbebe
63. Dadubule
64. Scoogies
65. Monkey tail
66. Sepe
67. Bulldozer
68. Kparaga,
69. Kerewa,
70. Koboko,
71. Opa Eyin,
72. Ogidiga,
73. Wiper Bitters,
74. Edges Bitters,
75. Agbara Bitters,
76. Osomo Bitters,
77. Ibile Bitters
78. Agra Appiah Bitters
79. Gallant
80. Kunu Aya drink manpower.
81. Kunu + date combo
82. Yoyo bitters
83. Tiger nut drink
84. Watermelon
85. Kunu mixed with tiger nuts
86. Red wine.
87. Burantashi (a very potent hausa manpower, it works so well but most be taken with moderation and care)
88. Honey is an aphrodisiac
89. Some men use small stout (guiness stout) as manpower
90. Tramadol or Tramal or trams is a manpower for some men- very unsafe
91. Palm wine.
92. Coconut water is a potent manpower.
93. Akamu or pap
94. Guguru and epa (roasted corn and groundnut)
95. Nuts eg groundnut, cashew nut, walnut, peanuts are manpower
96. A combo of tiger nut, dates and coconut
97. Ruzu bitters
98. Bitter kola and fermented bitter kola water
99. moringa tea
100. Turmeric tea
101. Guava leaf tea
102. Kayan mata
103. Kayan maza
104. Soursop leaf tea
105. Benyllin and codeine (illegal manpower)
106. Sidenafil
107. Tadalafil
108. Cialis
109. Banana alone or banana and groundnut
110. Yoghurt can delay ejaculation and make you last longer in bed.
111. Ogogoro
112. Water (for some men)
113. Goron tula
114. Colorado (illegal and dangerous)
115. SK (illegal, unsafe and not recommended)
116. Burukutu
117. Coconut water and abere helps in erectile dysfunction.
118. Okra soaked in water or simply fermented okra water.
The Bottom Line – Warning on Power horse Drink
These are the drinks you can consume in Nigeria to help you survive longer. Even though the above Nigerian drinks can help you stay longer, if you rely on them or consume them in excess, they may cause significant side effects in the long run.
The intake of local concoctions and alcoholic plant mixes advertised as medicines have been related to a rapid increase in renal and liver failure.
Avoid abusing libido boosters such as Tramadol and Vega 100, as well as drinking Action bitters, Alomo bitters, Monkey tail mixtures, and other drinks to help you last longer.
These products are not safe, and NAFDAC strongly advises against using them.
Adopting natural methods and changing some of your lifestyle habits can help you improve your stamina and stay longer without causing any negative side effects.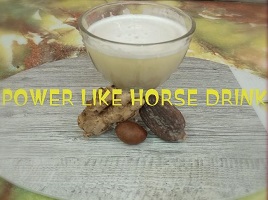 If your premature ejaculation is caused by a hormonal problem, we strongly suggest you contact your doctor, who will likely prescribe vitamins to help enhance your hormones.