Tomato Puree ~ How To Puree Tomatoes At Home
Tomato Puree ~ How To Puree Tomatoes At Home. Please Watch >>>>
Tomatoes are among the most generally cultivated fruits in the world. In Nigeria, you can eat fruits while fresh or as a processed products. It is grown in many states in the North and the Middle Belt.
Tomatoes are nutritious; they are rich in vitamins, minerals, carbohydrates, and proteins. It is also, one of the most commonly used versatile vegetable crops in Nigeria. Tomatoes are seasonal and since we do not have good storage facilities in Nigeria, one of the best ways to store your tomatoes is to puree them.
WHAT IS TOMATO PUREE 
Tomato puree is a thick, red concentrate or paste made from blended tomato pulp. Cooking essential in most Nigerian homes, tomato puree is a fast way to prepare and freeze a heap of fresh tomatoes for future cooking.
USES OF TOMATO PUREE
Tomatoes puree can be turned into tomato sauce or tomato soup. This puree can be used for tomato stew, jollof rice, egg sauce, tomato sauce, or for whatever recipe calls for tomato puree. Even though you can buy tomato puree in a store, the finest and freshest tomato puree is homemade. What's more, I will show you a quick and easy way how to puree tomatoes at home.
Also Read: Recipe for Nigerian Beef Stew
We all know that tomatoes contain lots of water and even more water when you blend them fresh because you need to add water for easy spinning. So what I normally do is boil for a few minutes thereby making it soft and shrinking, drain the liquid and allow a cooling off before finally blending.
Ingredients for tomato puree
15-20 healthy full balls of red tomatoes
5 red bell peppers (Tatashe)
2 medium onions
3 scotch bonnets (Atarodo)
1 medium ginger
3 cloves of garlic
How to Puree Tomatoes At Home
First of all, select your tomatoes-you must be choosy in selecting a better qualitytos in order to achieve tomato puree that has a good taste.
Secondly, prepare your tomatoes by rinsing the tomatoes with peppers severally in clean water. Remember to remove the blemishes in the process.
Similarly, prepare your seasoning and flavors. If you're using dry seasoning, add it along with tomatoes for blending.
Then, add tomatoes, peppers, ginger, garlic, and onions into a medium-sized pot, without adding water. Place a lid over it and put on the heat.
Cook these for 5 minutes, the tomatoes will shrink and turn very soft. Drain out the liquid with a colander and leave to cool.
After that, Transfer the mixture into a blender and blend without water until very smooth.
That's it on how to puree tomatoes at home. Your tomato puree is now ready for use or storage. Top it with little vegetable oil and sea salt and pour in a zip-lock bag while storing in a refrigerator. You can also use it immediately for your favorite recipe.
FAQs
How is tomato puree made? How to make tomato puree at home
To make tomato purée, lightly cook and purée toes; the end result is a thick liquid that is used as the foundation for tomato-based sauces and salsas.
Tomato purée can be found in the canned tomato aisle of most supermarkets.
How to do puree tomato by hand?
The tomatoes should be cut in half. Remove the seeds with a spoon. Prepare the tomatoes by chopping them.
Purée the cooked chopped tomatoes with an immersion blender, standard blender, or food processor.
How do you can pureed tomatoes?
Fill each jar halfway with hot tomato puree, leaving about ½-inch headspace at the top of each jar.
Put on the lids and secure them with the rings. Place the jars in the canning kettle and bring them to a boil for 40 minutes. At least 1 inch of water should cover the jars.
How do you prepare a basic puree?
Puree Tomatoes ~ How to Make a Vegetable Puree
Wash, peel, and dice your preferred vegetable.
Place all of the diced vegetables in a steamer basket and steam until soft enough to squish with one finger-but no more.
In a blender or food processor, combine the cooked vegetables with the butter and cream, if using.
To Puree Tomatoes ~ How do you make your own good pureed tomatoes?
Puréeing in 2 Simple Steps
Place the chopped food in a blender or food processor, followed by adding liquid to cover the food
Close the lid and puree the foods until smooth and homogeneous. If the mixture is too dry, add liquid by the tablespoon and continue to blend until the desired consistency is reached.
What's the difference between tomato paste and puree?
Tomato puree and tomato paste are both essential ingredients, but they are made and used differently.
Tomato puree is a blended tomato with a milder flavor similar to fresh tomatoes, whereas tomato paste is concentrated tomatoes with a sweeter and richer flavor.
How do you make tomato puree without a blender at home?
It is critical to use a wired mesh rather than a perforated mesh because the latter does not produce a smooth tomato puree.
Squeeze the tomatoes through the mesh into a bowl with a spoon until the roughages are left in the mess and the puree in the bowl is smooth.
Is it possible to make tomato sauce from whole peeled tomatoes? Can tomatoes be pureed?
REMOVE the tomatoes' peels and place them in a food processor or blender.
Then, PUREE the tomatoes until smooth, adding a few dashes of salt if desired.
Can we make tomato sauce without a blender?
You may be wondering how to puree tomatoes without a blender. You'll only need a potato masher for this.
Take a masher to your soup and mash it until it reaches the desired consistency.
Which tomatoes puree has the best reviews?
Kissan was the only contender in which the tomato flavor did not diminish after cooking. Kissan Tomato Puree contains no artificial sweeteners, colors, or preservatives.
The puree contains 36.8% tomato paste.
How do you improve the taste of tomatoes puree?
With some sautéed garlic and onions, everything tastes better.
Sauté finely chopped onions and garlic in olive oil until fragrant and golden, then add the sauce and let it simmer for a few minutes to allow the flavors to meld.
How long does tomato paste keep in the refrigerator?
Shelf Life Suggestions
Refrigerate canned or packaged tomato puree in a covered glass or plastic container after opening to extend its shelf life.
How long will opened canned tomato puree keep in the fridge?
Tomatoes puree that has been refrigerated continuously will keep for about 5 to 7 days.
Is it possible to puree in a blender?
Food can be pureed using a blender or food processor. If you have difficulty chewing or swallowing, pureed foods are essential.
Changing solid foods so that they don't have to be chewed can make them safer and easier to swallow.
Is homemade tomato puree healthier?
Yes, homemade tomatoes puree is extremely healthy because it contains no sugar or preservatives.
Furthermore, it is made with only tomatoes and water.
What is the pureeing procedure?
To blend, grind, or mash food until it is thick, smooth, and lump-free.
Pureeing can be accomplished in a blender, food processor, or food mill, or by pressing the food through a sieve.
How to Make Tomatoes Puree at Home ~ how do you make and preserve/store tomatoes paste?
Instructions
Firstly, preheat the oven to 350 degrees Fahrenheit.
Then, cut tomatoes into quarters.
After that, simmer the tomatoes in oil and then pass the tomatoes through a food mill.
Now, arrange the pulp on two baking sheets.
Meanwhile, bake the tomato pulp until it has reduced to a paste.
Continue baking until the liquid has been reduced by more than half.
Lastly, spoon the paste into jars.
Tomato puree substitute
Tomatoes paste and water in equal parts! This produces a taste and texture that is nearly identical to the tomatoes puree. Most cans of tomatoes puree contain this ingredient.
For ½ cup tomatoes puree, substitute ¼ cup tomato paste + ¼ cup water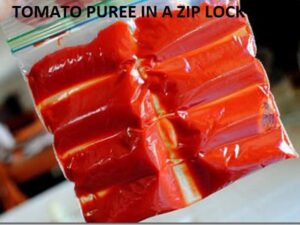 HAPPY COOKING!