Benefits of Bitter Leaf Juice & Side Effects
Benefits of Bitter Leaf Juice & Side Effects. Please Watch >>>
Bitter leaf is a vegetable that is used to make the well-known Bitter leaf soup. It's called onugbu by the Igbos, ewuro by the Yorubas, and shiwaka by the Hausas.
Checkout >>>
The bitter leaf is mostly used as a vegetable by the Igbos of Eastern Nigeria, whereas it is primarily used as a medicine by the Yorubas.
It can be used as an active anticancer and antibacterial agent because of its characteristic bitter taste.
What is Bitter leaf? Benefits of Bitter Leaf Juice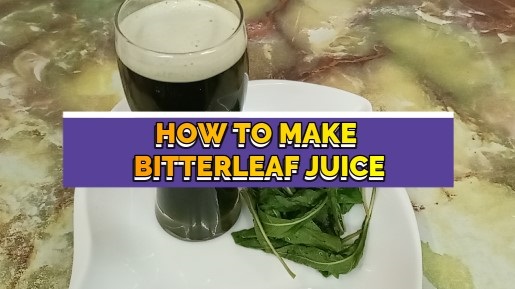 Bitter leaf, also known as Vernonia amygdalina, is a tiny shrub or tree that can grow to 23 feet tall when fully developed.
Vernonia amygdalina has a flaking bark that is grey or brown in color and has a rough feel.
The herb is a native African medicinal plant that can be found in most regions of Sub-Saharan Africa.
All the plant's parts including the leaves, stems, and roots are used in medicinal herbs.
Alkaloids, saponins, flavonoids, phenolic compounds, sesquiterpene lactones, and other compounds are found in the leaves.
Nutritional Benefits of Bitter Leaf Juice
Vernonia amygdalina has medicinal benefits that range from antibacterial to ornamental, according to medical specialists.
Furthermore, the herb provides the nutrients listed below:
Iron
Magnesium
Selenium
Calcium
Carotenoid
Phosphorus
Zinc
Fiber
Potassium
Sulfur
Copper
Ascorbic acid
Sodium
Uses of Bitter Leaf ~ Health Benefits of Drinking Bitter Leaf Juice
From the leaves to the roots, every part of this bitter leaf is bitter. This plant's bitterness is really beneficial to health.
Even though this plant has been around for centuries, just a few people are aware of its medicinal and healing capabilities.
It helps to cleanse vital organs of the body like the liver and the kidney.
Vernonia amygdalina is used to treat parasitic worm-related diseases.
Fever, digestive problems, and joint aches can all be treated with the leaves.
It is also used to treat skin illnesses such as eczema, rashes, and ringworm.
Regular use of bitter leaf aids in the regulation of bowel movements.
Taking this medicinal leaf regularly can assist to keep blood cholesterol levels in check.
How to Extract the Bitter Leaf Juice ~ How to Prepare Bitter Leaf Juice
When you consider that simply touching a bitter leaf can leave your hands tasting bitter for hours, you can imagine the struggle of drinking bitter leaf juice. Though some people combine bitter leaves and milk to reduce the bitterness.
To produce Vernonia Amygdalina juice in a rural way, rub the clean leaves between your palms with a little water and squeeze the juice out of the leaves.
Bitter leaf juice can also be gotten by using a juicer or blender.
Firstly, place the washed leaves in a blender, add the desired amount of water, and process until the desired texture is achieved.
After that, drain the juice into a cup or jug using a strainer.
Dosage
Drinking a cup of bitter-leaf juice twice a day can help with gastrointestinal issues.
How to preserve bitter leaf juice ~ how can you keep bitter leaf juice fresh for a long time?? 
To save time, a large quantity can be washed all at once. To keep the fluid fresh, add some honey.
Bitter leaf extract that has been stored for more than twenty-four hours loses its bitterness but retains its potency
Health Benefits of Drinking Bitter Leaf Juice ~ Benefits of Bitter Leaf Juice
Vernonia amygdalina is a medicinal plant with a high nutritional value due to the presence of vitamins and mineral salts.
It is a significant protective food that is beneficial for maintaining health as well as the prevention and treatment of many ailments.
The following are some of the health advantages:
Helps to lower blood pressure.
It may aid in the prevention of prostate cancer.
Helps with fertility
Lowers the risk of cancer
Bitter leaves can aid with sleeplessness.
It is a booster for breast milk
Recommended for the treatment of wound
The herb is beneficial to the bones and teeth.
Strengthens the liver and kidneys
Assists in the treatment of stomach problems
Assists in weight loss
Aids in the removal of a fever
Helps to clear fevers
Treats stomach upset
Assists in the fight against free radicals
Cleanses the body
Boosts the body's metabolism
Improve the reproductive system's performance
Side Effects of bitter leaf juice
Finally, the bitter leaf juice should only be consumed in a moderate amount.
What are the side effects of the bitter leaf?
1. Rash is one of the possible side effects.
2. It makes you lose your appetite.
3. It may lead to a runny nose
4. Excessive use of Vernonia Amygdalina juice, can cause diarrhea.
5. It causes Fatigue
6. It may cause Vomiting
7. Headache