Black Cumin/Nigella Sativa/Miracle Seed Oil Benefits
Black Cumin/Nigella Sativa/Miracle Seed: Cumin Seed Oil Benefits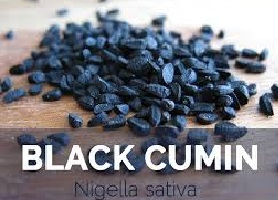 The Black cumin is a wonderful spice with a lot of potential for treating a variety of ailments.
Millions of people in Asia, the Middle East, and Africa have used the Black Seed herb and oil to support their health for centuries.
It has been traditionally used for a variety of conditions and treatments related to respiratory health, stomach and intestinal health, kidney and liver function, circulatory and immune system support, and general overall well-being.
It looks similar to a sesame seed except it is black in color.
Nigella sativa common name/Miracle Seed other names –
Miracle Seed is the common name for Nigella sativa. Other names include black cumin, nigella (or Nigella sativa in scientific terms), black caraway, Roman coriander, kalonji, and fennel flower.
Black Seed is also known as Black Cumin Seed, Black Caraway Seed, Habbatul Baraka (Blessed Seed), and "Nigella Sativa" in the botanical world.
It can reach a height of 12 inches (30 cm) and produces a fruit with seeds that can be used as a flavorful spice in a variety of dishes.
What is cumin called in Hausa?
Il-kemmu… Dumin.
What is black cumin seed called in Nigeria?
In the Yoruba language, the black seed is called asofeyeje, though not too sure if this is the most accurate name
What is miracle seed called in the Igbo language
Mkpụrụ cumin ojii
What is the purpose of black cumin? What is cumin black seed used for?
The medicinal use of black cumin seeds in various traditional herbal systems is known for a wide range of ailments, including various airway disorders, chronic headache and back pain, diabetes, paralysis, infection, inflammation, hypertension, and digestive tract problems.
Black cumin powder ~ what is black seed powder good for
Black seed is now used to treat gastrointestinal issues such as gas, colic, diarrhea, dysentery, constipation, and hemorrhoids.
Asthma, allergies, cough, bronchitis, emphysema, flu, swine flu, and congestion are among the respiratory conditions for which it is prescribed.
This miracle Seed is widely regarded as the greatest healing herb of our time, but it has received little attention.
It's used to boost the immune system, fight and irradiate Prostate Cancer and other tumors, purify the blood, and lengthen life expectancy.
The value of this herb to the Kings was demonstrated by the discovery of black seed in King Tut's tomb.
Prophecy of the Black Seeds
Is about Black Seed's ability to heal all diseases except death, honey is also thought to have been used in the blessed seed treatment.
Putting honey and ground whole black seeds in the palm of your right hand and licking it up with your tongue was part of the tradition.
Black Seed Oil Treasured by King Tut
Cumin black seed oil was discovered in King Tut's tomb, demonstrating that this seed was valuable to important kings.
It was also a sign that, despite his wealth of gold and diamonds, he chose to take black seed oil with him to the next life.
The black seeds were also discovered in his tomb.
What is the most effective way to eat black seed? When it comes to black cumin seeds, who should avoid them?
Miracle seed oil with cumin should not be consumed by children, pregnant women, or nursing mothers.
Interactions between drugs, herbs, and supplements are possible.
Always check with your doctor before beginning a supplement regimen.
Put the seeds in a coffee or spice grinder and grind them up.
Grind them as small as possible so that you can easily eat them.
The most convenient way to consume them is to grind them into a powder-like substance.
You can also use a mortar and pestle to grind them.
Chemical composition of black seeds
Thymoquinone, thymohydroquinone, dithymoquinone, and thymol are the most important active compounds. In trace amounts, black seeds also contain other compounds.
Black Cumin Seed Oil ~ What Is Black Seed Oil Cumin Good For?
It is beneficial to the digestive system. Black cumin was traditionally used to promote overall digestive health, with tinctures of the seeds being commonly used for indigestion and bloating loss of appetite, and diarrhea.
Benefits of Nigella Sativa: Kalonji seeds benefits
The many benefits of Nigella sativa amaze the world, and the desire to find the best product grows.
Aside from curing cancer, black cumin has a slew of other advantages, including:
Antihypertensive
AntiTumor
Ant-bacterial
Antiparasitic
Antihistamine
Strengthens the immune system
Antiinflammatory
Promotes lactation
Kalonji benefits for male
When taken with milk, kalonji seed powder raises testosterone levels and improves male fluid production.
Kalonji and hair benefits
Kalonji is used for a variety of skin and hair problems, including boils, eruptions, wrinkles, and hair loss, due to its antimicrobial and antioxidant properties.
Here's the list of other health benefits of black seed oil:
Powerful Anti-inflammatory Properties
Strong Antioxidants
Fights Obesity
Strong Antibacterial Effect
Fights Against Breathing Disorders
Reduces Skin Allergy
Good For Respiratory System
Strengthens Bone
Can black seed help to lower blood sugar levels? Black cumin seeds benefits for diabetes
A study found that black seed oil improves insulin production and blood sugar levels in diabetics.
The black seed oil has been discovered to help improve insulin production and blood sugar control researchers.
Black cumin seeds for weight loss – how black seed help in reducing weight
Black seed oil "causes gradual partial regeneration of pancreatic beta-cells, increases the lowered serum insulin concentrations, and decreases the elevated serum glucose," according to a study published in the Journal of Endocrinology & Metabolism.
Controlling your blood sugar levels can help you lose weight by reducing cravings.
Black Cumin Seeds Function – Where Is Miracle seed Used?
The seeds are commonly roasted and ground as a spice and are widely used to season curries, rice, bread, and sweet confections in India, the Middle East, and parts of North Africa.
Cumin seed black is also used in traditional medicine in many parts of the world and is regarded as a valuable herbal remedy for a variety of ailments.
Black Seed – A Natural Immune System Booster
Why does it help boost your immune system?
Black Seed's immune-boosting properties were noted in (Ibn Sina) Avicenna's 1025 A.D. Canon of Medicine, where the seed was used to boost the body's energy and speed recovery from fatigue.
Miracle Seed is high in fatty acids, proteins, carbohydrates, and other vitamins and minerals, and contains over 100 valuable components.
To name a few uses, it is used as a good source of energy, to detoxify and rejuvenate the body, aid in digestion, boost the body's natural immune system, and relieve coughs and colds.
Is black seed cumin the same as black cumin? Is black seed black cumin?
The seeds of the Nigella sativa plant, which grows in southern Europe, the Middle East, and southwest Asia, are known as black seeds.
Nigella, black cumin, fennel flower, black caraway, and Roman coriander are some of its other names.
Are black cumin seeds and kalonji the same? Kalonji (Cumin or Black Seed)
Kalonji is a Japanese word that translates to (Cumin or Black Seed)
The Kalonji, also known as black cumin, nigella, or by its scientific name Nigella sativa, is a flowering plant that belongs to the buttercup family.
In English, what does kalonji mean?
"Kalonji," also known as black cumin, is a common spice in most households.
It's also known as fennel flower, black caraway, nutmeg flower, and Roman coriander in English.
When it comes to miracle seeds, who should avoid them?
Black seed oil should not be consumed by children, pregnant women, or nursing mothers.
Interactions between drugs, herbs, and supplements are possible.
Always check with your doctor before beginning a supplement regimen.
What are some of the side effects of black seed?
Some people are allergic to cumin seeds, which can cause rashes. It can also cause bloating, vomiting, and constipation.
When applied to the skin, black seed oil or gel may be safe if used for a short period of time. Some people may experience allergic rashes as a result of it.
The multi-variable healing potential of this Seed is based on its high content of anti-oxidants and anti-microbial bioactive compounds.