Cloves for weight loss: clove water benefits & Tea side effects
Please Watch >>>>
Cloves for weight loss: clove water benefits & Tea side effects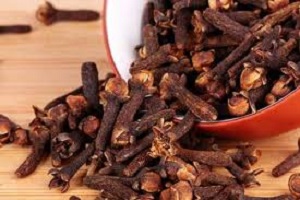 How to use cloves to reduce weight ~ Cloves for weight loss
Cloves are locally referred to as kanafuru in Nigeria and laung in Hindi. In Nigeria, they are a traditional spice but are more commonly used in traditional medicine such as agbo or aseje, this is more common in Yoruba-speaking areas.
In Hindi, it is a common spice that can easily be found in every Indian kitchen.
Clove is used in many continental dishes, because of its unique flavor and scent.
Even though we use this spice virtually daily, we do not know its surprise health advantages, including losing weight.
From weight loss to better digestion – How this fragrant spice can help you burn fat faster
According to USDA national nutrient database, the cloves are rich in several nutrients, including carbs, protein, and dietary fiber. The spice also has important vitamins such as Vitamin E, vitamin C, folate, riboflavin, vitamin A, vitamin K, and thiamine
Checkout Popular Cloves for weight loss Related Articles >>>
Cloves for weight loss: Weight loss and clove
Clove increases metabolism, which aids in weight loss. Anticholesteremic and anti-lipid activities are also present in the spice.
When this potent spice is coupled with pepper, cinnamon, and cumin seeds, it helps to boost our metabolic rate, which aids in weight loss.
Clove also contains antioxidants that help to prevent oxidative damage. Chronic illness risk is reduced as oxidative stress is minimized.
Cloves are also proven to help manage blood sugar levels.
Cloves Tea
This tea can help you with everything from weight loss to better digestion.
Nigerian spices are not only delicious, but they also have a long list of health benefits. The majority of the spices we use in our everyday meals are high in nutrients and are utilized to make Ayurvedic medications.
Clove is a spice found in every Nigerian household that can help you improve your health and perhaps lose weight.
Its anti-inflammatory and anti-bacterial characteristics can aid digestion and provide relief from a variety of other health problems.
You can use clove powder in your beverages or add it to your curries to gain the health rewards of this spice.
If you like tea, clove tea is a good option.
How to make clove tea for weight loss and the best way to consume
You will need
50 grams clove
Cinnamon (50 grams)
50 grams cumin seeds
How to Make Clove Tea
Firstly, in a pan, dry roast all of the ingredients until the aroma emerges.
After that, make a fine powder out of it by grinding and then, store it in an airtight jar.
How to Consume – Dosage
Firstly, one spoonful of this combination should be boiled and then cooled.
Secondly, mix one teaspoon of honey and have it on an empty stomach every morning.
How many cloves should you eat a day?
*Raw garlic also has a higher concentration of allicin, the sulfur-containing chemical responsible for many of garlic's health benefits.
Answer – Aim for 1–2 cloves each day for optimal benefits, and lower your intake if you feel any negative effects like heartburn, acid reflux, or excessive bleeding.
Tip on Cloves for weight loss
It is recommended that those who are allergic to the spice get medical counsel before beginning to use it for weight loss. Due to the presence of eugenol in cloves, they might trigger allergies.
What Are the Health Benefits of Clove Water? Here's How Clove Water Benefits Your Health
This wonderful spice has a long list of health advantages.
It's commonly used to enhance immunity, treat toothaches, and treat respiratory issues, among other things.
Clove can be incorporated into your regular diet in a variety of ways. Curries, biryani, pulao, chutneys, and even desserts all benefit from this versatile spice. However, keep the amount in mind.
Clove water is another excellent approach to get the most out of this healthful spice. Simply soak two garlic cloves in a glass of water overnight. On an empty stomach, drink it first thing in the morning.
Here are some of the health benefits of clove water that everyone should be aware of.
The most well-known advantage of drinking clove water is that it aids digestion.
One cup of clove water can assist boost saliva production, which is necessary to kick-start digestion.
It can also help to enhance gastric secretions and alleviate stomach pain, gas, and indigestion symptoms.
Another well-known use of clove water is for weight loss. When it comes to losing weight, a healthy digestive system and a fast metabolism are essential.
Clove water aids digestion and increases metabolic rate. It keeps your stomach from growling in between meals like magic.
Maintaining a healthy blood sugar level
This benefit of drinking clove water will be welcomed by anyone who monitors their blood sugar levels.
According to studies, some chemicals in clove assist stimulate insulin synthesis, which decreases blood sugar levels. As a result, clove water is extremely beneficial to diabetic individuals.
Contain Properties that fight bacteria
The benefits of clove water also extend to oral hygiene. For the exploratory study, clove has been examined as an antibacterial agent.
A mouth rinse containing clove was proven to aid in the fight against plaque and germs in one study.
The antimicrobial characteristics of clove water, when paired with regular oral hygiene, can help strengthen your oral health.
Cloves are well-known for being anti-inflammatory. They are high in antioxidants and can aid in the reduction of oxidative stress and inflammation. Clove water is extremely beneficial to arthritic patients and is highly suggested for them.
Strengthens the immunological system
Clove water, consumed every morning, can strengthen your immune system and protect you from illnesses and flu.
Clove water is high in vitamins and minerals that might help to improve your health and immunity. Manganese, vitamin k, vitamin c, calcium, and magnesium are all abundant in it.
Clove water is also good for your bones if you drink it regularly.
As we age, we are more susceptible to bone diseases like osteoporosis. Clove water protects us by lowering the chance of infection.
Clove has a chemical that can aid to maintain bone mass, density, and strength. It's also a good source of manganese, which is important for bone health.
Keep in mind to go organic!
Clove water is beneficial in a variety of ways. Replace your morning milk tea with a cup of heated clove tea. Your health will improve in ways that will astound you.
However, don't eat too much of it because anything in excess is hazardous for your health. Remember to buy organic cloves, which are devoid of pesticides and hazardous chemicals. When you choose organic cloves, the advantages of clove water are multiplied tenfold.
Clove tea's common side effects
Spices are generally safe to eat, but if you eat too much of them, you may experience some frequent negative effects.
Drinking this clove tea once or twice a day is beneficial to your health; but, consuming more may cause gastrointestinal irritation, muscle ache, and exhaustion.
Women who are pregnant or breastfeeding should limit their intake of clove tea. Excessive consumption of spiced tea may be detrimental to their infants.
If you experience nausea or vomiting after drinking this tea, stop drinking it.
Consult your doctor right away if you experience shortness of breath, fever, or chills.
FAQs on Cloves for weight loss
What is the best way to utilize clove for hair growth?
Without any other ingredients, a tiny amount of clove oil to the balding spots on your head will stimulate hair growth and rejuvenate dead follicles.
They also improve the hair shaft and reduce hair fall caused by brushing and washing.
Is it true that cloves are good for your skin?
Clove oil aids in the reduction of sagging skin and the prevention of fine lines and wrinkles. It's a potent anti-aging component found in nearly all cosmetics.
It eliminates dead skin cells and improves blood circulation, resulting in a more young and radiant appearance, whether indirectly or directly.
Is clove good for infection?
Clove oil includes eugenol, a molecule that may help with pain relief and infection prevention, but further research is needed.
Bottom Line
It's crucial to understand that no single ingredient can help you lose weight. The combination of a nutritious diet and regular exercise is the key to achieving successful and long-term weight loss.
Disclaimer
The opinions expressed in this article should not be used in place of medical advice. For more information, please contact your treating physician.
Thank You for coming this far.