Easy Homemade Shawarma Pita Bread Recipe
Easy Homemade Shawarma Pita Bread Recipe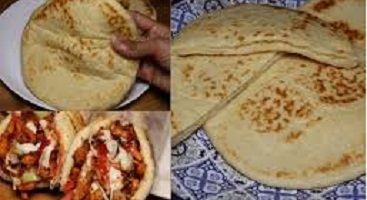 All over the world, it is no common news that one of the most craved snacks is the shawarma.
Even though people are not aware of the ingredient being used, observers have noticed the aroma and taste of chicken, meat, and even beef in this yummy snack
Shawarma is a thinly sliced cut of lamb, turkey, beef, or chicken combined together in a big piece of flatbread known as pita which has been steamed or heated.
The shawarma has a combination of veggies, French fries, hotdog, pickles, tahini, and the yummy cream. It is also very healthy and there are some health benefits of eating shawarma.
In the shawarma recipe, pita bread is the main ingredient that is used in rolling in all other ingredients used in making the shawarma.
Shawarma pita bread is a popular Middle Eastern dish containing meats sliced in thin pieces, stacked in a cone-like shape.
It is then roasted on a turning vertical spit which turns slowly and it is originally made either with lamb, chicken, turkey, meat, or even mutton.
Shawarma is wrapped carefully in seasoning and spices like garlic, cardamom, dried lime, cinnamon, turmeric which gives the shawarma a complex flavor that is tangy and at the same time warm.
Shawarma pita bread is served with toppings like hummus, tabbouleh, and also tahini.
Homemade Shawarma Pita Bread Recipe
This is a very easy recipe to try from scratch it all needs 3-4 ingredients you have in your kitchen.
Ingredients
2 cups plain flour / Add extra for dusting
½ teaspoon baking powder
2 tablespoons vegetable or butter
¾ teaspoon salt
½ cup of warm water
Instructions
Firstly, combine flour, salt, baking powder, and oil in a mixing bowl,
Secondly, combine everything together with your fingertips until you obtain a crumb-like texture.
Then, half of the water should be added at a time and combined until a smooth dough is formed.
After that, put the dough on a work surface and knead for 8-10 minutes.
Then, cover the dough in an oiled dish with plastic wrap or a kitchen towel and put it aside for 10-20 minutes.
Lastly, transfer the dough to a work surface and divide it into 6/8 balls, allowing them to rest for another 10 minutes before heating.
How to Make Shawarma Bread in an Oven
If using an oven, here's what you'll need to do.
Firstly, preheat the oven at 230 degrees Celsius (450 degrees Fahrenheit), then set the baking pan (with the rolled out dough) in the oven for 3 to 4 minutes..
Lastly, wait for the balloon to develop before removing it from the oven.
It's crucial to remember that not all bread balloons will rise, but it doesn't imply you didn't do everything correctly; sometimes it's due to the oven's heating capabilities.
How to Make Nigerian Shawarma Bread in Frying Pan
If you wish to prepare the Shawarma bread in a pan (on the stovetop), follow these steps:
Firstly, heat a nonstick frying pan until it is very hot. Then, on top of it, lay the rolled dough.
Secondly, as bubbles appear, flip over to the other side and watch as the balloon forms shape; this is the most amusing part of the technique.
After that, flip the balloon over, then deflate the balloon pressing in it when frying; fry both sides to brown.
Lastly, remove and set it on a tray coated with a moist kitchen towel, then replicate with the remaining dough.
Suggestions for cooking
To keep the bread fresh for subsequent use, wrap it in a Ziploc or plastic bag. At room temperature, it will keep for 2-3 days.
What is shawarma roll made of?
The shawarma is a snack that comes from the Middle Eastern region, and the snack is prepared either with beef, turkey, lamb and even chicken.
The meat is placed on the vertical grill and the meat is roasted until the meat is cooked. Shawarma is combined together with meat, veggies, cream, and others.
Is white pita bread healthy?
Pita bread is a flatbread that is very light and also moist, the pita white bread is also low in calories and it is also a great source of protein and carbohydrates.
White pita bread also has a sufficient amount of vitamin B, selenium, and even manganese which serves as antioxidants.
This type of pita bread is also made from both redefined and also wheat flour.
Is shawarma pita bread healthy?
There are different benefits of shawarma, it is known that shawarma is a healthy snack.
This is because, you could also choose to skip the bread, and just eat the shawarma with the salad and cucumber dressing.
Shawarma pita bread is very enticing and also, the chicken shawarma is also very delicious as it satisfies your craving, keeping your body free from getting extra oil.
The shawarma pita bread is a good source of vitamin A, vitamin C, and also protein.
Is the shawarma pita bread the same as Lebanese?
People often ask if the shawarma pita bread is also the same as labanese well the answer is yes.
The pita bread is also known as Arabic bread, Syrian bread, or even Lebanese bread, these set of bread are also referred to as flatbreads and there are also different due to their unique pocket shape.
The leavened wheat flour dough is rolled out in flat rounds and the bread is baked at a high temperature which allows the dough to puff up in layers.
Is shawarma made of pita bread?
Basically, shawarma is well popular junk food and it is eaten by people all over the world.
If you are a lover of shawarma pita bread, then you should know that shawarma pita bread is simple and easy to make.
What you need is basically 3-4 ingredients, and you also need oil, which is also one of the basic ingredients.
Where to Buy Shawarma Bread in Lagos, Nigeria – Shawarma Bread near Me
You can buy Shawarma Bread in supermarkets
Popular roadside joints
Online delivery – Jumia & Konga