Ikokore Food: How to Cook Ijebu Water Yam Porridge Delicacy
Ikokore Food: How to Cook Ijebu Water Yam Porridge Delicacy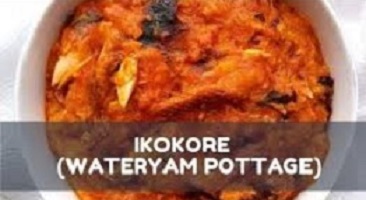 There are several dishes that are known to be mouthwatering and enticing and we will be discussing one of them in this article today.
One of the popular enticing and delicious dishes in Africa is ikokore food. Ikokore is an African dish popular from the Yoruba tribe, the delicacy is a Nigerian yam pottage made with water yam.
Related >>>
Origin of Ijebu Foods: Ikokore Food History
This pottage delicacy originates from the Ijebu people and it's a delicious dish cooked with grated Water Yam (Dioscorea alata), a species that's not the same as regular Yam (Dioscorea rotundata).
It contains a high amount of fiber and minerals, and when cooked with palm oil and other ingredients such as dried shrimps, locust beans, and vegetables, the nutritional value skyrockets. Some people add smoked or roasted fish to enhance the flavor.
Although some folks often prepare these dishes using different methods and different ingredients, the authentic ikokore is made from water yam instead of the puna yam.
If you haven't tasted the ikokore food, then you are missing a whole lot. Ikokore is also known as ifokore is a pottage delicacy from the ijebu people of Ogun State, Nigeria.
Ikokore on its own is a good nutrient food, but to enjoy Ikokore you'll need to incorporate as many proteins as you possibly can to enrich it.
Health Benefits of Ikokore Food
Furthermore, the benefits of the ikokore have been searched by individuals and it has been discovered that the ikokore has some amazing health benefits.
One of the benefits of eating ikokore food is the ability to improve your digestive health and aid with constipation and bowel syndrome.
Ikokore food also has anti-inflammatory properties which aid in reducing the risks of having chronic diseases.
Ikokore also has some antioxidants in the water yam which help to reduce damages by free radicals in the body and also slow down the aging process.
Other Health Benefits of Eating Yoruba food ikokore
Blood sugar regulation: Water yam is slowly digested and absorbed by the body, so it does not induce blood sugar surges. As a result, it aids in the regulation of blood sugar levels in the body, making the meal a diabetic-friendly diet.
Weight Management: Ikokore is a low-calorie food that is ideal for weight loss and management.
Bone Formation: Water yam contains vitamin C, which is important for bone growth and immune function. Vitamin C appears to activate bone-building cells, improve calcium absorption, and enhance the effect of vitamin D on bone metabolism.
Aid Digestion and Bowel: The delicacy's high fiber content aids digestive health and metabolism, as well as combating constipation and irritable bowel syndrome.
Detoxification of the body: the meal is also high in antioxidants, which aid in the removal of toxins from the body.
In all, ikokore food is a delicious African dish with a whole lot of benefits.
Do you want to prepare the ikokore dish but you don't know how to? If so then you don't need to worry, as we will be discussing more ikokore food in this article.
What is ikokore called in Yoruba?
Questions about the delicacy known as ikokore food often arise and one of them is what is ikokore in Yoruba?
Ikokore is also referred to as ifokore, this dish is a meal prepared with water yam instead of the normal white yam.
The ikokore food is a Nigerian yam pottage and it is also one of the recipes from the western people, ijebu people of Ogun state in Nigeria.
Ikokore in English
I actually do not know the English word for Ikokore, do you know? If yes, please let me know in the comment section so that I will update accordingly.
What kind of food is the ikokore
The ikokore is a meal made with water yam and the ikokore can be served to anyone on any occasion.
The ikokore meal is also known as ifokore in the Yoruba land and the meal recipe is from the ijebu people of Ogun state in Nigeria.
The yam pottage is quite enjoyable and you could also choose to garnish it with a lot of protein
Can you make the ikokore food in a blender?
If you are wondering if you can make the ikokore in a blender, then the answer is yes. You can actually choose to make your ikokore delicacy with your blender.
What you need to do is slice and grate the yam with the other side of the blender or a blender, add salt, dry pepper, and even crayfish into the yam and keep it aside.
Blend the bell peppers, onion, and scotch bonnets and keep them aside too.
Recipe for ikokore: Can I blend water yam for ikokore
There are different ways in which you can prepare the ikokore soup, and one of those methods is blending your water yam.
Take your grated water yam and put it inside a bowl, add a little salt, a Maggi cube, and also some dry fish and your blended pepper.
Ensure it is thoroughly mixed together, ensure that the water in the pot is boiling, then drop the water yam into the pot-like balls, then drop all the content inside the pot and prepare.
What are the ingredients for making ikokore food? What is Ikokore made of?
There are some ingredients you would need if you want to prepare the ikokore delicacy, but if you don't have any idea on the ingredient to use, well we have come to your aid as the ikokore ingredients is listed below
Get half or full tuber of water yam depending on how large you want the ikokore to be
Then, two cooking spoons of palm oil
Get your 3 cups of beef or chicken stock/water
Three tablespoons of crayfish
One or two scotch bonnet
A shombo or three tablespoons of dry ground pepper
One or two smoked fish or you can either choose to go with shawa
A piece or two-piece of dried fish
A cup or two cups of smoked pawn
Two Knorr chicken cubes
A teaspoon of ogiri ijebu
Then lastly, salt for taste.
Ikokore Recipe: how to make ikokore Nigerian food
The yam is grated and cooked in creamy and delicious pepper and fishy stock until cooked and form a lump. It is delicious and a good substitute for yam porridge. To begin:
Firstly, cut your water yam into little pieces with a sharp knife.
Then, when you've finished grating the Water Yam, add Seasoning or Salt, 1 tablespoon Crayfish, and mix everything together
If you can handle the heat, you can also add Pepper. Then put it aside.
In a blender, combine the Shombo/Tatashe and Scotch Bonnet and blend until smooth. Set aside. Simply combine Scotch Bonnet on its own if you're only using it.
Get a medium-sized saucepan and put it on the stovetop over medium heat. Add the palm oil and then the Locust Beans once the pan is hot.
After that, sauté the Locust Beans for a minute, then add the pureed Pepper, Knorr Cubes, and season with salt and pepper to taste. If you're using Stock, do not add salt as your stock is already seasoned.
Finally, fry until the oil floats to the top. This should take around 10 minutes, stirring occasionally to avoid scorching.
With what can you eat Ikokore?
Ikokore is best served cold, either alone or with Cold Pap or Ikokore and Eba.
Calories: 189