Jollof Rice Tips: Secrets on Cooking the BEST Jollof Rice
Jollof Rice Tips: Secrets on Cooking the BEST Jollof Rice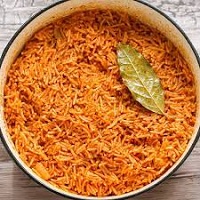 Are you a lover of jollof rice and you don't know how to prepare it? Are you looking for some jollof rice tips in making your own perfect jollof rice different?
Jollof rice tips are the guidelines that you can use to make your jollof rice taste better and even make it more outstanding than others.
Furthermore, you also need to learn these jollof rice tips if you want to prepare your jollof rice in its unique way.
But if you are having issues on how to cook jollof rice, then this article is for you as we will be discussing more of the Jolof rice tips and steps in making a delicious jollof rice.
Do you have any questions on what to use to cook jollof rice, if so, read through as you will be getting all your answers in this article?
Related Articles on Jollof Rice Tips
Jollof Rice Tips: Tips used in cooking jollof rice
Quality of rice used
Quantity of bell peppers, tomatoes and tomato paste
The quality of stock used
Quantity of water/liquid added
The temperature of heat used
The two secret ingredients
Steam! Steam!! And more steam!!!
Jollof rice is a delicacy on its own and it takes good preparations in making it very enticing and delicious to eat.
There are different occasions in which you can prepare the jollof rice and with that, you can even wow your guest with your own special delicacy.
Jollof rice is prepared in different ways by different people and jollof rice stands to be one of the most commonly prepared food in the world.
There are also certain questions that are asked by people and one of them is how to do I prepare my jollof rice.
However, jollof rice has some tips and some steps you have to follow in which you can make it to be different from what other people would prepare.
Jollof Rice Tips: What do I need in preparing the best Nigerian party jollof rice recipe?
In preparing jollof rice, there are some jollof rice ingredients that you would need in preparing delicious jollof rice.
But if you have no idea what they might be, below are some ingredient lis needed to make delicious jollof rice:
The first ingredient required is your rice: one of the tips of jollof rice making is the rice. jollof rice is not Jollof if you are not using one of the main ingredients which are rice.
Rice is a well-known ingredient and it is also one of the most important ingredients in making jollof rice.
Vegetable: another tip for jollof rice is veggies, for some, it is not needed in making jollof rice, but u might want to add a little spice to your jollof rice by getting cabbage, green beans, and the rest of the veggies involved in making your jollof rice.
Tomato: another joolof rice tip is the tomato. this is another important ingredient in making a sweet jollof rice, tomato is needed for the coloring and the tasty aroma of the jollof rice.
Seasoning: there are different seasonings for different food, and jollof rice happens to have the seasoning of it.
There is seasoning for rice Jollof like curry, thyme, and even most people often uses chicken flavor seasoning giving the jollof rice a unique chicken flavor.
Onion: most people don't like onion, but if you like onion, you can choose to blend your onions together with your tomato and pepper, onions are needed in preparing jollof rice and it is also key in bringing out that special onion flavor.
Tomato paste: this is another necessary ingredient in preparing jollof rice, you need to make a tomato paste to create a unique aroma for your jollof rice.
Bell pepper: bell pepper is known for its aroma in delicacy, and one of the tips for jollof rice preparation is the bell pepper. Bell pepper is required in making a tasty and delicious jollof rice.
Chicken or beef: whichever one you might choose, it is will bring out your jollof rice in a different and delicious way. Chicken or beef is also required in making your jollof rice tasty and very enticing to eat.
Jollof Rice Tips: Spices for Jollof rice – Some of my favorite seasonings to use are:
Tumeric
Paprika powder
Nutmeg
Herbs other than just thyme which is great, but oregano and bay leaf are special
Ginger and garlic powder (in addition to or as a substitute to fresh ginger and garlic)
Jollof Rice Tips: How do I cook my jollof rice?
There are different methods you could use to prepare jollof rice, but if you want a new method in preparing your jollof rice.
Then below are some new tips for jollof rice making, read carefully and follow the instructions given
Firstly, get your blender ready and add the tomatoes, scotch bonnet pepper, onions and blend them together
After blending them, pour the combination into a bowl and keep it safe
Then, pour your vegetable oil into your pot and allow it to heat
Add a pinch of salt to check your oil if it is hot enough, then pour in your blended tomatoes, and your combination.
After that, pour your rice and stir, until the rice is well mixed with the combination of your tomatoes, bell or scotch bonnet pepper, and reduce the heat so as not to get it burnt
Then, cover your pot and allow the rice to heat for about 45-5-mins.
Lastly, serve yourself, your family with either fried plantain, like jollof rice goes with anything fried and very cold.
Why does my jollof rice get burnt? Jollof Rice Tips
Now for some, burnt jollof rice is not a good sign, but if you don't want your jollof rice to get burnt, then what you need to do is switch off the heat and cover your pot for about 45-50 minutes
The heat from the cover will cook the jollof rice by steaming and you can avoid getting your jollof rice burnt.
What can I eat my jollof rice with?
Stated earlier, jollof rice is the delicacy of all regardless of age, size, or even country.
You can serve your jollof rice in style and uniqueness, below are some tips in which you can serve your jollof rice with
Fried plantain
Cucumber tomato salad
Spicy roast goat
Suya chicken
Chicken stew
And lastly, you could also serve your jollof rice with a chilled drink and African beef stew.
How to fix soggy jollof rice
If you're worried it'll get too wet, put it in a cool place like an open fridge (closing the fridge will cause condensation to collect on your food, so don't do it).
For good measure, put the cooled rice in the oven to properly dry it out.
What's the secret to great Jollof rice? What makes superb Jollof rice so special?
"Caramelize the onions in coconut oil slowly before adding the tomatoes, spices, herbs, ginger, garlic, scotch bonnet, white cabbage, and stock."
"The trick is in how much love and attention you give the sauce," After all, it's what gives the meal its flavor.
Why is my Jollof sticky?
Here are some suggestions if you ever find yourself in a bind:
There's Too Much Water, But It's a Good Texture: If your Jollof has too much water in it, the texture is perfect.
Transfer the rice to a larger pot (if possible), turn the heat up to high and leave the pot unattended.
Can I freeze jollof rice?
Is it possible to freeze jollof rice? Yes, jollof rice is a freezer-friendly meal that can last up to three months.
If you're not using protein, reheat it in the microwave straight from the freezer; otherwise, let it defrost overnight in the fridge before warming on the stovetop.
Is Jollof rice healthy? Is Jollof rice good for you?
Jollof rice is cooked with a variety of ingredients, making it nutritious.
What is jollof rice seasoning?
Rice, tomatoes and tomato paste, onions, salt, spices (such as nutmeg, ginger, Scotch bonnet (pepper), and cumin), and chili peppers are the main ingredients;
Other additions such as vegetables, meats, or fish can be included as well.
Is it possible to add nutmeg to Jollof rice?
In a liquidizer, combine the tomatoes, pepper, scotch bonnet (if using), and onion.
Meanwhile, in a big pot, slowly heat the oil and add the fresh thyme, nutmeg, pimentos, garlic powder, and curry powder.
Allow 2 minutes for the spices to permeate before pouring the mixture.
What function do bay leaves serve in jollof rice?
The bay leaf adds a unique flavor to the jollof rice, making it perfect for a gathering.
To get the most out of the bay leaf, sauté it in the oil before adding the tomato puree.
Why is my Jollof rice still hard?
You could add a bit of additional hot water or stock if your rice is too firm. Do not use cold stock or water to boil your rice!
You want the liquid to quickly come into contact with the rice and heat up, rather than taking its time to heat up when it's put in cold and causing too much scorching.
How do you make bland Jollof taste better? How do you fix tasteless Jollof?
To get rid of the tartness, try cooking the puree in oil for a few minutes.
You'll get the same beautiful color and richness without the sour taste.
This should be taught in primary school; nonetheless, for those who are unfamiliar, the basic spice for Jollof rice is Curry Powder and Thyme.