Food Safety, Quality, and Guidelines in Nigeria
Food safety, also known as Food Hygiene can be defined as handling, preparing, and storing food or beverage in a way that significantly reduces the risk of consumers becoming ill with food borne illness.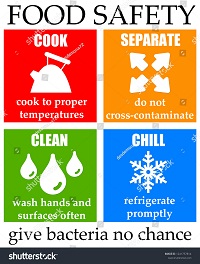 Food safety regulations are aimed at protecting food from contamination and causing food poisoning.
With this in mind, ensuring that food is safe for human consumption is probably the most important part of the food preparation process.
Please Read >>> Food and Nutrition – Basic Nutrition Concept
What are the five rules of food safety in promoting safe food management?
Below are "five keys to safe food", which are developed to teach the importance of safe food management to all food consumers and managers.
Keep your hands and areas clean
Separate raw and cooked – do not cross-contaminate
Cook thoroughly using the right temperature
Store food at safe temperatures
Use safe water and raw materials
Food Safety, Nutrition, and Food Security
These three are closely related. Unsafe food creates a vicious cycle of disease and malnutrition, especially among infants, young children, the elderly, and the sick.
In addition to contributing to food security and nutrition, access to safe food and supporting the country's economy, trade, and tourism, promotes sustainable development.
Global food trade, the world's growing population, climate change and rapidly changing food systems all contribute to food security.
Risk of Food borne Illness
Food borne illness is a major food safety hazard. The result could be illness or diseases in a person and this can affect their whole life, work, and personal life
Also, cross-contamination is another cause of food poisoning that can transmit bacteria from one food to another (normally raw foods to ready to eat foods).
Food Safety, Quality, and Guidelines in Nigeria
The unfortunate practices of cultivating and poor quality of the agricultural products have led especially to the international market rejecting Nigerian products such as melon seeds, peanuts, watermelon seeds, and Shea fruit products due to its aflatoxin contamination and pesticide residues.
Even though the unseen effects of morbidity and mortality on our people who may not even be conscious of such dangers is only better imagined.
Nigeria presently runs a multiple agency food safety control system and inspection net services which are mostly sectorial.
The implementation and enforcement of food security legislation is also divided between the three spheres of government.
Hence, there is a need for better-quality cooperation, communication, and collaboration between MDAs.