Ginger Powder Tea for Cold and Weight Loss
Ginger Powder Tea for Cold and Weight Loss. Please watch >>>>
Ginger Powder Tea Recipe: How to make Ground Ginger Tea
How to make Ginger tea with powdered Ginger
Ginger Powder and Honey – Natural Home Remedy for cough and cold relief
Apart from water, tea is the most widely consumed beverage on the planet.
There are many different types of tea, each with its caffeine level, flavor, and potential benefits.
Many types of tea are excellent substitutes for coffee for those who are sensitive to or avoid caffeine.
Tea, like most things, is usually less expensive if you make it yourself rather than buying it at the store – and ginger tea is no exception.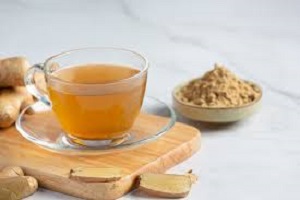 The History and Origin of Ginger
Ginger comes from the same plant family as cardamom and turmeric, both of which make delicious teas.
Ginger gets its name from the Middle English word gingivere, but this spice dates back over 3000 years to the Sanskrit word srngaveram, which means "horn root."
Surprisingly, ginger does not grow in the wild, and its origins are unknown. Ginger is now primarily grown in the humid tropics, with India producing the most.
Long before history was formally recorded, ginger was used as a flavoring agent. Ginger has been used as a tonic by Indians and Chinese for over 5,000 years. It was traded from India into the Roman Empire 2,000 years ago, where its medicinal properties were valued.
Ginger was extremely expensive in thirteenth and fourteenth-century Europe. A pound of ginger was equivalent to the price of a sheep. Ginger was imported in preserved form during the Middle Ages to be used in sweets. Ginger can now be found in a variety of popular treats.
What is ginger Powder tea?
Ginger powder and tea, also known as ground ginger tea, is a simple anti-inflammatory tea made with ground ginger. It has numerous health benefits and is beneficial for colds, nausea, sore throats, and weight loss.
This homemade ginger powder tea is tasty, hot, and filling. Combining a few powerful ingredients like cinnamon, honey, and lemon enhances the benefits of this tea.
You can easily make a large batch of this tea and keep it in the fridge whenever you want some hot spicy tea. Ginger powder can be purchased in supermarkets, but it is simple to make at home with no special equipment.
To make ginger powder, all you need are some fresh ginger roots and a grater. Once you've learned how to make ginger powder at home, you can use it in your subsequent tea recipes.
The Healing Properties of Ginger; Health benefits of ginger powder tea ~ Ginger Tea Benefits
Some of the benefits of drinking ground ginger tea; when it comes to the health benefits of ginger, there is no shortage of them.
Ginger root is not only great for sore throats and general cold/flu relief, but it also has several other benefits, including:
Ginger tea promotes regular bowel movements and thus prevents and treats constipation.
It can aid in the treatment of colds, flu, and coughs due to the anti-inflammatory and anti-bacterial properties of ginger and Vitamin C in lemon.
Combining lemon and ginger to make tea aids in weight loss because ginger has an anti-obesity effect and lemon reduces appetite, causing you to eat less.
The tea can help with stomach upset, nausea, vomiting, and other respiratory issues like asthma.
Ginger tea warms you from within, helps to break up mucus, and detoxifies the body.
Ground ginger tea is a delicious, warming, and all-natural tea that promotes good health; however, you must be careful not to overdo it.
Surprisingly, that is not even an exhaustive list. However, it is also important to note that if you are taking any medications, have acid reflux, etc.
Then it is best to get medical advice before you start adding homemade fresh ginger tea to your daily regimen.
Other Ground Ginger Tea Variations
Ginger tea comes in a variety of flavors, including Ginger-Honey-Lemon Tea, Ginger-Turmeric Tea, and Ginger-Mint Tea.
You can, however, make your ginger powder tea with milk to soothe your palate.
Ground ginger tea ingredients
1 tablespoon ginger powder
½ teaspoon ground Cinnamon
1 small lemon
Honey to taste
Items that you will need are:
Mug
Strainer
Kettle or pot
Teapot
Water
Ginger powder tea recipe ~ How to make Ginger tea with powdered Ginger at home
Firstly, add about 2 large cups of water to a pot, place it on a stovetop and bring to a boil
As soon as the water has begun to boil, turn off the heat and stir in 2 heaping teaspoons of ginger powder and half a teaspoon of cinnamon powder to combine.
After that, stir in the lemon juice and 2 tablespoons of honey. Then, cover and set aside for a few minutes before serving.
Your ginger powder tea is ready; serve cold or hot.
How to Flavor Your Ginger Tea
If plain ginger tea isn't exciting enough for you, try these ginger tea pairings.
Apple and Cinnamon
Lemon Juice
Maple Syrup
Mint Iced Ginger Tea
Cayenne Pepper
Turmeric Powder
Chai
Spice Up Your Life with Ginger Tea
With so many benefits and possibilities, it's easy to see why hot ginger tea is one of the world's most popular teas. Add green tea leaves to your fresh ginger tea or make it into a smoothie to take it to the next level.
Serve it with some appetizers or enjoy a refreshing cup while reading your favorite book.
Ginger tea is the tea for you if you have a cold, a sweet tooth, or just like a little extra kick in your cup, ginger tea is the tea for you.
FAQs
Ginger powder tea for upset stomach
Drinking ginger tea can help you rehydrate your body and replenish fluids lost during diarrhea.
Diarrhea usually lasts a couple of days.
Ginger can help to soothe your stomach during this time, allowing you to recover quickly and comfortably.
Pregnancy ginger powder tea ~ is ginger powder safe during pregnancy?
Ginger consumption is not known to cause pregnancy or breastfeeding complications.
The bottom line
Ginger has been shown in studies to alleviate nausea and vomiting.
As a result, drinking ginger tea during pregnancy may help alleviate morning sickness.
While pregnant, it is generally considered safe to consume up to 4 cups (950 ml) of ginger tea per day.
Ginger powder tea side effects ~ what are the side effects of ginger tea? 
Fresh ginger or a store-bought tea bag can be used to make ginger tea.
Although ginger is generally safe, some people may experience mild side effects after consuming it, such as heartburn, diarrhea, gas, and abdominal pain.
Ginger powder tea price/cost ~ ginger powder tea for sale
Buy Ginger Powder online from Jumia Nigeria at the best price available. The most affordable prices in Nigeria
Is fresh ginger as effective as a dry ginger powder?
Ground ginger, like fresh ginger, has health benefits and contains more shogaol, a spicy and pungent compound.
Fresh and dry ginger can both be consumed, but ground ginger has a more stable and longer shelf life and can withstand higher temperatures better.
Powdered ginger adds warm and spicy notes to both savory and sweet dishes.
What is ginger powder tea good for?
To name a few of its applications, it has been used to aid digestion, reduce nausea, and fight the flu and the common cold.
Ginger's distinct fragrance and flavor are derived from its natural oils, the most important of which is gingerol
What happens if you consume ginger daily?
Ginger contains powerful components that help to lower blood sugar and prevent heart disease
Consuming ginger on a daily basis can help diabetics regulate their insulin production.
Ginger prevents heart disease and strokes due to its cholesterol-lowering properties.
Can I use ginger powder instead of fresh ginger in my tea?
Fresh or dried ginger
You'll just need to use more because ground ginger is more concentrated.
In recipes, replace ¼ teaspoon of ground ginger with 1 tablespoon of fresh-grated ginger.
Ginger Benefits for skin ~ ginger powder for stretch marks
Because of its anti-inflammatory and antioxidant properties, ginger is an excellent addition to most skin care regimens.
It can be used as a toner, mask, scrub, and other things. Ginger is well-known for its skin-care properties.
What foods can ginger powder be used in?
Ginger Root Powder – made from dried ginger root, this lovely off-white to light brown spice is ground.
It's an easy way to add flavor to baked goods, sauces, curries, and chutneys, as well as applesauce and other cooked fruit and vegetable dishes.
Ginger powder uses ~ what is ginger powder good for?
Health Benefits of Ginger
Gingerol, a naturally occurring component of ginger root, improves gastrointestinal motility, or the rate at which food exits the stomach and moves through the digestive process.
Eating ginger promotes efficient digestion, allowing food to pass through the digestive tract more quickly." It relief from nausea.
Hair growth with ginger powder ~ Ginger stimulates hair growth.
Ginger increases blood flow to the scalp. Ginger stimulates hair growth and strengthens the hair root and follicles as a result.
Furthermore, the numerous fatty acids, vitamins, and minerals found in ginger can strengthen hair strands, preventing hair loss.