How to Make Chicken Sauce Nigerian Style
How to Make Chicken Sauce Nigerian Style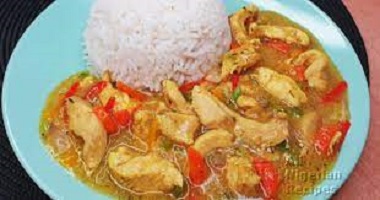 How to make a sauce for rice in Nigeria
List of ingredients for chicken sauce stew
How to prepare stew sauce for white rice
Nigerian chicken sauce is regarded as one of the country's cultural signatures. You don't have to be a chef or spend a lot of money to prepare the recipe.
The chicken sauce ingredients are basic and are readily available at any local mall or marketplace.
How to Make Chicken Sauce/Stew ~ Simple Chicken Recipe in Nigeria
There are different recipes for making Chicken stew, and we will show you how to make as many of them as we can today.
Stew chicken is often scrumptious. It goes well with yam, bread, agidi, spaghetti, macaroni, and noodles.
Not forgetting:
Chicken sauce for rice
Chicken sauce with flour
List of recipes for the chicken sauce and how to prepare
The chicken sauce in Nigeria we are going to be looking at today is:
Chicken curry sauce
Chicken vegetable sauce
I would list the ingredients and the step-by-step preparation process for each recipe. Thus, let's begin with the first recipe on the given list.
How to Make White Rice and Chicken Curry Sauce
Chicken Curry Sauce for Nigerian wedding
At weddings, the curry sauce is typically served with white rice. It has a distinct and pleasant taste.
The following ingredients are required to make this sauce:
Ingredients for Nigerian Chicken Sauce
Chicken breasts
Red bell pepper
Red onion
White onion
Big seasoning cubes
Teaspoon curry powder
Teaspoon thyme
Green bell pepper
Yellow bell pepper
Carrots
Teaspoon garlic powder
Teaspoon black pepper (or to taste)
Salt (to taste)
Teaspoons of corn flour (corn starch)
Chicken Curry Sauce Recipe ~ 6 Best Step-By-Step Process
Firstly boil a few potatoes till well cooked. Please leave them in the water once the texture is soft.
Secondly, place a large pot over medium heat to get hot. Go on to stir wholly with olive oil and a few tablespoons of curry powder.
Then, add cubed chicken seasoning and onions to the mix and allow to cook for about 5 minutes to cook the chicken.
After that, add some peas, red bell peppers, green beans, carrots, jalapenos no pepper, and mix too.
Now, add the potatoes and the potato stock to the pot. Also salt, pepper, and some curry powder, and stir.
Allow boiling over low heat for about one hour.
Serve with white rice garnished with vegetable of choice
Chicken Vegetable sauce
Vegetable chicken sauces are suitable for diabetics, hypertensive, and anyone striving to eat healthily.
It's healthy and can supplement your diet if you follow a strict diet plan
Ingredients for Nigerian vegetable Sauce
Pound Chicken Thigh, cut into pieces
Tablespoons of Cornstarch, divided
Cup Chicken Stock
Carrot, sliced
Celery, sliced
Tablespoons Low Sodium Soy Sauce
Tablespoon Worcestershire Sauce
Red Bell Pepper, cut into chunks
Green Bell Pepper, cut into chunks
Ginger, minced
Onion, cut into chunks
Oil (your choice)
Curry powder
Thyme
Garlic powder
Onion powder
Seasoning cube
Cayenne/dry pepper
Black pepper
Salt to taste
Chicken vegetable sauce recipe ~ the step by Step process
Firstly, season the chicken with half of the cornstarch, cayenne pepper, salt, curry powder, black pepper, seasoning cube, thyme, ginger, onion, and garlic powders.
Then, stir and marinate for a minimum of 30 minutes. You could go longer.
Thirdly, get a saucepan or pot, and heat the oil over medium-high heat. Put in the seasoned chicken and cook on both sides for about 10 minutes or until the chicken is simmered correctly.
After that, add onions and proceed to cook, and also stir.
Then, get all the vegetables (carrots, red bell peppers, celery). Combine and cook for about 2 minutes or until the vegetables soften.
How to make Slurry: mix chicken broth, soy and Worcestershire sauce, and the leftover cornstarch and whisk.
Add the slurry to the chicken mix and stir. Adjust the seasoning if need be.
Now, check the liquid content. If it's too thick and you want more sauce, you can add more stock and cook for about 2-3 minutes. When it reaches the wanted consistency, turn off your stove.
Serve with your favorite side dish. Enjoy.
In Conclusion 
Whether you're making this sauce/stew for a Nigerian wedding or to treat your family and friends to supper, the recipes in this blog post will fit any occasion.
If your guest is over the age of 50, I'd recommend a healthier recipe. This in this case is the chicken vegetable sauce
Remember that not all guests will enjoy the taste of curry. So keep an eye on your guests, use the best recipe, or better yet, prepare both.
People Also Ask
What are the basic sauce ingredients?
Sauces are made with aromatics, reductions of wine, vinegar, or other spirits, flavored liquids such as stocks, milk, or cream, and a variety of seasonings.
What makes a good sauce?
It is important that any stew, hot or cold, be prepared and seasoned with care in order to complement the natural flavors of a dish.
As with all cooking, patience is required to create the appropriate texture and deep layers of flavor that are desired from a true quality sauce.
What condiment is great on chicken?
Another fantastic dipping stew to mix with your chicken sandwich is honey mustard. This sweet take on conventional mustard tastes excellent with both grilled and crispy chicken.
You may also make your own honey mustard at home using dijon mustard, honey, garlic powder, and oregano. Simple, nutritious, and inexpensive!
How do you add sauce to chicken? Steps to BBQ Saucing Chicken
You want to baste with just enough stew to cover it, but not too much so that it is drenched in BBQ sauce.
Coat one side and then allow the chicken to simmer for 4 to 5 minutes before turning the meat over and coating the other side. Choose a thick sauce.