How to Make Nigerian Puff Puff with Pepper & Onion
How to Make Nigerian Puff Puff with Pepper & Onion. Please Watch >>>>
Nigeria pepper and onions puff puff
Spicy Puff Puff Recipe
Peppered puff puff
Nigerian puff puff with pepper and onion
How to Make Nigerian Puff Puff with Pepper & Onion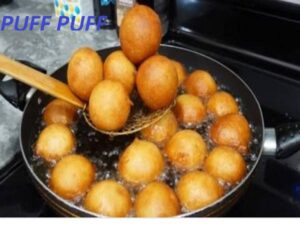 Peppered Puff Puff is the hot and spicy variation of the traditional Nigerian puff puff. You can add some zing to your puff puffs, with the help of the recipe on this page,
Enjoy the deliciousness of deep-fried, pepper- and onion-flavored Nigerian puff puffs!
These incredibly addictive Puff round balls are pillowy inside and out and are made with puff pastry (dough; yeast, flour, and pepper).
Your family will soon choose this puff puff recipe as their favorite!
Popular Nigerian snacks called puff puffs are similar to doughnuts. Puff puff is a member of the food category known as small chops because it can be easily consumed whole or in a few bites.
Buns, Gizdodo, Samosa, Sausage Rolls, Spring rolls, Chin-chin, and more foods fall under this category.
Your life will be changed for the better by this puff pastry recipe for Nigerian puff puff with pepper!
Puffs are simple to make and eat, and they go well with warm milk, yogurt, tomato sauce, ice cream, fruit smoothies, and pap.
In this article, I'll provide you with an easy recipe to make a savory, mouthwatering puff puff with onions and pepper.
Let's Begin …….
How to make Easy Puff puff
Ingredients
3 cups plain flour
One cup of sugar
4 teaspoons yeast (instant or fast action)
1 small ball of fresh habanero pepper or chili
1 onion
A Pinch of salt and ground nutmeg (Optional)
2 cups of lukewarm water
2 cups vegetable oil for frying
Instruction
Firstly, prepare the yeast and sugar mixture by combining them with a half cup of warm water. (To allow proofing and to easily dissolve the sugar).
Secondly, to loosen the flour, sift it into a small bowl and then, combine the yeast mixture with the flour, salt, and nutmeg.
Then, blend the batter well after gradually adding the remaining warm water. (The batter should not be too thick or runny).
For about 45 minutes or until the batter doubles in size, cover the bowl with plastic wrap or a towel and set it in a warm location.
After that, add the finely chopped or grated pepper and onions to the batter after it has doubled in size and mix until thoroughly combined.
In a small pot, pour the oil and let it heat up. Then, drop a pinch of batter into the oil to see if it's hot enough. The oil is ready if it sizzles and then bounces back up to the surface.
Now, scoop up tiny blobs of batter and drop them into the hot oil using your palm, a spoon, or an ice cream scoop.
You will notice that when the batter comes into contact with the oil, it forms spheres/circles.
Now, fry on medium heat, being careful not to crowd the pot. Flip the food over so both sides can cook.
Lastly, remove the balls once they are a golden brown color and set them in a sieve lined with paper towels.
Enjoy your delicious puff pastry balls by serving them with a chilled drink or Nigerian Style Fruit Salad.
Feel free to top it with jam and other toppings that you normally use to eat doughnuts.
Cooking Tips ~ How to scoop puff pastry using your hands
To scoop the batter with your palms into the oil for frying:
It is best to wet your hands with water before scooping the batter into the oil to fry it.
To separate the stretchy batter, dredge it from the bowl in your direction.
Place the batter in the oil by squeezing it between your finger and palm.
Frequently Asked Questions on How to Make Nigerian Puff Puff with Pepper
Can yeast be used to make puff pastry? Can I make a puff puff without yeast?
Not at all; Puff-puff's distinctive flavor is due to yeast. You might try using baking powder to make buns. In addition, making it simple and delicious.
What ingredients are in Nigerian puff puff? What is Nigerian puff puff made of?
The Nigerian term for this traditional African snack is puff-puff. It is made of fried dough.
A mixture of flour, yeast, sugar, butter, salt, water, and eggs (which are optional) is used to make puff puffs, which are then deep-fried in vegetable oil until they are golden brown.
What is puff puff in English? Puff-puff in British English
Noun
A name for a steam locomotive or railroad train given to children
Why is puff puff so sturdy? What makes puff puff strong?
What's Up With My Hard Puff Puff?
Your puff puff comes out tough because it spends too much time in the oil. Before you start frying, make sure the oil is hot enough for deep-frying.
It shouldn't stay in the oil for very long to absorb so much if you can do that.
What's the origin of puff puff? Where does puff puff come from?
Sub-Saharan Africa
Place of origin for puff-puff
Geographically speaking, Sub-Saharan Africa refers to the parts of the African continent; these include Central Africa, East Africa, Southern Africa, and West Africa.
Is eating puff puff healthy?
Although puff pastry contains some micronutrients, it is also very high in fat and carbohydrates. 100 grams of puff pastry, or one serving, has a whopping 551 calories.
Puff pastry made from refined flour lacks the fiber that encourages satiety. Instead, it may cause a blood sugar spike and compromise digestive stability.
What exactly is puff puff? What is puff puff in real life?
The deep-fried dough is called puff puff; they are made from yeast dough, rolled into balls, and fried in hot oil until golden brown. Its texture is similar to a doughnut but slightly chewier.
Although it goes by different names and is prepared slightly differently in various nations, it is a very popular snack.
What is puff puff in other countries?
Puff puff is referred to as Magwinya in Botswana. Last but not least, it is known as Mandasi in Malawi and as Fat Cooks or Fat Cakes in Zimbabwe.
Other non-African nations also have names for puff puff, including Bolinho de Chuva in Brazil. Known as Beignet in France and the rest of the western world
What countries eat puff puff?
Puff-Puff is a well-known street food in most West African nations, though it goes by different names depending on where you are.
It is known as Bofrot (togbei) in Ghana, Puff-Puff (Puff) in Cameroon, and beignet in Nigeria.