How to Make Soya Bean Cake: Nigeria Tofu/Soya Wara
Soya bean cake is a snack that is made from blended soya beans with some spices and deep-fried. This cake is commonly known as wara, beske, awara, or Nigerian tofu.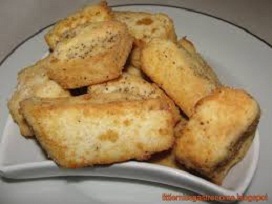 Wara Soya was a staple in Kwara State in Nigeria and other Western and Northern states.
Please Read: Soya Beans: Nutrition, Benefits, Types, Uses, and Side Effects
It often serves as a substitute for meat. It is a tasty snack that is low in calories but abundant in protein.
Health Benefits of Soya Bean Cake
High in Fiber.
High in Protein.
Aids Digestion and Bowel Movement and Shed Body Weight.
Low in Saturated Fat.
Cholesterol Free.
Lactose-Free.
A Good Source of Omega-3 Fatty Acids.
A Source of Antioxidants.
High In phytoestrogens.
Ways of Enjoying Soya Bean Cake
Wara is very adaptable. The fried and spiced cubes are hawked and sold for ₦100 apiece for now and the wara kebabs are favored by the Ghanaians.
Other ways of enjoying soya bean cake include:
Scrambled And Curried Wara (Which Goes So Well With Fried Plantain)
Wara in Egusi Soup (Fried/Oven Roasted Before Cooking In The Egusi Soup. It Soaks Up The Soup Flavor In A Good Way)
Ehuru And Pepper Flavored Fried Wara
Oven Roasted Small Wara Bits/Scramble In Your Spaghetti Sauce Or Salads
Oven Roasted Wara Steeped Beforehand In Ginger And Garlic
Wara In Fresh Thai Spring Rolls
Oven Roasted Wara for Burger Patties, And So Much More.
The foodgasm prospects are endless. The good news is that halfway through the process, you get Soy Milk. But let's not get ahead of ourselves. Below is the recipe:
Homemade Soya Bean Cake Recipe ~ Steps on how to make Awara 
I likened the process of making Soya bean cake to that of making pap (ogi/akamu).
The great thing about making it yourself is that you can add in your twist.
Ingredient
3 cups of raw soya beans
Water
1 teaspoon of magnesium chloride or 75 ml of freshly squeezed lime juice or even alum
Vegetable oil
3 habanero pepper( blended)
One raw egg
A big pinch of salt
Seasoning cube
Directions
Firstly, pick the soya beans, and remove all stones and dirt. Then, place the soya bean in a bowl and pour water to cover the soya bean, and leave overnight for 4 – 6 hours.
Secondly, rinse the soya bean and ground it into a fine paste
Thirdly, add 3 cups of water to the blended soybean. place a sieve ( chiffon cloth) in a big bowl or pot, pour the paste into the sieve, and separate the milk from the chaff
Fourthly, the chaff is what remains in the sieve and it is useful while the liquid that came out from the sieve is the Soya Milk
After that, pour the milk into a large pot and set it on fire, and allow boiling.
Then, dissolve the magnesium chloride in a half cup of water and pour it into the boiling milk. Tofu will start to form. Do not stir.
Allow boiling for 3 minutes, and then turn off the heat. Leave to coagulate for 5 minutes
After that, rinse the sieve (chiffon cloth) and place it in a big bowl, then pour in the contents of the pot. tie the sieve and place a heavy object on it to drain out the excess water
Lastly, wait for about 30 minutes before untying the sieve, then, remove the soya bean cake and place it in a tray.
Your tofu should be set and ready to serve.
Please note – Tofu is ready for consumption at this point, you can season it with salt and pepper and serve or process it further;
To Process Tofu Further:
Firstly, cut the tofu into desired sizes and season with some salt, Maggi, and pepper.
Secondly, break the egg and add the seasoning cube with a little water in a bowl, and whisk together until you get a homogeneous mixture.
After that, place the tofu inside the egg mix and rub the eggs on it
Lastly, deep fry until golden brown. That's it. Soya Bean Cake is ready!
Soya Bean Cake/Tofu/Beske/wara can also be used in stir-fry, stews, and sauces as a great meat alternative.
FAQs
What are the benefits of soya bean cake?
The relatively low fiber content of soy cake is one of its benefits.
This corresponds to a better level of digestibility as compared to other feed additives, making it preferred by all types of farm and poultry animals (it also works for exotic animals).
What is soya cake made of?
CONSTITUTION: The cake is made by crushing the mixture of soybeans and water in a 2:7 ratio, separating the bean-curd dregs from the liquid, and naturally drying the bean-curd dregs at 10-17 degrees Celsius for 4 hours and drying them with hot air at 30 degrees Celsius for 3 hours, at 40 degrees.
What is soybean cake?
It is a fermented soybean cake made from cooked soybeans and grains (such as rice and millet) using the Rhizopus Oligoporus culture.
What benefits do soybean cakes have over fish?
One of the best and most affordable options for substituting fish meals in commercial aquafeeds is soybean.
It has been found to have the best amino acid profile of all the protein-rich plant foods for satisfying fish's need for essential amino acids.
Is soya beans good for catfish?
These findings suggest that soybean meal can completely replace fish meal in a blue catfish diet without the need for additional L-methionine.
How do soy beans help you gain fat?
Blended banana, honey, milk, and cooked soya chunks make a tasty, protein-rich smoothie that's great for breakfast or as a post-workout snack.
This smoothie promotes weight gain and offers important vitamins and minerals like potassium, calcium, iron, and C.
Is soyabean good for fish?
One of the best non-fish sources of nutritious proteins, unsaturated fats, and essential omega-3 fatty acids is soy.
To stimulate growth and healthy development, farmed fish and shellfish are fed high-quality soy protein.
Can we eat soybean with fish?
Fish and Soybeans Combination
It is a complete protein because it combines fish with soya beans, which provide all the essential amino acids and other vital nutrients that the human body need.
Do fish eat soybeans?
Since fish cannot survive on soy alone, soy meal and BSFL meal were combined to create a very nutritious fish food.
The use of soy and BSFL in fish feed rations serves just to balance the amino acid and fatty acid profiles and improve feed palatability.
Is groundnut cake good for fish?
According to So and Si, groundnut can substitute 10% of fish meal in the diets of H. longifilis fingerlings, which seems to be beneficial.
Fish meal makes up 44.17% of the total crude protein. The most popular protein source in animal feeds worldwide is soybean meal.
What can I do with soy bean chaff? How do I make awara from soybeans?
Using Okara (soybean pulp) in Recipes
Add stir-fries for a wonderful texture and extra protein. Add to baked items like bread, muffins, and cookies to replace wheat flour with a gluten-free option.
Okara flour can be used in place of 1 cup of all-purpose or wheat flour.
What is the English name for Awara?
Awara is a famous, nutritious dish from Northern Nigeria made from soy beans that is equally popular in Western Nigeria.
It is called Tofu in English and Awara, Wara, or Beske in Nigeria, although beske is fried tofu.
How to make moi moi with soybeans – Can soya beans be used for moimoi?
This study showed that soybeans might be used to make moimoi with improved nutrition which is generally regarded as acceptable.
What is the nutritional value of Awara?
According to the findings, the awara snack had a protein value of 30.58%, a crude fat value of 24.60%, and a carbohydrate value of 27.50%.
It was also discovered that the contents of moisture and ash were 9.17 and 3.23%, respectively.
What in Hausa is Awara?
The flavor of Awara, a soy-bean cake, captivates people in northern Nigeria, particularly those from the Hausa and Fulani communities.
What are the benefits of Awara?
The nutritional advantages of awara are enormous.
Along with protein, it also includes vitamins B, C, and K, iron, manganese, magnesium, calcium, fiber, unsaturated fatty acids, and carbs.
How to make awara with pap water ~ How to make Awara with alum
Awara/Beske is rather simple to make, even though there are a few processes.
Soybeans, water, and a coagulant (either liquified alum, vinegar, lime juice, or petroleum ether) are the main constituents.
Steps on how to make Awara ~ Is Awara organic?
Yes
How to create Awara sauce How to make Awara with yeast
Soybeans, water, and a coagulant are the three main components.
Heat ½ cup of vegetable oil and sauté the onion for 2 minutes to make the sauce. Sauté for another minute after adding the ginger and garlic paste.
Stir in the pepper mixture. Salt and other seasonings as desired. Until the oil separates from the pepper, allow to fry for around 5-7 minutes. Add green bell peppers as a garnish.
How to make soya beans milk ~ How is soya milk drink prepared?
Instructions
Soak the soybeans for at least six hours or overnight.
You can choose to peel the beans once they have been soaked.
To slightly break down the seeds, add the soaked beans to a high-speed processor or blender and blend for only 10 to 15 seconds.
Add the water and blend once more until creamy and smooth.