How to Process Ponmo (Cow Skin) at Home and Earn from it.
How to Process Ponmo (Cow Skin) at Home and Earn from it.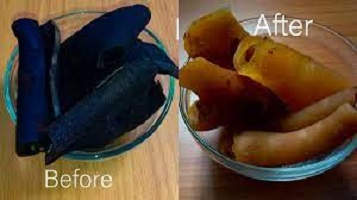 Nigeria's colorful cuisine contains a variety of meats, one of which is the most popular condiment and snack known as "ponmo."
Have you ever wondered how ponmo is produced? How to Cook Ponmo? What is Ponmo?
Butchers prepare dry ponmo food, which is cow skin in English. It's a delectable cut of beef that's used in a variety of soups and eaten as a snack.
It is usually found in the southwest of Nigeria (among the Yorubas), although it can also be found in other regions of the country.
There's just something beautiful about properly cooked cow skin meat. I especially enjoy it when it's gently cooked in a stew and the sauce seeps into the cow skin crevices, oozing out of every corner as you bite into it (oh my).
We've all heard stories about cow skin food dealers injecting it with various substances for it to become softer faster and appear thick and plump. Thereby making consumption highly dangerous.
If food safety is a priority for you, you might wish to make your own.
Do you know how they say there are multiple ways to skin a cat? That holds for ponmo as well. There are various methods, but this is my personal preference for home cooks.
Process – How to Cook Ponmo
Firstly, cut the cow skin into manageable pieces.
After that, scrape the dirt from the back of the skin.
Thirdly, trim away any surplus meat from the cow skin inside.
Then, trim away any surplus meat from the pomo's inside. The meat should be washed and dried.
Preheat the oven to 400 degrees Fahrenheit and line an oven pan with foil.
Arrange the pieces on the lined baking sheet and bake. Curl and dry the pieces in the oven. (Time: 25–30 minutes)
Take the cow skin out of the oven. Fill a big saucepan halfway with water and add the coiled pieces. Cook for 30 minutes to 45 minutes.
Take the ponmo out of the water and set it aside to cool. Cut into the desired shapes and sizes.
The color of the cow, as well as scraping, determines the final color of your pomo. Brown cows create brown pomo, while black and white cows generate white ponmo.
How to make money or earn from Ponmo: Start a Ponmo Business in Nigeria
After the process, you can sell it right away.
You can make a sauce with pepper and sell it as well.
Do you think it's a good idea to make your pomo at home? What more do-it-yourself dishes would you like to try?
Let me know in the comment section below. I enjoy hearing from you.