Nigerian Yogurt ~ Which Yoghurt Is Best in Nigeria
Nigerian Yogurt ~ Which Yoghurt Is Best in Nigeria
Yogurt is a flavored milk that has some health benefits. Much of this is due to the nutritional value of this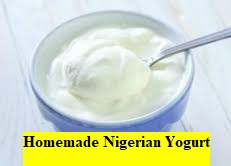 milk.
There are numerous yogurt producers in Nigeria, and their products differ. Let's take a look at the best yoghurt brands in Nigeria.
You will be able to choose the best Nigerian yogurt sauce based on this information.
Nigeria's Top Yogurt Brands ~ Best Yogurt Brands in Nigeria
Mich & Kay Greek Yogurt Low Fat. Mich & Kay Greek Yoghurt is one of the best Greek yoghurts available in Nigeria.
Hollandia brand is renowned for making tasty nourishing yogurt drinks that are healthy.
Fage Yoghurt.
Farmfresh Yoghurt.
Habib Yoghurt.
Keziah Yoghurt.
Fresh Yo.
The best yogurt in Nigeria listed above offers a variety and highly nutritious yogurt drinks. Yogurt has numerous advantages over other dairy products.
If you're unsure whether to include yogurt in your diet, consider the nutritional benefits of yogurt listed below:
Immune system booster: Yogurt can help you fight diseases and boost your immune system. This is due to the fact that it is high in essential vitamins. Yogurt is a nutritious complementary drink, particularly for adults.
Helps with digestion: Yogurt aids in digestion by preventing constipation and belly bloating.
Body repair and muscle building: Yogurt contains Vitamin D, which, when combined with calcium, results in healthy bones and the prevention of diseases such as osteoporosis.
Active culture yogurts significantly reduce health risks such as high blood pressure and gastrointestinal issues such as constipation and diarrhea.
Treatment of vaginal infections: Women benefit from regular consumption of yogurt because it aids in the treatment of vaginal infections.
Weight loss: Yogurt is an important substance that aids in weight loss. Yoghurt has many benefits for people who want to lose weight or maintain their current weight.
Nigeria Yogurt
Having yogurt as a dessert can help you avoid overeating. Yogurt contains bacteria that aid in the replacement of bugs that cause obesity by fueling toxins in the stomach.
How to Select the Best Nigerian Yogurt
Yogurt is frequently promoted as a healthy food. However, many yogurts contain additional flavorings, which can alter their health-promoting characteristics.
This is one of the reasons why choosing between the entire yogurt options at the grocery store may be difficult.
Use this guide to learn what to look for and what to avoid when shopping for healthier yogurt options.
Always read the label before purchasing yogurt: The first step in deciding what yogurt to buy is to read the label. This is because understanding what's on the label is critical to understanding what's in your food. If you know what to look for on the label, you can learn a lot about each yogurt.
Examine the ingredient list: If at all possible, choose yogurt with a limited number of ingredients. Milk, the bacterial cultures that turn milk into yogurt, and not much else should be included. The same rule applies to non-dairy yogurt: keep the ingredient list as short as possible.
Nutritional details: The nutrition data on the label contains some of the most specific information. The serving size and calories per serving are listed at the top. The nutrition data can also tell you how many carbs, fat, protein, and sugar are in each serving.
How to Make Yogurt in Nigeria (At Home)
In this yogurt making, I'll show you how to make yogurt at home with various types of milk, but we'll start with two simple methods for making homemade yogurt without a yogurt maker and also using milk powder (powdered milk).
Why is yogurt made with milk powder (powdered milk)? Because milk powder is widely available in Africa and some parts of Asia, it is also the most popular type of yogurt.
So we'll start there, and I'll also show you two ways to make milk powder yogurt at home.
Nigerian Yogurt Recipe ~ 1ST Method
The first employs the traditional boiling method, in which the milk is heated to a specific temperature, cooled, and then the starter (yogurt culture) is added.
Nigeria Yogurt Recipe ~ 2ND Method
While the second method is even simpler and requires no boiling,
Now, for both yogurt-making methods, keep the yogurt mixture warm and undisturbed for at least 8 hours to allow the yogurt to set properly without becoming runny
However, if you want a runny yogurt (as in a liquid yogurt drink), 6 hours is all you need, as long as the mixture is kept at an optimum temperature of 44°C to 46°C (110°F to 115°F).
Once it has set, you can enjoy your very own homemade yogurt and sweeten as desired, but first, scoop out about 3 to 4 tablespoons and store in an ice-cube tray in the freezer for your next yogurt batch.
Ingredients
1 cup (125grams) Milk powder or powdered milk
3 cups (750ml approx.) Water
2 to 4 tablespoonful(125ml)
Instructions
Firstly, pour a cup of lukewarm water into a saucepan and mix well to dissolve the milk powder or powdered milk.
After that, add the remaining water and stir thoroughly. Then, set the saucepan over medium heat and bring the milk to a boil.
Thirdly, stir constantly to avoid scorching-When you notice some tiny bubbles on the milk, stir and stay alert, and remove it from heat immediately if it begins to boil.
Now allow cooling to about 44oC, which is neither too hot nor too cold.
Remove the thin film that has formed on top of the milk and stir in the yogurt. Mix until everything is well combined.
Then, pour the mixture into your preferred container and tightly seal it. I also go the extra mile and seal it with a clean plastic bag, foil paper, or a large blanket. You can also use towels if you want to keep the yogurt's internal temperature stable.
Place it in a warm oven, a food cooler with hot water bottles beneath it, or anywhere in your home that gets a little heat for 8 to 12 hours to allow it to be properly set.
After 8 hours, you should have a thick natural yogurt with no added sweeteners or flavors.
Lastly, you can now scoop out about 4 tablespoons and set it aside for your next batch. And sweeten or serve the remainder as desired.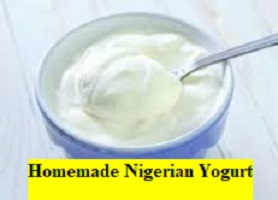 FAQs about Nigerian Yogurt
Where to buy plain yogurt in Nigeria 
In Nigeria, there are a thousand and one places to buy Greek yogurt. It is available in many Nigerian supermarkets (like Shoprite).
You can also buy Nigerian Yogurt from online vendors such as Instagram, Jumia, and Supermart.
Which plain yogurt is healthiest? Healthiest Dairy Yogurts
Wallaby Organic No Sugar Added Greek Yogurt.
Fage Total 2% Greek Yogurt.
Chobani Complete.
Siggi's Skyr.
Coconut Cult Probiotic Coconut Yogurt.
Lavva Dairy Free Yogurt.
Siggi's Plant-Based Yogurt.
Is plain Greek yogurt the same as plain yogurt?
In conclusion
Regular and Greek yogurt is made with the same ingredients but has different nutritional values.
While regular yogurt has more calcium and fewer calories, Greek yogurt has more protein and less sugar – as well as a much thicker consistency.
What kind of yogurt promotes weight gain?
Greek yogurt
Full-fat yogurt is high in calories and protein. Plain or Greek yogurt is preferable to flavored yogurts, which can be high in sugar.
What is Greek yogurt?
Greek yogurt, also known as concentrated or strained yogurt, is made by straining regular yogurt to remove the whey and other liquids.
What is Greek yogurt made from?
Greek yogurt is made from cow's milk that has been strained to remove the whey, resulting in a thicker consistency than regular yogurt.
It also has a tangier flavor and is frequently used as a healthier alternative to mayonnaise, sour cream, or crème fraîche.
Why is Greek yogurt healthy? Why is Greek yogurt good for you?
Greek yogurt is high in protein and other nutrients such as vitamin B12, calcium, and selenium.
It has been linked to a number of health benefits, including muscle and bone health, and certain types may help contribute to a healthy gut.
What is the origin of the name Greek yogurt?
Greek yogurt is a yogurt that has had the majority of the whey strained out, making it thicker.
Straggisto is the name given to it in Greece (which simply translates to strained yogurt).
Fage, a company founded in Athens, Greece, was the first to use the term "Greek" on yogurt labels to describe the product.
How much is Greek yogurt in Shoprite?
Yogurt prices: Yogurt Fruit Drink MPK – N2499; Fresh Dessert – N1699; Yogurt Smith (Fruit Salad) – N1599; Greek Yogurt – N1799; Plain Yogurt – N499
The Bottom Line
Yogurt has numerous benefits over other dairy products.
The top yogurt manufacturers in Nigeria are listed above, and they all provide a diverse range of healthy yogurt drinks.
If you're not sure which one to get, read our guide on how to pick the best yoghurt. This article covered everything
Is Habib yogurt Greek yogurt?
Is Habib Yogurt authentic Greek yogurt? Habib yogurt is not the same as Greek yogurt.
However, Habib yogurt can be used to make greek yogurt because it contains live culture (bacteria), which is required for making greek yogurt.
Habib yogurts may start making Greek yogurts in the near future, but they do not at the time of writing.
Is Hollandia yogurt fermented? Is Hollandia yogurt probiotic?
Yoghurt Hollandia – Live probiotics in yogurt, such as Lactobacillus Acidophilus, help to lower cholesterol levels in the body Hollandiayoghurt #onthego | Facebook.
Is Habib yoghurt probiotic?
Depending on the type consumed, health benefits range from preventing osteoporosis to relieving irritable bowel disease and assisting digestion.
Yogurt is high in protein, calcium, vitamins, and live culture, or probiotics, which can improve the microbiota in the gut
Yoghurt & Desserts ~ Is Habib Yogurt Greek Yogurt?
Habib yogurt is not the same as Greek yogurt. However, Habib yogurt can be used to make greek yogurt because it contains live culture (bacteria), which is required for making greek yogurt.
Habib yogurts may start making Greek yogurts in the near future, but they do not at the time of writing.
Best Greek yogurt in Nigeria ~ which brand of Greek yogurt is best for you?
Which Greek yogurt is The Healthiest?
Fage Fat-Free Greek Yogurt.
Chobani Less Sugar Greek Yogurt.
Siggi's Strained Yogurt.
Stonyfield Organic Greek Plain 0% Fat Yogurt.
Kite Hill Greek-Style Artisan Almond Milk Yogurt.
Oikos Triple Zero Vanilla Greek Yogurt.
Best powdered milk for yogurt making in Nigeria ~ Best plain yogurt in Nigeria
Mich & Kay Greek Yogurt Low Fat. Mich & Kay Greek Yoghurt is one of the best Greek yoghurts available in Nigeria.
Hollandia brand is renowned for making tasty nourishing yogurt drinks that are healthy
Fage Yoghurt
Farmfresh Yoghurt
Habib Yoghurt
Keziah Yoghurt
Fresh Yo
Nigerian yogurt parfait ~ what is the composition of a Nigerian yogurt parfait?
What exactly are yogurt parfaits? It sounds fancy, but it's simply layers of yogurt and fresh or frozen fruit topped with a scoop of granola.
In Nigeria, what is parfait?
It's a simple breakfast or dessert that's both healthy and filling. It starts with a thick layer of creamy yogurt, followed by homemade granola and fresh fruits.
Nigerian frozen yogurt ~ Can I just freeze yogurt to make frozen yogurt?
Frozen yogurt is simply ice cream under a different name: a frozen dairy dessert made with yogurt rather than milk and cream. If you wanted, you could make frozen yogurt using nothing but yogurt. Put some plain full-fat yogurt in an ice cream maker and churn it.
Nigerian frozen yogurt Lagos ~ 13 Best Frozen Yogurt Shops in Lagos reviews
Pinkberry Frozen Yoghurt Aromire
Sweet Kiwi Frozen Yogurt
Habib Yoghurt & Fura
Habib Yoghurt & Fura Ikoyi Lagos
Habib Yoghurt & Fura Lekki Phase 1 Pinkberry Frozen Yoghurt
Habib Yoghurt And Fura, Gbagada
Squiz'd juice blend
Oyin paradise
Double T Cold Room
Froothieheal
Rufaidah Yogurt & Fura
Habib Yoghurt and Fura Kilo Bustop
Sharp Sharp Foods
Froyo Nigeria yogurt ~ what kind of yogurt is froyo?
Frozen yogurt (also spelled frogurt or Froyo; /frojo/) is a frozen dessert made with yogurt and occasionally other dairy and non-dairy products.
Frozen yogurt is a frozen product that contains live bacterial cultures as well as the same basic ingredients as ice cream