Steak and Eggs Recipe ~ Best Ever Perfect Breakfast
Steak and Eggs Recipe ~ Best Ever Perfect Breakfast
There's something special about a hearty breakfast of steak and eggs! It is truly filling and satisfying
Steak and egg is a filling and flavorful breakfast filled with protein! Tender and juicy pan-seared steak is perfectly seasoned and served with scramble eggs or sunny side up.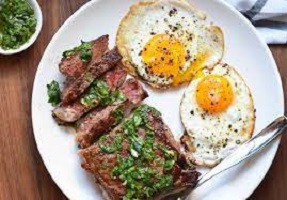 It's a breakfast that keeps me full for hours and allows you to sail straight through to noon with no need for a mid-morning snack.
There's a steak for every meal, including breakfast, lunch, and dinner. There are so many delicious steak recipes.
What Are Steak and Eggs?
Steak & eggs may not sound like a good combination, but believe me when I say it is INCREDIBLE!
I enjoy making steak and eggs since it is simple to prepare and provide a filling meal before we begin our day!
Our favorite way to serve this sumptuous, indulgent breakfast staple is with roasted potatoes, but you may serve it with any side dish you choose.
I occasionally provide various selections for my family to choose from. These hashbrowns are great with parmesan potatoes or just with toast made from my handmade bread.
What's the best cut of steak for steak & eggs?
When selecting a steak for steak and eggs, look for a good balance of softness and fat. You'll want something substantial that isn't too light.
We used a New York strip steak, but you could also use a ribeye, flank steak, or hanger steak!
We just suggested avoiding highly tender, less fatty cuts like filet mignon, which, while great, isn't really what we're going for as the perfect complement to our runny eggs.
Making steak and eggs requires the following ingredients:
Everything about this recipe will appeal to you.
Butter and olive oil: To give the steak taste and a flawless outside edge, it is cooked in oil and butter. The combination is fantastic!
New York Strip Steak: I prefer my steak lean, but any steak will do.
Eggs: Large eggs are preferred. Cook them to your liking.
Roasted Potatoes: These are my simple air fryer roasted potatoes, but you may serve your steak and eggs with whatever side dish you choose.
When it comes to flavor, steak and eggs is a true blank canvas. We kept it basic with salt, pepper and smoked paprika, but feel free to experiment with whatever you have on hand, from a favorite steak seasoning to Creole if you want some heat.
Suggestions for serving. We used roasted potatoes for the starchy component in this dish, but you can experiment with crispy hashbrowns, pan-fried potatoes, or even air fryer tater tots.
We topped our platter with fresh dill, parsley, and chile oil for extra spice. The most crucial thing to keep in mind is that this is your plate! Use your imagination.
Recipe for Scrambled Steak and Eggs
This recipe is really simple and quick to prepare! Especially on those hectic mornings. The aroma of steak in the morning quickly pulls people out of bed!
Season the Steak: Season both sides of the steak liberally.
Melt the butter and olive oil in a large cast iron skillet over high heat. Allow the olive oil and butter to warm for a minute before adding the meat.
After that, place the Steak in the Skillet: Place the seasoned steak in the skillet.
Then, cook the Steak: Cook the steak for 4 minutes on each side. Reduce the heat to medium-high. Cook the steaks till done to your preference It took me approximately 8 minutes and three flips to acquire a medium. Move the steak to the side of the skillet after it's done to create room for the eggs.
Now, cook the Eggs: With the heat on medium, softly crack the eggs into the skillet. Cook, covered with a lid, until the whites are totally set but the yolks are still runny. This will take approximately 2 to 2 12 minutes. Keep an eye on it and wait 2 minutes before removing the cover. If you want your eggs sunny side up, don't flip them. Season the eggs liberally with salt and pepper.
Lastly, serve your steak with your eggs and your choice of side dish.
Made it? Let us know how it went in the comment section below!
FAQs
Easy One Pan Steak and Eggs ~ What is the name for steak with a fried egg?
What exactly is Bife à Cavalo? Bife à Cavalo is a typical Brazilian and Portuguese cuisine.
Simply put, it's a pan-fried (or sometimes pan-grilled) beef steak topped with fried eggs.
Is it healthy to eat steak with eggs?
Most individuals are aware that protein aids in muscle maintenance and growth. A high-protein diet will aid in the maintenance and growth of muscle mass.
If you want to increase muscle while losing weight, adding steak and eggs to your morning menu may be the greatest option.
Why do people eat steak with eggs together?
A steak and eggs diet not only increases satiety due to the protein level but both eggs and steak are high in quality nutrients such as minerals and vitamins.
One big egg has 28 g of calcium, 6 g of magnesium, 98.5 g of phosphorus, 68.5 mg of potassium, 17.5 ug of folate, and 79.5 g of vitamin A.
What is the name of the steak with a fried egg?
What is Bife à Cavalo?
Bife à Cavalo is a typical Brazilian and Portuguese cuisine. Simply put, it's a pan-fried (or occasionally pan-grilled) beef steak with fried eggs on top.
What goes well with steak?
For a beautifully savory pasta dish with a rich, creamy sauce and crunchy topping, try these recipes.
Half a grilled tomato is a steakhouse classic.
Spicy slaw.
Garden salad.
Onion rings.
Refried beans.
Corn on the cob.
Creamed spinach.
Mushrooms
What is the best method to eat steak?
Medium rare is a far more common way to enjoy your steak. Seared on the exterior for long enough so the internal flesh is warm but still quite red! It's getting heated now.
A medium steak is grilled on the outside till the internal flesh is pink rather than red and lovely and warm.
What flavors complement steak?
Try adding the following ingredients to any dish to amp up the flavor!
Peppercorns
Tomatoes
Sour Cream.
Worcestershire Sauce.
Bacon
Aged Cheeses.
Mustard
Red Wine.
What is raw steak and egg called?
Steak tartare
Simply described, steak tartare, often known as tartare, is raw or nearly raw beef served with an egg yolk.
Tartare can also be made with raw or nearly raw tuna.
Where do they eat steak and eggs?
Since the United States Marine Corps adopted this classic Australian combo during World War II, steak and eggs have become an American breakfast staple.
If you're a native Texan, you've probably had a steak for breakfast at least once.
Do you eat steak with rice?
Rice can be a fantastic and substantial companion for meat, and all it takes is a few extra ingredients to make something flavorful and deserving of a seat at the table on your next steak night.
What do you eat with fried steak?
Green beans, french fries, mashed sweet potato, zucchini noodles, southern-style biscuits, coleslaw, creamed corn, collard greens, mac & cheese, and sautéed mushrooms are the greatest side dishes to serve with chicken fried steak.
What vegetables complement steak?
Creamy garlic mushrooms, roasted broccoli with lemon and garlic, coriander lime slaw, honey balsamic Brussel sprouts, roasted carrots with basil pesto, creamed spinach, baked tomatoes with mozzarella and parmesan, and seasonal roasted veggies are some of the most delicious vegetable side dishes for steak.
What do Italians eat with steak?
At this rate, you'll be eating the sides before the steak, they're that good.
Panzanella
Homemade mozzarella and fig salad.
Potato polenta with onion, cheese, and tomato.
Chickpea and caraway seed cauliflower, black olives, and rosemary.
My mother's roast capsicum salad
Cabbage salad with chili, mint, and sesame seeds
What is the meal with raw steak called ?
Steak tartare
Steak tartare, often known as tartar steak, is a raw ground (minced) beef meal. It is typically served with onions, capers, mushrooms, pepper, Worcestershire sauce, and other seasonings, which are frequently offered individually and can be added to taste.
What kind of cuisine is steak?
Many historians believe that the contemporary concept of grilling steaks originated in Italy.
The Genesis tale originates in Florence, which is the birthplace of the Renaissance.