10 Best Nigeria Food Blogs and Websites
10 Best Nigeria Food Blogs and Websites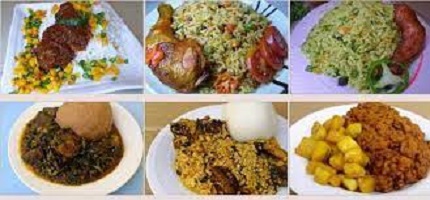 Creative Nigerian Food Bloggers Everyone Should Know About
Food Blogs in Nigeria: The Top 10
Dear foodie, here are the top Nigerian food bloggers you should check out
Top 10 Best Food Blogs in Nigeria to Follow in 2023
The best Nigeria Food blogs from thousands of blogs on the web and ranked by traffic, social media followers & freshness
10 Best Nigeria Food Blogs and Websites
Nigerian cuisine has always been well-known around the world. However, numerous Nigerian cuisine websites may teach you about various African delicacies.
I'm referring to folks who go above and above to bring favorable notice to the different meals available in our part of the world.
If you want the best or learn how to prepare a specific cuisine in Nigeria, this post will assist you list out ten (10) of these top food blogs in Nigeria that will teach you popular Nigerian cooking recipes.
Best Nigerian Food Blogs in 2023
These top ten Nigerian cuisine blogs should be followed among all famous Nigerian blogs.
If you want to visit any of these Nigerian food blogs, the URLs are included.
Top Nigerian Food Blogs (2023)
Consider a website where one may view the best Nigerian and African food dishes; this is, in essence, what 9jafoods.com is.
If you're looking for a recipe for correctly made Nigerian Jollof rice or the simplest noodles mixed with vegetables, check out 9jafood's website and an Instagram feed. Their goal is to create a community of African cuisine enthusiasts, and it appears that their strategy is working.
Dooney's Kitchen is frequently referred to as Nigeria's best cuisine blog.
Dooney's Kitchen is a great place to learn how to prepare native Nigerian foods, new African specialties, or even global dishes.
Perhaps the most well-known of all the chefs on our list, Sisi Yemmie's appeal stems from how she goes above and beyond to disclose aspects of her life that fans would not typically have access to.
When she prepares, she posts videos and images of her family members enjoying her meals. Fans adore her for it, as seen by her organic growth over the years.
Her recipes are also highly practical. Her party rice dish is still one of my favorites. She is also a published author, having her cookbook.
If you want to learn how to create authentic Nigerian dishes such as Jollof rice, Moi-Moi, soups, and delectable stews, the 9jafoodie food blog is a great place to start.
This food blog will also teach you healthy alternatives to common ingredients, as 9jafoodie's recipes are simple to follow.
One of the things I appreciate best about Afrolems is that they focus on African delicacies and cooking techniques as well as Nigerian recipes.
You will also have the opportunity to converse with other African-skilled chefs. Afrolems also provides food delivery services.
My Belle don full is a prominent food photography and video site in Nigeria, with crystal clear photographs and simple Nigerian cuisine videos.
This is also one of the top culinary blogs in Nigeria.
This blog is mostly focused on Nigerian dishes of all kinds. Snack foods, Breakfast dishes, and Calabar delights are just a few of the recipes you'll find on this page.
Dobby's website and Instagram page are a delight since he was one of the first chefs to embrace the usage of social media. It's almost like doing a cuisine tour of the country.
Dobby's Signature is another prominent Nigerian cuisine blog that you should check out if you enjoy cooking. When you visit Dobby's Signature, you can learn about colorful scrumptious recipes and much more.
This is due to her ability to prepare any cuisine from any section of the country. Not only does she record her technique on film, but something about how the meal is delivered always jumps out.
How many cooks can blend okro and fisherman's soup and get an aesthetically acceptable result?
This cuisine blog is impossible not to fall in love with. Food recipes on this site are simple to prepare and come with step-by-step instructions.
Uwatse used to work as an OAP on one of Lagos' most popular radio stations before quitting to devote her time to showcasing her culinary skills to the world.
Her strength is her ability to simplify even the most sophisticated or complicated Nigerian food, making it easy for the average cook.
Take, for example, her simple recipe for goat meat coconut rice. Did I mention she creates her spices and condiments as well?
Lohis Creations provides its visitors with a promising experience in terms of African recipes, and breakfast inspirations, and with its clear food photographs presenting tempting delicacies, this food site is worth reading.
Don't be deceived by the moniker; Nigerian Lazy Chef is one of Nigeria's top cuisine blogs. This blog includes enticing dishes that you will like as well.
My active kitchen, as the name suggests, exhibits many Nigerian foods, how to make them, and so on. It is worthwhile to go.
FAQs about 10 Best Nigerian Food Blogs and Websites
Best Nigeria food blogs and websites
Food Blogs in Nigeria: the top 10
9jafoods.com
Dooney's kitchen
9jafoodie
Afrolems
My belle don full
All Nigerian recipes
Dobby's signature
Ekaabo
Lohis creations
Which site is best for food blogging?
Pinch of yum, Lindsay. Pinch of Yum is one of the food blogging websites which is operated by Lindsay
Sailu's food, sailaja gudivada
com, steph
Cookie and Kate, Kathryne
com, stan
Budget bytes, Beth
Chocolate-covered Katie, katies
Vegan Richa, richa hingle
Who are the top food YouTubers in Nigeria?
The top 100 influential food/chef youtube channels in Nigeria (sorted by subscribers) are editorial skin doctor 556, sisiyemmietv, zeelicious foods, dimma Umeh, onyx food hill, and so on
Who is the most popular blogger in Nigeria?
Biggest bloggers in Nigeria
Uche jennifer pedro. Uche pedro is the founder of the popular Nigerian blog BellaNaija.
Noble Igwe. He was born in Aba, abia state on 10th February 1979.
Ademola ogundele.
Makinde Azeez.
Ladun liadi.
Loy okezie.
Who is the biggest food critic in Nigeria?
Opeyemi Famakin aka commissioner of enjoyment is a food journalist, Nigeria's biggest food critic, and content strategist. He is a food savvy and a skilled writer
What is the number 1 food in Nigeria?
Jollof rice
Jollof rice is without argument the most popular food in Nigeria, it is only number one because it is easy to prepare, anybody with a simple recipe could make a delicious pot of jollof rice in just minutes.
Who are the most successful food bloggers?
And who knows, you might be driven to start your food blog.
Inspired taste. Inspired Taste is a food blogging website and channel
Smitten kitchen. Smitten Kitchen started from a small kitchen in new york city
Cookie + kate
Simply recipes
David Lebovitz
Minimalist baker
Pinch of yum
The recipe critic
Do food blogs make money?
So how much can you earn as a food blogger? The leading food blogs generate millions per month.
Of course, at the other end of the spectrum, many blogs make no money at all.
Though, according to a survey by ZipRecruiter, the average food blogger makes over $40,000 a year
What are the 3 biggest food influencers?
Celebrity food influencers
Jamie oliver (@jamieoliver) instagram: @jamieoliver (9.2m followers) tiktok: @jamieoliver (463.1k followers)
Gordon ramsay (@gordonramsayofficial) tiktok: @gordonramsayofficial (35.6m followers)
Ree drummond (@thepioneerwoman) instagram: @thepioneerwoman (4.2m followers)
What food sells most in Nigeria?
Rice is by far the most popular food in Nigeria and has been so for a long time. It is grown majorly in the northern part of Nigeria because it's climate suits rice farming.
What foods are in high demand in Nigeria?
Yam tuber, beans, maize, and plantain are some of the food items that gulped the most incomes of Nigerians in 2021 as they recorded the highest increase in prices, according to data from the national bureau of Statistics.
What is fast-selling food in Nigeria?
The fastest-selling commodities in Nigeria
Chocolate
Palm oil.
Tin ore.
Iron ore.
Cocoa beans.
Coffee beans.
Cassava
Corn (maize)
Who is the king of street food in Nigeria?
Fajana oluwafemi adegboyega
After 13 weeks of clashing with other finalists for season 2 of street foodz Naija, a reality television show showcasing the top African delicacies from local chefs, fajana oluwafemi adegboyega of la krim foods emerged as the king of street foodz 2021
Who is the chef of Nigeria?
Tiyan Alile is a Nigerian-American celebrity chef and restaurateur. She founded the culinary academy, the first culinary school in Nigeria.
Who is the richest cook in Nigeria?
Tolu erogbogbo popularly known as chef eros, is arguably Nigeria's best chef.
He established cookies jar Bakeries also currently is the chief executive at chef eros and gourmet foods.
His strong business acumen and matured cookery art have earned him a place among West Africa's best.
Who is the youngest blogger in Nigeria?
Born Samuel adejo praise oyiyole, popularly known by the name sam adejo is a 22 years old origin of kogi state Nigerian, promoter, blogger, and podcaster.
The Kogi State-born entrepreneur, sam adejo was born on August 20, 1999.
Who is the richest blogger in Nigeria?
Top 10 richest bloggers in Nigeria & net worth (2023)
Linda ikeji – $40 million
Omoyele sowore – $10 million
Uche eze pedro – $5 million
Makinde Azeez – $4 million
Jide ogunsanya – $4 million
Noble igwe – $4 million
Bamidele onibalusi – $3.5 million
Ladun liadi – $3.3 million
Who is the richest blogger?
Top 10 highest earning bloggers 2021 (earnings & analysis)
Who are the highest-earning bloggers? (and how much do they earn?)
Timothy Sykes ($1 million per month)
Chiara ferragni ($250,000 per month)
Melyssa Griffin ($238,000 per month)
Sarah Titus ($200,000 per month)
Pat Flynn ($200,000 per month)
Who is the best food vlogger?
12 of the best food influencers on youtube (2023)
Not another cooking show. 1.05m subscribers.
Ethan chlebowski. 1.56m subscribers.
2.91m subscribers.
Mad scientist bbq. 543k subscribers.
Sip and feast. 613k subscribers.
Adam ragusea. 2.26m subscribers.
Pro home cooks. 3.88m subscribers
Guga foods. 4.11m subscribers.
Which food channel has the most subscribers?
Bon appétit
there's no better youtube channel to subscribe to if you love food than bon appétit's.
The channel was established in 2008 and has since amassed a staggering 6.01 million subscribers.
Tips for new food bloggers
Be yourself – just write from the heart and people will feel your passion.
Write about what you love – this again will draw people in.
Build your social media network – create fan pages on Pinterest, Facebook, Twitter, Google +…etc.
How do I monetize my food blog?
Affiliate marketing is another way to generate an income stream from your food blog. You add links to affiliate products from your recipes and blog posts.
Each time someone purchases those products using your link, then you will earn a commission. You will need to find food-related affiliate products first.
How do I grow a successful food blog?
9 best practices for successful food blogging
Be authentic. If you are posting recipes, post your own
Post regularly. Your readers should know when (day as well as time) to expect your blog post
Be patient
Be yourself
Be responsive
Be courteous
Be creative.
Be user-friendly
Who is the most famous food vlogger?
The best food influencers on youtube (2023)
You suck at cooking. 3.12m subscribers. …
Joshua Weissman. 7.75m subscribers. …
1.23m subscribers.
Not another cooking show. 1.05m subscribers.
Ethan chlebowski. 1.56m subscribers
2.91m subscribers
Mad scientist BBQ. 543k subscribers
Sip and feast.
Who is the biggest food influencer?
Check out this list of the top 20 food influencers to watch!
@jamieoliver
@jeanimbert
@yackikuka
@marthastewart
@fullyrawkristina
@feelgoodfoodie
@preppy kitchen
@deliciouslyella. Deliciously Ella is a successful food blog and brand created around healthy eating and wellness.
Who is the most successful blogger in the world?
Top 10 highest earning bloggers 2021 (earnings & analysis)
Who are the highest-earning bloggers? (and how much do they earn?)
Timothy Sykes ($1 million per month)
Chiara ferragni ($250,000 per month)
Melyssa Griffin ($238,000 per month)
Sarah Titus ($200,000 per month)
Pat Flynn ($200,000 per month)
Who is the most foodie person in the world?
British chef Jamie Oliver has 9.5m Instagram followers and is one of the top foodie influencers.
Nigerian food bloggers on Instagram ~ top 10 food Instagram influencers in Nigeria in 2023
@omollara. ⓄⓂⓄⓁⒶⓇⒶ obafemi || entrepren"
@horlaroflagos. Bolarinwa y.o
@official_marylove. Mary love
@maureenkunga. Maureen Kunga
@ifys.kitchen. Ify's kitchen (kitchen queen)
@val.hilda. Titi choplife
@modernafricankitchen. Modern African kitchen
@oliveemodi. Olive emodi
@sisiyemmietv
@zeelicious foods
Food bloggers in Lagos
| | | | | |
| --- | --- | --- | --- | --- |
| # | @username | Country/region | Followers | Engagement rate |
| 1 | Natasha crown @natasha_crown_official1 | Nigeria | 2.1m | 0.10% |
| 2 | Lota chukwu. @thelotachukwu | Nigeria | 1.3m | 0.60% |
| 3 | Diaryofakitchenlover @diaryofakitchenlover | Nigeria | 1m | 1.83% |
Food influencers in Nigeria ~ who is the biggest influencer in Nigeria?
Top Instagram influencers
| | | |
| --- | --- | --- |
| # | @username | Topics |
| 1 | Tiwa savage @tiwasavage | Music entertainment singer |
| 2 | Olufunke akindele @funkejenifaakindele | Business and finance celebrity entertainment actors singer |
| 3 | It's don jazzy again 🐘 @donjazzy | Business and finance singer music entertainment |
| 4 | Ini edo @iniedo | Art modeling entertainment actors |
Who is the biggest food critic in Nigeria?
Opeyemi Famakin aka commissioner of enjoyment is a food journalist, Nigeria's biggest food critic, and content strategist. He is a food-savvy and skilled writer
The vegan Nigerian ~ who is the vegan chef in Nigeria?
About tomi makanjuola
it's a decision that has shaped her life ever since, as she founded her blog, the Vegan Nigerian.
Using her platform to maintain close connections with her Nigerian roots, makanjuola began showcasing the country's cuisine, while exploring veganism
Best food bloggers in Nigeria  ~ food bloggers in Abuja
Pam's food tour. Follow.
Abuja food & lifestyle blog 🍸 follow.
eats. Ure eats | food blogger. Follow.
Places to go Lagos 🌴 follow.
The Lagos Bistro. Follow.
4 guys Restaurant Abuja. Follow.
Tour guide company in Abuja.
Inside Lagos.
What is the most selling food in Nigeria?
This is undoubtedly the most popular staple food eaten in Nigeria.
Pounded yam. This is a very soft food served in several Nigerian homes and restaurants.
Egusi soup.
Nigerian fried rice
Banga soup
Tuwo shinkafa.
Food website in Nigeria ~ what is a food app?
What is a food delivery app? Food delivery apps are a type of restaurant delivery/ takeout software that connects consumers with local restaurants, grocery stores, convenience stores, etc., by providing a convenient way to order food that's delivered to their doorstep