Knorr Vs Maggi: A Clash of Brands in the Seasoning Market
Knorr Vs Maggi: A Clash of Brands in the Food Seasoning Market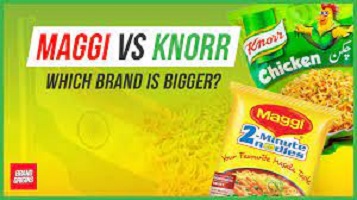 Knorr Versus Maggi: Battle of The Brands in the Seasoning Market
The king of food seasoning: Knorr vs. Maggi
A Clash of Titans: Maggi vs. Knorr
Knorr vs. Maggi Seasoning: Which is Best for Cooking?
Our Seasoning Market: Our Seasoning Taste Test
Knorr Seasoning vs. Maggi Seasoning
Related >>>>>
Creating a brand and sustaining it are two completely different things. Many big brands have gone out of business over time due to a lack of sustainability as well as a failure to make the brand sparkle and flourish.
Because of the invasion of some companies into the Nigerian spice food market, many other brand owners have risen to the occasion, while others have been forced to play second fiddle.
Knorr vs Maggi
Since Unilever Nigeria Plc took over the manufacturing and sale of Knorr seasoning from Cadbury Nigeria Plc in December 2005, there has been a fierce battle between Nestle Nigeria Plc, the makers of Maggi seasoning, and Unilever.
Many Nigerian households' menu recipes are now battling for first place in the seasoning sector. You won't be able to resist the delicious flavor of these seasonings, which are always used when making any meal.
Let's take a look at the two most commonly consumed seasoning brands in Nigeria. The Knorr Maggi Seasoning Cubes
Knorr is the company that makes Knorr (formerly Cadbury Nigeria). In Nigeria, the brand has maintained its leadership position in the food seasoning sector.
Maggi comes from the stable of Nestle Foods. In Nigeria, Maggi has established itself as a household name, with its brand name being used as the generic name for all seasoning cubes.
Knorr vs Maggi: Varieties
Maggi, without a doubt, has more variations than Knorr. In particular, Maggi, in particular, has the most variations (up to ten) of any bouillon cube in Nigeria, namely:
Onion Epice, Naija Pot, Star, Chicken, Safsafal, Nokoss, Crayfish, Mutton, Kari, and Golden Beef.
While Knorr may have other varieties, the Knorr Chicken Cubes and Knorr Classic Cubes are the most well-known in supermarkets and markets. Knorr seasoning mixes (in powder form) and Knorr liquid seasoning are hard to come by in retail stores.
Knorr vs Maggi: Taste
In terms of taste, people prefer Knorr to Maggi since it is milder and less salty. According to many people, Knorr gives every meal a distinct flavor.
According to consumer sentiments across the board, around 56 percent of individuals believe Maggi has too much salt, iodine, and sodium.
Knorr vs Maggi: Price
Knorr is the costliest seasoning brand in Nigeria, with a retail price of N650-N750 for a 400 g box of 8 grams each, 50 stock cubes, and the largest net weight of any food seasoning product in the country.
As a result, it has a market position that appeals to consumers who are willing to spend more on seasoning.
Maggi's 400 g pack of 100 stock cubes, each weighing 4 grams, costs N520. It also comes in a 100 g pack with 4 grams per cube (25 cubes) for N150, making it a more affordable option.
Knorr Maggi Nigeria
According to this study, Knorr is used in more restaurants and cafes, but Maggi is used in many homes. For stews and continental recipes, Knorr Chicken Cubes are ideal.
Knorr Classic Cubes are often used to produce many kinds of African soups, such as seafood fried rice and spaghetti carbonara.
Maggi Cube Nigeria
As a result, the brand has won the hearts and homes of many people over the years as a result of how it has positioned itself through cookery shows and other marketing methods.
The following are the results of a survey of many women on how best to use Maggi cubes:
Maggi Chicken is used to season stews, meats, and a variety of other dishes. Seasoning seafood with Maggi Crayfish is the finest way to go.
Maggi Chicken is used to season stews, meats, and a variety of other dishes. Seasoning seafood with Maggi Crayfish is the best way to go.
Maggi Onion Epice enhances the flavor of onions and other natural spices in dishes. Maggi Star is a versatile product that may be used in stews, soups, and other home-cooked dishes.
It may surprise you to learn that Maggi Crayfish is currently the most popular Maggi variety.
Knorr Cube Nigeria
A client stated that she favors Knorr because the bouillon cube packaging is easier to untie, but the Maggi cube package is more difficult to unwrap due to the material used.
Knorr vs  Maggi: Ingredients
Spices, flavoring (contains egg), citric acid, garlic powder, herb, water, chicken powder, Iodized salt, flavor enhancers (E621, E627, E631), sugar, corn starch, vegetable fat, onion powder, traces of cow's milk, ferric pyrophosphate, and sodium pyrophosphate are among the ingredients active in Knorr seasoning.
On the other hand, Maggi star seasoning ingredients, on the other hand, include iodized salt, sugar, flavor enhancers (sodium glutamate, sodium guanylate, sodium inosinate), starch, hydrolyzed soya beans, refined oil palm, emulsifier (soya lecithin), caramel E150c, water, onion, iron pyrophosphate, chili, pepper, clove, yeast extract, and soya.
Knorr Vs Maggi: Calories
Sodium, iron, and iodine are all included in Maggi and Knorr seasonings. Iron is especially crucial for the production of blood. You might be interested in the nutritional facts and health benefits provided below:
While the sugar in Maggi is claimed to be a rich source of vitamin A, it is mostly used to treat night blindness in adults and avoidable blindness in children.
Knorr seasoning cubes are gluten-free, have no chemical preservatives, and are low in cholesterol and fat.
Ferric pyrophosphate, a Knorr ingredient, has been linked to dizziness and weakness when consumed in certain foods.
Certain consumers' preferences for Maggi have been influenced by its saltiness since they grumble about having to watch the amount of salt they use in their cooking.
If not, the consumer is at risk of developing a variety of health problems as a result of too much iodine and sodium.
According to the National Library of Medicine, too much iodine can cause weariness, cold sensitivity, obesity, and cognitive issues, whereas too much sodium can cause high blood pressure and kidney stones (NLM).
Knorr and Maggi seasoning cubes are without a doubt the most popular food seasoning brands in Nigeria. Both are delivering on their brand promise, as evidenced by their popularity and significant revenue from sales. As a result, the king of food seasoning may be identified by the taste each adds to meals.
Knorr vs Maggi: The Bottom Line
In the Nigerian market, the food seasoning brands Knorr and Maggi Cubes are well-known. Both companies are clearly delivering on their brand promises to their target demographics.
Regardless of their respective massive sales earnings, the true taste of the winner-seasoning can only be found in the eating.