Aju Mbaise Weightloss Tea ~ Does It Work? YES!
---
Aju Mbaise Weightloss Tea ~ Does It Work? YES! Please Watch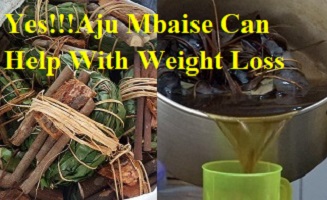 The Aju Mbaise for flat tummy and weightloss
Herbs are used to treat a variety of diseases and have been shown to aid in weight loss and life extension.
Today's topic is Aju Mbaise, a "tea or soup" traditionally given to nursing mothers to help them regain nutrients lost during childbirth.
The mixture has also been shown to help with weight loss and fertility.
What is Aju Mbaise? 
It is a fat-burning herbal blend made up of ginger roots, traditional leaves, uziza seeds, uda, and the bark of a special medicinal tree found in Mbaise.
This mixture is wrapped together to form a coiled wrap, hence the Igbo term Aju (which means "wrap" in Igbo).
The combination has a bitter alkaline flavor and a delectable aroma. The leaves are either brewed as tea or used to make pepper soup.
Aju Mbaise Weightloss Tea is an effective tea that aids in the loss of overall body weight, including belly fat.
If I'm not mistaken, the herb became popular in Nigeria in 2018, and 2019, because of the incredible testimonies people who took it received.
This herb aids in weight loss, detoxification, and the treatment of other ailments such as malaria.
WeightLoss with Aju Mbaise Tea ~ Aju Mbaise Tea for Weight Loss 
This tea can be consumed by nursing mothers for up to three months.
Aju Mbaise is a blessing to humanity because it has positively changed lives; women seeking fruit have also been able to carry their babies as a result of consuming these herbs.
I just have to mention a few of the things this herb does besides helping you lose weight. If you've been looking for a natural way to lose weight, Aju Mbaise is a great place to start.
For best results, I recommend taking it consistently for at least 10 weeks. It has no negative side effects.
Aju Mbaise Tea for Weightloss ~ Aju Mbaise Weight Loss Tea
People have taken these herbs and combined them with something else in place of Aju Mbaise.
Hence, you have to be careful to get genuine Aju Mbaise, which is expected to produce positive results.
Aju Mbaise Weight loss & flat tummy Tea
Aju mbaise flat tummy herbal tea is especially effective at burning fat around the tummy area within a month.
Imagine yourself feeling really good every day and losing those unwanted pounds and inches quickly and safely, as tested and proven effective by hundreds of thousands of satisfied customers.
Learn how simple it is to lose weight quickly and safely with Aju mbaise herbal weight loss tea.
Aju Mbaise Weightloss Tea Benefits:
Reduces Pot Belly
Helps With Weight Loss
Reduces Bloating, Suppresses Appetite, And Improves Post-Natal Recovery.
Improves Fertility
To Aid In Detoxification
Who Can Benefit from the Aju Mbaise Herbs? The Aju Mbaise Weightloss Tea
Women with large tummies who have previously given birth.
Ideal for nursing mothers looking to flatten their stomachs.
Singles who want to lose weight
Ideal for overweight men and women
Aju Mbaise Fibroid Tea with Soursop leaves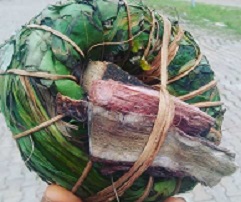 The benefits of Aju mbaise fibroid tea with Soursop leaves are enormous, especially for the prevention and fight against fibroid.
Ingredient
Method
Firstly wash the Aju Mbaise wrap thoroughly. Do not untie the wrap, wash it the way you bought it
Then, transfer to a pot and add 2 ½ liters of clean water; Boil for 20 minutes;
After that, remove from heat and leave until warm, and then remove the Aju Mbaise wrap for later use; can be used 2 to 3 times more.
For best results, take 1 cup warm in the morning and 1 cup at night for at least 10 weeks.
Please Note
Pregnant women should not consume this weight-loss tea; however, once your baby is born, you may consume it.
Aju Mbaise Fibroid Tea with Soursop leaves
Soursop leaves are used to make tea with a milder flavor. It can be enhanced by combining it with other flavors, such as other herbal teas like aju Mbaise tea.
Some people, for example, add fruits or blend in other herbal teas, while others mix spices into it.
How to get the healing best result from the tea
Soft drinks, cold water, and excess cooking oil should be avoided in your diet.
Consumes more fruits
Add a squeeze of lime for extra flavor.
Make tea a way of life.
Excessive consumption of Aju Mbaise Tea causes the following side effects:
Light-headedness
Appetite loss
Heartburn Effects on the nervous system Allergic reactions (if you are allergic to any of the herbs).
I hope you enjoyed this post. Please share your thoughts in the comments section. I'll see you in the next post.
Disclaimer
This article is only intended to provide general information and does not address individual circumstances.
It is not a substitute for professional assistance or advice and should not be used to make any decisions.
However, any action you take based on the information in this article is entirely at your own risk and responsibility!