Arroz Chaufa Recipe in 4 Basic Steps: Tasty and Simple
Arroz Chaufa Recipe in 4 Basic Steps: Tasty and Simple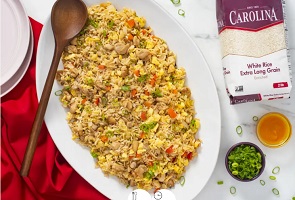 Can you think of any ingredient more versatile and practical than rice? Think about it!
When teenagers start taking their first steps in the kitchen, one of the staples they begin with is rice.
Why? Because it is very simple to get cooked and you can pair it with almost any other ingredient.
Needless to say, it is an inexpensive option that can be served as a main course or as a side dish, and even as a dessert!
Glorious diversity
Apart from being practical, rice offers many different varieties among which we can find Jasmine rice, Basmati rice, Jasmati rice, white rice, or brown rice. You can always take your pick!
Today, you are going to learn how to prepare a delicious dish with white rice, which, besides being straightforward, is going to make you look like a chef.
You can check this link carolinarice.com/recipes/arroz-chaufa/ if you are into recipes. You are going to find wise information that will help you out in the kitchen.
A word about nutrition benefits: white rice is an excellent source of manganese and it also provides iron and vitamin B. So, practical, versatile, and healthy! It is perfect.
Arroz chaufa: does it ring a bell?
Arroz chaufa is a Peruvian recipe based on Chinese fried rice. Its basic ingredients are rice, chicken, onions, peppers, and eggs.
As you may have noticed, it is made of a few simple staples that you surely have at home.
Let's do it!
The following arroz chaufa recipe is going to make your mouth melt and you are going to fall in love with it.
Ingredients
1 cup of white rice.
1 ½ tbsp of vegetable oil.
3 small eggs.
1 lb chicken thighs.
1 tsp of salt.
1 tsp of cracked bell pepper.
½ red bell pepper.
½ onion.
3 minced cloves of garlic.
1 tsp of grated fresh ginger.
½ cup of green onions.
⅛ cup of soy sauce.
1 tsp of sesame oil.
A pinch of ground cumin.
¼ tsp of granulated sugar.
Step by step
To begin with, cook the rice according to the package instructions in a saucepan and set it aside. In the meantime, put a skillet set over medium heat and add half of the vegetable oil. Cook the eggs for about 5 minutes while you stir. Once they are scrambled, then transfer them to a plate.
secondly, clean the skillet and heat the rest of the oil over medium heat. Add the chicken, ½ tsp of salt, and ½ tsp of pepper. Cook everything for about 10 minutes. It should start to get brown.
After that, take the preparation out of the skillet and set it aside. Add the bell pepper, the onion, the garlic, the ginger, and the rest of the salt and pepper. Now cook everything for about 10 minutes. Vegetables should be tender. Add ¼ cup of green onions.
Finally, add the soy sauce, the sesame oil, the cumin, and the sugar and combine everything. Incorporate the cooked rice, the chicken, and the soy sauce mixture into the skillet.
Cook the preparation for about 5 minutes, stirring occasionally. Stir in the scrambled eggs and decorate them with the rest of the green onions.
Do you fancy spicy food?
If you do, you can add a pinch of aji amarillo for some extra spicy flavor!
This flavorful recipe has everything: the characteristic touch of fried food, vegetables, chicken, and rice, and with these ingredients come all the properties they have!
Another good thing is that, if you are a vegetarian you can substitute chicken for some other vegetables.
I can't find any downsides to this recipe. Try it out and you will experience it yourself. You will be amazed, and your family and friends, too!