Ayamase Stew (Ofada Stew) Recipe: Meaning of Ayamase
Ayamase Stew (Ofada Stew) Recipe: Meaning of Ayamase & Pronunciation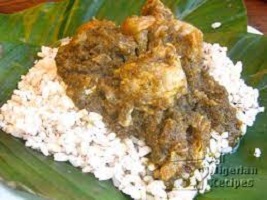 One of the many stew varieties we eat in Nigeria is Ayamase stew, also known as Ofada stew or Nigerian designer stew.
What language is Ayamase? Ayamase Stew
Yoruba Language
Meaning of Ayamase: What Does Ayamase Mean?
It means 'Iya Mase' in Yoruba, which when translates to 'English means Mase's wife
Ayamase Stew Origin ' 
The origins can be traced back to Ikenne, a village in Nigeria. Mrs. Felicia, Aya Mase, who developed the sauce to make ends meet as a rice seller, lives in Ikenne-Remo, a town in Ogun State in Nigeria's southwestern region.
Meaning of Ayamase Stew & Pronunciation
Ayamase (pronounced "ha-yah-ma-shay") is a fried mixture of green peppers and chilies made with local ingredients such as the locust bean "iru," which gives it a distinct and delectable flavor.
Small bits of meat, cow foot, and tripe are also included. This is typically eaten with ofada rice, although it can be served with any rice dish.
This is typically eaten with ofada rice, although it can be served with any rice dish.
Related >>>>
Ayamase Nigerian food has a peculiar and delicious flavor. The flavor is both refreshing and soothing, and there's a good possibility you'll eat a lot more than you planned!
This is one of my all-time favorite dishes! I could eat Ayamase with just about anything! That's how good it is!
Ayamase Stew Recipe
Ofada rice sauce is a delicious Nigerian stew made with palm oil, fermented locust beans, and bell peppers
How To Prepare Ofada Rice Sauce
Ayamase Stew Ingredients
¼ cup Palm Oil
A Tbs Iru (Locust Beans)
1 kg of assorted meat (Shaki, Kpomo, liver)-cooked
600g cooked chicken
A Cup of Chicken Broth
1 tsp salt
One Seasoning Cube
Green Tomatoes
A medium onion
Green Bell Pepper
1 tbsp Crayfish
Habanero Peppers
Method
Firstly, blend green tomatoes, peppers, and onion, place them in a pot and boil for 15 minutes.
Secondly, heat a pot and add palm oil. Allow bleaching for about 10 minutes; which means leaving it to heat up and smoke until it is almost like vegetable oil. After like 10 minutes, allow it to cool a little.
Then, add the chopped onions, saute, then add the boiled tomato or pepper.
After that, add salt, iru (locust beans), assorted meat, and crayfish. Now, cover and allow cooking till oil floats to the top.
Meanwhile, add chicken stock, taste, and then add seasoning cubes if necessary. Also, add cooked chicken now.
Lastly, allow cooking for 5 more minutes and simmer.
Serve with ofada rice or cauliflower rice for a delicious African keto lunch or dinner!
Ayamase Calories? Calories in Ayamase
This will be determined by the total number of ingredients employed. This recipe serves 16 people and contains about 312 calories per serving.
Ayamase stew near me: Lagos and Ikeja
Ajisafe Rice
Sooyah Bistro Ikeja
Ase Oluwa Food Canteen.
Kadines Soup Pot
Mama Cass Restaurant Ltd