Banana Chia Smoothie for Weight Loss ~ Best for Breakfast
 Banana Chia Smoothie for Weight Loss. When you're looking for an easy breakfast or an afternoon snack, it's hard to go past this weight loss smoothie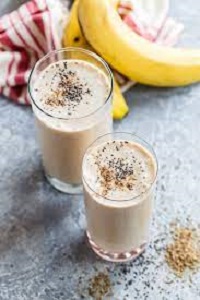 Banana Chia Smoothie for Weight Loss: What's Great About This Banana Smoothie
Here's one of my favorite banana smoothie recipes that I love to make for a healthy breakfast.
Filled with budget-friendly and healthy ingredients that will keep you full for hours.
Related >>>>
Weight Loss Smoothie – Banana & Chia Seeds
This doesn't mean you will lose weight by drinking it, but yes it will help you a lot. The idea is to feel full and cheat the stomach by drinking a smoothie.
So, you don't feel hungry for a few hours. And yes exercise. Smoothies help meet in between pangs of hunger.
This smoothie will give you a great energy boost. It's made with banana, dates, yogurt, milk, cinnamon, and chia seed, which can help support health, digestion, energy, and weight control.
Appealing Health Benefits of Chia Seeds
Highly nutritious
Loaded with antioxidants
May support weight loss
May reduce blood sugar levels
Easy to incorporate into your diet
May lower your risk of heart disease
Contain many important bone nutrients
What is the best way to eat chia seeds?  Banana Chia Smoothie for Weight Loss
In a smoothie of course! I love adding chia seeds into all of my smoothie recipes as they don't change the taste at all.
They are perfect for a nutrient boost and they also thicken up smoothies, which is great if you've added too much milk in!
Chia Banana Smoothie Ingredients List
This weight loss smoothie is made with just 6 everyday ingredients. It's easily customizable, so if you're trying to get some extra greens in your diet feel free to add in a handful of kale or spinach
Frozen Banana
Milk – Choose any milk that you enjoy. This smoothie works well with cow's, almond, coconut, or soy milk.
Vanilla Yoghurt
Cinnamon
Chia Seeds
Dates
How Do You Make a Chia Banana Smoothie? 
Firstly, put all ingredients into a high-performance blender.
Secondly, blend on high until all the ingredients are well combined and smooth (30-60 seconds).
It's as simple as that!
Notes
Milk – Choose any milk that you enjoy. This smoothie works well with cow, almond, coconut, or soy milk.
To Make Vegan / Dairy Free– Substitute Vanilla Yogurt for Coconut Yogurt or omit it completely.
Make In Advance– Blend then store in an airtight mason jar for up to 24 hours in the fridge. Shake well before consuming.
Nutrition Information
Yield: 1 Serving Size: 1
Amount Per Serving: Calories: 304 Total Fat: 9g Saturated Fat: 4g Trans Fat: 0g Unsaturated Fat: 5g Cholesterol: 20mg Sodium: 140mg Carbohydrates: 47g Fiber: 8g Sugar: 16g Protein: 13g
People also ask
Is the chia banana Boost smoothie good for you?
This will be your new go-to smoothie recipe, with notes of cinnamon, peanut butter, and natural sweetness from dates and bananas.
This Chia Banana Boost Smoothie is creamy, nutritious, and incredibly tasty. It's probably my all-time favorite smoothie to start the day with, with peanut butter, banana, and cinnamon!
Is a banana smoothie good for losing weight?
Eating bananas may also help you lose weight because they are high in dietary fiber and other nutrients.
Many people enjoy banana shakes as a healthy way to aid in their weight loss efforts.
Banana shakes are a healthy and nutritious drink that can be enjoyed as a quick breakfast or snack.
Is it possible to lose weight by drinking chia seeds?
Chia seeds are an excellent addition to your diet because they improve digestive health, metabolic rate, iron content, Omega-3 content, and good fats.
Most importantly, the tiny white and black seeds can help you lose weight and reduce belly fat.
How many calories are in a chia banana smoothie?
780 calories
There are about 780 calories in a Chia Banana Boost with Peanut Butter Smoothie from Tropical Smoothie Cafe.
The majority of those calories come from carbohydrates (63%)