Cajun Seasoning Recipe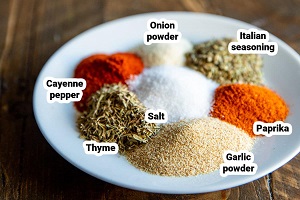 The cajun seasoning is a spice blend that adds a little zest to any dish. This homemade spice is completely versatile and delicious, and it can be used in a variety of recipes to add savory flavors that will elevate any dish to the next level.
Do you have a Cajun seasoning jar in your spice cabinet right now?
If not, get out your measuring spoons, and let's make a quick homemade batch
Cajun seasoning has long been one of my go-to ingredients for enhancing everything from chicken to seafood, vegetables to potatoes, soups to stir-fries, dips to dippers, roasting in the oven, or grilling – you name it.
It's one of those fantastic spice combinations that go with just about anything. And my all-time favorite Cajun seasoning blend is this bold, zesty, and homemade version.
It only takes a few minutes to prepare, and I'm sure you already have all of the ingredients on hand.
What Is Cajun Seasoning?
But first, let's take a step back. You might be wondering what seasoning is. It's a rustic seasoning mix from Louisiana, the birthplace of delectable Cajun cuisine.
Everyone puts their own spin on it, but it's usually a spicy mix with lots of paprika, cayenne, garlic powder, pepper, and oregano. To taste, additional seasonings can be added.
I've included salt in my seasoning blend so that you can use it on its own. However, if you'd rather add the salt separately to taste, you can leave it out.
Cajun Spice Blend – Cajun Seasoning Mix
Spices made at home don't have to be complicated and can be used in a variety of ways!
This is a fantastic spice blend that can be used on vegetables, chicken, fish, shrimp, burgers, and steak.
As a result, adding this delicious flavor to anything you enjoy will make it even more delicious! The way a recipe is seasoned is crucial to its success.
This particular mixture is one of my favorites because, while it has a slight kick, the heat is not overwhelming.
Making your own seasonings is a simple and unique way to personalize a dish. This recipe calls for very common ingredients that you're likely to have on hand.
Homemade Cajun seasoning
I enjoy making my own spices because I've discovered how expensive store-bought spices can be!
Simple ingredients can be used to make this at home (double or triple the recipe to ensure you always have some on hand!).
Because cajun seasoning comes from Louisiana, it will transport you to the heart of southern cooking immediately. I
t's delicious and zesty, and it'll add just the right amount of flavor to your dish.
Cajun Seasoning Ingredients
The best part about this seasoning is that you almost certainly already have all of the ingredients in your spice cabinet.
Simply take them out of the package, combine them, and you'll have a bold flavor to add to all of your favorite foods!
For exact measurements, see the recipe card below:
Paprika: Depending on your preference or what you have on hand, you can use regular or smoked paprika.
Garlic powder: Garlic powder is milder than garlic cloves, making it ideal for seasoning.
Cayenne pepper: This is the spice that will make your dish spicy. For less heat, go light on this.
Dried oregano: This mixture will have a warm, peppery flavor from the oregano.
How to Make Cajun Seasoning
This cajun seasoning is so simple to make that you'll never buy it again! You can easily double or triple this recipe due to its simplicity; once you try it, you will definitely want more!
All of the seasonings are mixed together and kept in an airtight container.
With its peppery, zesty flavor profile, this easy Cajun Seasoning recipe has a nice kick and earthy flavors, and it'll perk up any dish you use it in!
Nutrition Information
Calories: 16 | Carbohydrates: 3g | Sodium: 1751mg | Potassium: 63mg | Fiber: 1g | Vitamin A: 1170IU | Vitamin C: 1.2mg | Calcium: 15mg | Iron: 0.8mg
The nutritional information provided is an estimate that may vary depending on cooking methods and ingredient brands used.
How to Use Homemade Cajun Spice Mix – Cajun Seasoning Uses
This African, which comes from Louisiana, can be used in a variety of ways. It's made with spices found in Cajun cooking, such as paprika, cayenne pepper, and garlic powder.
The mix can be purchased from a variety of companies, each with its own unique formula, but why not make your own at home with your own fresh spices?
The best cajun seasoning is meant to be spicy, and it's the perfect way to liven up some chicken, shrimp, or tofu, as well as some vegetables.
Do you want to add some to your fried rice? Take a chance. It's incredibly easy to make, requiring only a quick stir of spices you probably already have on hand.
So, what is the best dish to use Cajun seasoning on? I'm glad you inquired.
Proteins: Use this seasoning to rub on shrimp, steak, burgers, chicken, and pork. Rub a little olive oil on your protein, season with salt and pepper, and cook as usual. Your meat will be bursting with flavor!
Potatoes: You can use this on any vegetable, but it's especially good on potatoes of any kind (fries, roasted or baked).
Pasta: We're big fans of Cajun pasta, and we've got the recipes to prove it.
Our favorite is the Cajun Butter Pasta, which has a creamy sauce and seared chicken breasts.
Like peanut butter and jelly, shrimp and Cajun seasoning were made for each other.
Recipe Variations and Suggestions
Adjust the heat as needed: Adjust the amount of cayenne pepper if you want the spice to have more or less heat. If you want it to be spicier, add more!
Dried vs. ground: This recipe calls for dried ingredients. Ground ingredients are more concentrated, allowing you to get more flavor in a smaller amount of time. This recipe's measurements are based on DRIED ingredients.
Reduce the amount of these seasonings if you only have ground spices on hand (oregano and thyme).
Less salt: If it's a little too salty, cut back on the salt a little at a time.
Storing Homemade Cajun Seasoning
Cajun seasoning is a versatile ingredient that can be used in a variety of dishes. It's extremely simple to store and will last for a long time. This is how you keep it!
Storing: You can either repurpose an old spice jar, purchase a new, empty spice jar, or use a ziplock bag! Just make sure whatever container you use is sealed and airtight, or your spices will clump together!
How long can you store this?
In a sealed, airtight container, this spice can last up to three years!
Cajun Seasoning vs. Creole Seasoning 
Creole cuisine is a fusion of African, Italian, French, Portuguese, and Spanish cooking styles that originated in Louisiana.
As a result, Creole seasoning usually contains more herbs.
Black pepper, garlic powder, onion powder, cayenne, thyme, basil, and oregano are used to make Creole seasoning.
Bay leaves, rosemary, and parsley are sometimes found in it as well. So, Creole seasoning has a slight spicy kick, but it's balanced out by more aromatics than Cajun seasoning.
Blackened Seasoning vs. Cajun Seasoning
Blackened seasoning is a cross between Cajun and Creole seasonings. It's spicy (due to the cayenne or chili powder), but it's also full of flavorful herbs (like oregano, thyme, and basil).
In terms of application, blackened seasoning differs from Cajun seasoning. The term "blackened" refers to the way the food is prepared rather than the seasoning itself.
The protein is drenched in butter, then heavily coated in blackened seasoning and seared, whether it's fish, shrimp, or chicken.
After a few minutes of cooking, the blackened seasoning will form a blackened crust on the outside of the food.
Cajun seasoning substitutes – Alternatives for Cajun seasoning
cayenne pepper + chili powder + dried thyme
If you don't have many ingredients on hand, 1 tablespoon chili powder, 1 teaspoon dried thyme, and 1/4-1/2 teaspoon cayenne pepper can be combined to make a basic Cajun seasoning substitute.
Cajun seasoning in Arabic -الكاجون توابل