Current price of Crate of Egg in Nigeria 2022
Current price of Crate of Egg in Nigeria 2022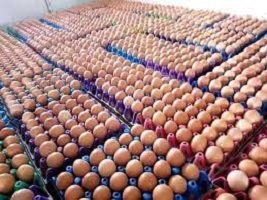 There are thirty eggs in a crate of eggs. That is the standard; maybe on another planet, we might have a crate with up to forty pieces, but for now, thirty eggs per crate is the standard; and it has always been that way, even before I was born.
How much are Eggs in Nigeria? How much is one egg in Nigeria in 2022?
The current price of eggs varies depending on location; if you want to know how much eggs cost in Nigeria, look at the table below for wholesale and retail prices based on egg type.
A single egg costs between N60 – and N80. A single egg can also cost N100 in Lagos supermarkets, while a crate costs N2, 400.00
How much is a crate of eggs in Nigeria today? Current price of Crate of Egg
Because of how expensive eggs have become in recent times, they have been dubbed "gold."
It may be of interest to you to know that Eggs are collected from the cages of a unique breed of hen known as Layers, who give birth eggs these deliciously wrapped protein delicacies.
Commercial egg farming is done with female domestic fowl called Layers, which are normally raised from the day they are born until they are 18-19 weeks old when they begin laying eggs.
Current price of Crate of Egg
Eggs are sold in both retail and wholesale quantities, just like any other commodity that generates profit for its vendors. Take a peek at the pricing we've obtained for you.
Wholesale egg prices: Prices for eggs in bulk
The increase in egg costs in Nigeria is due to an increase in the price of chicken feed.
The wholesale price of eggs varies between N1, 400, and N1,500, depending on location and size. Small eggs cost 1,400 naira, while giant eggs cost 1,500 naira.
Personally, I believe it is still pricey, which is to be expected given the current level of inflation in the country and the growth in chicken feed prices.
How can I sell my eggs in Nigeria? How to Start Egg Supply Business
Now that you know the price of an egg in Nigeria in 2022 and the cost of fresh eggs per crate, we feel you should consider starting an egg-supply company because it is a profitable business.
Customers from whom you buy eggs (wholesalers) and the customers you sell your goods.
We believe you are aware of the price of eggs in Nigeria per crate and per piece at this moment.
Where to Buy Eggs Cheap
No reviews · Supermarket
1 Surulere St · 0805 872 3433
In-store shopping
No reviews · General store
tabs, Akoka yaba , Shomolu, No 3 seunu court by access bank, Akoka Rd · 0806 276 5560
In-store pickup
No reviews · Supermarket
27 Johnson St · 0808 837 0406
Open now. In-store shopping
If you still have questions on the Current price of Crate of Egg in Nigeria, please use the comment box to contact us. We enjoy hearing from you