Dragon Fruit Health Benefits, Nutrition, and How to Eat
Dragon Fruit Health Benefits, Nutrition, and How to Eat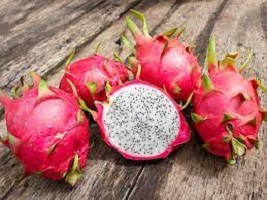 The dragon fruit is a rare cactus native to Asia, Mexico, and parts of South America.
The dragon fruit, also called pitahaya or strawberry pear, is a tropical fruit with
bright red skin and sweet, seed-speckled pulp.
It has an unusual appearance. The plant can thrive where there is less rainfall.
Cactus fruit, Jesus in the cradle, Night-blooming Cereus, Strawberry Pear, Belle of the Night, and so on are the other names for dragon fruits.
Some people grow dragon fruit as ornamental plants to improve the environment, but they also produce amazing fruit.
Jams, ice cream, fruit juice, jelly manufacturing, and wine are all made using the fruit. It blooms in April, with fruit development taking place in July–August and fruit harvesting taking place in December.
Dragon Fruit Varieties
There are 3 main varieties of Dragon fruit which are distinguished by their outer and inner color appearance:
Firstly, Hylocereus undatus. Also known as Pitaya Blanca or white-fleshed pitaya.
Secondly, Hylocereus costaricensis. Also known as Pitaya Roja, red-fleshed pitaya, or as Hylocereus polyrhizus.
Thirdly, Hylocereus megalanthus. Also known as Pitaya Amarilla, Yellow pitaya, or Selenicereus megalanthus
Time of Planting: Dragon Fruit Farming in Nigeria
If you want to start dragon fruit farming, start after the rains have stopped. The growing season for dragon fruit is the dry season.
It won't grow for the rest of the year, but when it does, it will be vigorous. Bloom occurs from July to October, but only for one night each year; after flowering has occurred, the fruit will begin to form.
For the next 20 to 30 years, the dragon fruit plant will continue to bear fruit.
Here are some of the benefits of including it in your diet:
Health Benefits of Dragon Fruit-Dragon Fruit Health Benefits
It contains antioxidants such as flavonoids, phenolic acid, and betacyanin.
It's naturally low in fat and high in fiber.
May aid in the reduction of blood sugar levels.
It contains prebiotics, which are foods that feed the good bacteria in your gut, also known as probiotics.
Can help your immune system.
It contains prebiotics, which are foods that feed the good bacteria in your gut, also known as probiotics.
Can help your immune system.
Benefits for diabetes, skin, kidney, thyroid, male, etc.
Dragon Fruit Nutrition
Calories: 102.
Fat: 0 g.
Carbohydrates: 22 grams.
Protein: 2 grams.
Fiber: 5 grams.
Sugar: 13 grams.
How to Eat It
Dragon fruit is relatively easy to consume, despite its intimidating appearance.
How to consume dragon fruit is as follows:
Firstly, choose a ripe fruit with brilliant red, uniformly pigmented skin that yields slightly when squeezed.
Secondly, cut straight through the fruit with a sharp knife, slicing it in half.
After that, you can eat the fruit right out of the skin with a spoon, or you can peel the skin off and slice the pulp into little pieces.
Health Hazards of Dragon Fruit: Side Effects
Although studies have shown occasional allergy responses, dragon fruit is typically safe to eat. Swelling of the tongue, hives, and vomiting are some of the symptoms. This type of reaction appears to be extremely uncommon.
Conclusion on Dragon Fruit Benefits
The dragon fruit is a low-calorie fruit with less sugar and carbohydrates than many other tropical fruits.
The health benefits of dragon fruit are amazing, but further research on humans is needed to confirm this.
Overall, dragon fruit is a one-of-a-kind fruit that is delicious and can add diversity to your diet.
The medical information in this article is offered solely for educational purposes.
This information does not establish a patient-physician relationship and should not be used to diagnose or treat medical conditions.