African Walnut Fruits | Health Benefits To Humans | Side Effects
African walnut is an edible single-seeded stone fruit of a woody perennial climber plant, found mostly in the dense rain-forest of Africa.
Description: Walnut fruits come in a hard kernel casing that is round-shaped with dark brown or any shades of gray shells and whitish nuts encased within the shell.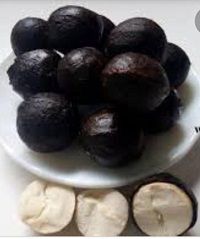 The fruits (which are principally a type of nut) are the commonly used part of the plant for cooking or as snacks.
Related >>> 15 Benefits of Goron Tula Fertility Fruit
African Walnut Tree
This African tree or Nigerian walnut tree is known as Coulaedulis belonging to the plant family of Coula.
African walnut mother tree yields the nuts that we eat.
Origin of African Walnut
African walnuts are biological seasonal fruits grown mainly in West African countries. It is grown from the mother tree, the African walnut tree.
It has an origin from the tropical West African countries, stretching from Sierra Leone to Angola and then to Nigeria and other West African countries.
They are scientifically called Tetracarpidium conophorum (botanical name). The most common type of walnut is English walnut, which is also the most studied variety.
What Is Walnut Called In Nigeria?
As a big nation, the Walnuts are known by various names in Nigeria, walnuts are locally referred to as asala, ewusa/awusa (Yoruba), gawudi bairi in Hausa, ekporo in the Efik dialect, ukpa in Igbo, Okhue or Okwe in Edo arinsa in Igbira and Kaso or ngak in Cameroon.
Checkout >>> Aju Mbaise: How to Get a Flat Stomach Lose Weight | Look Good
Taste:
The fruit has an earthy flavor: musty, bittersweet, and thick. But upon drinking water after using it, one may experience an unusually bitter taste/sensation in the mouth.
Nutritional Values of African Walnuts
Nutritional Data based on 100 g of shelled walnut kernels
Calories – 315 kcal
Carbohydrates -13.1 4g
Protein – 24.01
Fats – 17.39
Fiber – 5.99
Vitamins: – C, E, B6, B7, thiamin, folate
Minerals: – Calcium, Potassium, Magnesium, Copper, Iron, Zinc, Sodium
Fatty Acids – Omega 3 & 6
Walnuts are rich in vitamins, minerals, antioxidants, and phytonutrients required for improving health such as nutrients including thiamine, vitamin C, riboflavin, folates, cyanocobalamin, niacin, vitamin E, and B vitamins such as B-1, B-2, B-3, B-5, B-6, B-9, and B-12.
They are the powerhouse of nutrition containing essential nutrients such as ascorbic acid, tocopherol, pantothenic acid, healthy fats, plant sterols, pyridoxine, and cyanocobalamin.
Also drops of essential minerals such as iron, zinc, sodium, selenium, manganese, calcium, potassium, magnesium, and copper.
African Walnut Health Benefits
African walnuts are periodic fruits with huge nutrition and health importance.
These nutritional contents in walnuts provide enormous benefits to the human body in several ways.
Eating walnut fruit and helps to protect you from certain chronic diseases and supply other range of benefits which includes:
Improves Brain Function
Good for Pregnant Women
Prevents Liver Damage
Prevents Sleep Disorder
Helps in Weight Management
Prevents Cancerous Diseases
Boosts Fertility using the leaves
Good for the Heart
Good for Bone health
Moderates Cholesterol Level
Good for Immune System Health
Improve Menstrual Flow
Reduces the Risk of Diabetes
There is so much interest in this one nut for decades. Paralleled to other nuts it is well-thought-out to be the king of nuts due to the numerous health benefits it has.
How Many African Walnuts Can Be Eaten In A Day?
Two handfuls of black African walnuts per day are quite safe and can supply your body with numerous benefits.
How to Cook African Walnut
African walnut is prepared with its shell at a boiling temperature and left for up to 10 minutes on the heat. It is normally served with its shells which need to be removed before consumption.
Likewise, it can be baked in an oven by putting the raw nuts on a pan and in the oven for 15 to 20 minutes. They can also be served roasted as healthy snacks.
Uses of African Walnuts
African walnuts are used in making soup. In this manner, they serve as a substitute for egusi as an ingredient.
They can also be used for quick fry dish recipes for lunch or dinner.
Walnut Season in Nigeria
Nigerian walnuts are a seasonal fruit cultivated annually mainly in the western parts of Nigeria. The fruits are harvested in December and are available all year
What Are The Side Effects Of Walnuts?
There are no established side effects associated with eating African walnuts. However, good foods are always good to be eaten with self-control.
English walnut may cause allergic reactions in people who are sensitive to it.