Easy Pumpkin Ideas for Carving
Easy Pumpkin Ideas for Carving  
50 Incredible Pumpkin Carving Ideas for Halloween 2023
Halloween Pumpkin Carving Ideas for Kids and Adults That Are Doable
Carving Pumpkins Made Simple
Easy Pumpkin Ideas for Carving
Halloween is quickly approaching, which means it's time to get creative and have some fun with your pumpkin carving ideas; the only limit is your imagination.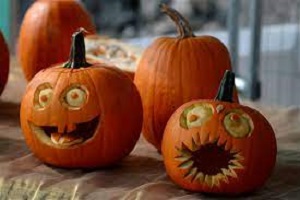 Pumpkins can be placed wherever, including in front of your entrance, on your porch, or your grass. Make sure they are visible when your trick-or-treaters arrive!
Look no further if you're looking for Halloween Pumpkin Ideas for Carving for your front porch, windowsill, or neighborhood carving contest. This Halloween, we have the best pumpkin carving ideas for you and your family.
From simple pumpkin carving ideas like polka-dot pumpkins to no-carve pumpkin ideas like simple pumpkin stacks or a small pumpkin wreath, we have beginner and kid-friendly carvings that will last all fall.
Pumpkin carving is an excellent way to involve the entire family in the creative process.
What is the purpose of carving pumpkins?
The history of pumpkin carving is as terrifying as you might anticipate. Pumpkins (and trick-or-treating) are supposed to be American traditions that made their way to us, yet the contrary is true!
The pumpkin, sometimes known as a "jack-o-lantern," is based on an Irish folklore about a man named Stingy Jack. The mythology has various variants, but the core premise is that Jack deceived the Devil for his advantage.
When Jack died, he discovered he was forbidden from both heaven and hell and doomed to walk the earth eternally as a result of his wicked actions.
The Irish would carve frightful faces into turnips and display them in windows and at doorways to frighten Jack's wandering soul.
Turnips were utilized since they were harvested in the autumn, which meant there were enough available.
When Irish immigrants arrived in the United States in the nineteenth century, they transformed the jack-o-lantern into a pumpkin.
Here, they used pumpkins instead of turnips to build their lanterns because pumpkins were more readily available and easier to carve.
Easy Pumpkin Ideas for Carving
Pumpkin Spider Nest
This pumpkin carving concept is ideal for someone who is not afraid of spiders! Hot glue a medium to a big bag of plastic spiders in rows until they completely cover the pumpkin's surface.
Vase with Pumpkin Flowers
Spray paint your pumpkin with metallic paint. Carve a large hole at the top and put it into a plastic cup. Fill the cup halfway with water and place a bouquet of fresh flowers inside.
Watermelon pumpkin
Consider hollowing out and cutting a watermelon instead for a jack-o-lantern with a frightening crimson color! Make brains leak from the top by using the fruit within.
Pumpkin Punks
This Halloween, give your pumpkins a rock-and-roll edge! Allow each pumpkin to dry after painting it a single solid color. Then, hot glue flat-bottomed studs in your desired pattern.
Pumpkin Glow Sticks
This flame-free pumpkin carving concept is fantastic! To give your pumpkin an eerie glow, paint it a dark purple and then insert green glow sticks.
Pumpkin with Scary Word Stencil
If you prefer words over faces, consider carving out eerie words instead! Choose your favorite Halloween-related words, such as "Boo! or "Trick or Treat!" and carve them into the stone. You can either use a stencil or draw it by yourself.
Pumpkin Bat
Allow a pumpkin to dry after painting it black. Then, using a white paint pen, draw on bat eyes. Finally, cut stiff black felt bat wings and hot glue them to the edges of your pumpkin.
The Wilted Pumpkin
They always say to wait until Halloween to carve your pumpkin so it doesn't rot, but if you time it correctly, wilting pumpkins may create a terrifying impact! Carve your pumpkin about two weeks before Halloween for an added creepy effect.
Pet Portrait
With this fun pumpkin carving idea, you can show your neighbors how much you adore your pet!
Simply carve out your pet's adorable face on your pumpkin, either freehand or using transfer paper.
Crayon Drip Pumpkin
Take the wrapper off a box of crayons and break it up into small pieces. Place crayons near the pumpkin stem one at a time and begin melting them with a hairdryer on low heat.
You may move the pumpkins around as they start to drip down to control where they land. Repen around the entire pumpkin and allow it to dry completely.
Easy Appliqué Pumpkins
Begin by painting a pumpkin with a single solid color. Next, select a contrasting lace appliqué or accent. Hot-glue your appliqué to the painted pumpkin and you're finished!
Pumpkins with Spider Webs
Create a web pattern on a faux or real pumpkin using long pieces of scotch or masking tape.
Then, using gentle, equal strokes, spray paint the entire pumpkin, allowing it to dry completely. When the tape is completely dry, carefully peel it off to reveal your site design.
To finish the effect, hot glue a plastic spider onto your pumpkin!
Pi Pumpkin
If you're not good with numbers, this pumpkin might be downright intimidating!
After you've hollowed out your pumpkin, carve in the mathematical symbol for Pi for an "easy-as-pie" pumpkin carving idea!
Pumpkin Spa
Make a face mask out of bright paint on a pumpkin, leaving space for the eyes, nose, and mouth.
Allow it to completely dry before adding eyes, a nose, and a smile with a black paint pen.
Finish the look by wrapping a cloth around the stem and securing it with straight pencils.
Pumpkins with Fangs
This is yet another fantastic mini-pumpkin idea! Get a bag of plastic fangs, carve out a huge mouth, and use a permanent marker to draw on your eyes.
After you've carved out the mouth, insert a pair of fangs for a macabre grin!
Creepy Crawler Pumpkin
Blacken your pumpkin. Then, shape eight black pipe cleaners into spider legs and hot glue four to each side. Finish with glow-in-the-dark googly eyes.
Pumpkin with Paw Prints
Find a pawprint stencil of a terrifying monster (such as a Yeti or a werewolf), trace it, and just cut out the outline. For a more personal touch, carve the outline of your family pet's paw print instead to make your pumpkin less frightening.
Halloween Tree Pumpkin
Who says Christmas trees are only for Christmas? Simply insert some backyard branches inside a basic pumpkin and attach a few eerie Halloween-themed accessories.
String-Wrapped Ombre Pumpkins 
To produce an ombre effect, purchase embroidery thread in three coordinating hues, such as dark blue, light blue, and white.
Begin by hot gluing one end of the string to the base of your pumpkin's stem and wrapping it around your pumpkin, hot gluing in place as you go.
When you've used up your first color, switch to your second. Last, apply the darkest shade.
Pumpkin Frankenstein
Make your pumpkin look like Frankenstein for a classic horror Halloween touch.
To make respect to Mary Shelley's resurrected monster, paint it green and add construction paper facial characteristics.
Exam Dates
Do you live in a college town or close to a high school? Carve the dates of your fall midterms into your pumpkin. Students from all across town will be terrified!
Eight-Eyed Monster Pumpkin 
Instead, carve out a mouth or sketch one on using a paint pen. Then, to make your own eight-eyed monster pumpkin, hot glue eight huge glow-in-the-dark googly eyes onto your pumpkin.
Pour Pumpkin Paint
Take a cue from these fashionable acrylic pour paintings! Divide your palette's colors into separate cups. Then, add Elmer's glue or another paint pouring medium and combine.
Then, pour your paints into a separate cup and layer them on top of the pumpkin. Rep until the entire pumpkin has been covered.
Make Your Galaxy Pumpkin
Make a black or navy blue pumpkin. Allow it to dry completely before dabbing a damp sponge into purple and black paints and blotting on to create a galaxy appearance.
Splatter on glow-in-the-dark or white paint to make stars.
Pumpkin with Geometric Pattern
Make a geometric pattern with masking tape, such as chevrons or hexagons.
Paint a different color around the pumpkin. Remove the tape to see the fashionable pattern.
Ideas for Scary Pumpkin Carving
Pumpkin Garden Monster
This creepy pumpkin is ideal for children! Carve a face into a pumpkin and fill the holes with fresh fruits and vegetables.
Make eyes out of a zucchini, a tongue out of a red pepper, and ears out of the stems of two additional peppers.
The Medusa Pumpkin
In a blue-green pumpkin, carve two huge round eyes, two smaller circles for nostrils, and a squiggly mouth (optional: insert LED lights into the eye sockets to make them glow).
Hot glue wire to the back of rubber snakes, leaving a few inches at the end. Complete the look by inserting wire snakes into the top at the sides for pigtails.
Cannibal Pumpkin
You will need one larger and one smaller pumpkin for this pumpkin project.
Carve a hole in the top or bottom of the large pumpkin, large enough to fit the smaller pumpkin or gourd through. Remove the seeds and hollow them out. With the marker, draw eyes and mouths on each pumpkin.
Carve out the larger pumpkin with a knife, and the smaller pumpkin with a melon baller. Place the little pumpkin into the larger one once they've both made their faces.
Teeth Toothpick Pumpkin
Remove the top, hollow out the pumpkin, and carve a conventional jack-o-lantern face with a large gaping mouth. Fill up the mouth with toothpicks to grimace!
Other Pumpkin Carving Inspiration
Hear No Evil, See No Evil, Speak No Evil Pumpkins
Pumpkin for the Birds
Glitter Sticker Pumpkins
Bat Tree Pumpkin
Monster Mash
Twisted Vines Pumpkin
The swarm of Bats Pumpkins
Stalk Nose Pumpkin
The Scariest Pumpkin of Them All
Stitched Back Together
Ghost Pumpkins
Mummy Pumpkins
Home Address Pumpkin
Ghoulish Grin Pumpkin
Witch Pumpkin
Spider Eye Pumpkin
Traditional Pumpkin with a Twist
Pumpkin Vomit
Spooky Skeleton Pumpkin
Halloween Town
Glowing Eyes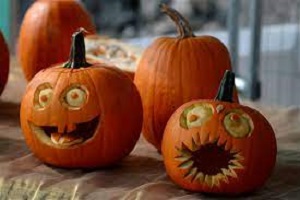 Stencils for Pumpkin Carving
What is Halloween without a carved pumpkin in the shape of a jack-o'-lantern? Most of us don't know how to carve a pumpkin by hand and require a little assistance.
Print out one of these simple pumpkin carving stencils to save time—no design degree required.
How to Use a Pumpkin Stencil
Here's how to get started:
Print the stencil.
Carve out your pumpkin.
Using scissors or a craft knife, cut off the black pieces.
Tape the stencil to the pumpkin and trace the lines with a black marker.
Using a sharp paring knife, carve lines onto the pumpkin as shown by the stencil.
Stencils for Pumpkin Carving
·     Ghost Emoji Pumpkin Carving Stencil
·     Witch on a Broomstick Pumpkin Carving Stencil
·     Classic Jack-o'-Lantern Pumpkin Carving Stencil
·     Witch's Magic Wand Pumpkin Carving Stencil
·     Vampire Ghost Pumpkin Carving Stencil
·     Bats Pumpkin Carving Stencil
·     Spider Pumpkin Carving Stencil
·     Ghost Pumpkin Carving Stencil
·     Cat Pumpkin Carving Stencil
·     Witch's Profile Pumpkin Carving Stencil
·     Classic Ghost Pumpkin Carving Stencil
·     Skull Pumpkin Carving Stencil
·     Tombstone Pumpkin Carving Stencil
·     Fiery Ghost Pumpkin Carving Stencil
FAQS
What is the best pumpkin carving tool?
Find a filet knife with a thin, narrow blade. A wide blade simply does not pierce the tougher areas of the pumpkin as easily.
A paring knife is the perfect size and shape for carving—the sharper the knife, the easier it will be to cut.
Which pumpkin is the easiest to carve?
Lumina White Pumpkins – The skin of white pumpkins is less stringy, making them easier to carve.
The weight is between 10 and 12 pounds. Because these pumpkins don't last long, carve them right before presenting them.
As a beginner, what should I carve?
The wooden bird is one of the simplest animal carving tasks for beginners.
A wooden bird, with its simple shape and beautiful curves, can be an excellent starting point for anyone new to woodcarving.
Another popular starter craft is a wooden cat with sleek and graceful contours.
What are two pumpkin carving techniques to consider?
Pumpkin carving advice from David LaRochelle
1) Select the appropriate pumpkin.
2) Hollow out the shell and thin it out.
3) Create your design ahead of time and transfer it.
4) Consider thinking outside the triangular face.
5) Think about shaving instead of carving.
6) Have patience.
7) Avoid attempting to make your pumpkin perfect.
8) Light it on.
Why do we carve pumpkins?
Unbeknownst to the ancient Celts, their autumn practice of Samhain and keeping evil spirits at bay would evolve.
Samhain became Halloween, and the legend of Stingy Jack and the use of jack-o'-lanterns to frighten away his bad spirit arose.
What exactly does carving a pumpkin suggest?
To frighten away Jack's wandering soul, people in Ireland began carving demonic faces out of turnips.
When Irish immigrants arrived in the United States, they began carving jack-o'-lanterns out of pumpkins, which were natural to the area.
What is the meaning of carving?
Carving is the act of shaping something from a material with tools by scraping away sections of that material.
The technique can be used on any material that is substantial enough to keep a form even after bits have been removed from it, but soft enough to scrape away with available tools.
Easy wood carving ideas ~ What is the simplest thing to carve out of wood?
The wooden bird is one of the simplest animal carving tasks for beginners.
A wooden bird, with its simple shape and beautiful curves, can be an excellent starting point for anyone new to woodcarving. Another popular starter craft is a wooden cat, with its sleek and beautiful curves.
Pumpkin carving tools ~ What instruments are available for carving a pumpkin?
Commonly used household items
A serrated knife with a narrow blade and a length of 6 to 8 inches works well
A large spoon or ice cream scooper can help scrape the pumpkin walls to extract the pulp inside.
Score the design using an X-ACTO knife, edge razor blade, or paring knife.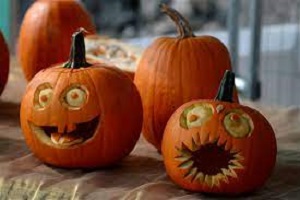 Carved pumpkin Minecraft ~ How to carve a pumpkin in Minecraft without shears
Can you carve a pumpkin in Minecraft without using shears?
A carved pumpkin is an item that cannot be created using a crafting table or a furnace. Instead, it would be best if you cut a face into a pumpkin using shears.
Pumpkin carving kits ~ Are pumpkin carving kits really necessary?
No, really—you only need a few culinary tools like bread knives, ice cream scoops, and cookie cutters.
They can simply chop the top of the pumpkin, scoop out the seeds, and carve out whatever shape you can think of.