How To Prepare Caramelized Corn Drink Asaana And Sobolo
How To Prepare Caramelized Corn Drink Asaana And Sobolo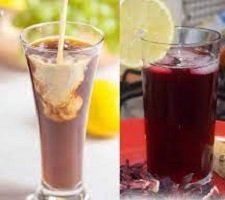 Asaana (Caramelized Corn Drink) Recipe
How To Prepare Asaana (Caramelized Corn Drink) At Home
Asaana/Elewonyo: A Ghanaian Caramelized Corn Drink
Preparing the caramelized corn drink "Asaana"
How to prepare sobolo
How To Make Correct Ghana Asaanaa | Ghana's Favorite Local Drinks | Ghanaian Street Food
Recommended Post >>>>
Asaana and Sobolo: An Overview
Variety is said to be the spice of life, and this is especially true when it comes to selecting the ideal mix of drinks to entertain your guests at a casual or social gathering.
Many event planners are now following the growing trend of including a choice of locally produced beverages in their drink menus. Asaana and Sobolo are two notable examples of such cocktails. I've got you covered if you've ever wondered how these refreshing cocktail recipes are produced.
Preparing the caramelized corn drink "Asaana"
Asaana is a Ghanaian local drink called caramelized corn juice or drink (juice + syrup, which basically is sugar solution) in English, Alewonyo in the Ashanti Region of Ghana (Kumasi to be precise), and Ahai in Fante.
It's delicious and refreshing." Asaana" is a popular and nutritious Ghanaian drink that has recently become a staple at many Ghanaian events, including weddings, naming rituals, birthday parties, and other celebrations.
Asana drink benefits: is asana drink good for pregnant women?
Why should you drink it often?
It aids in the prevention of heart disease, high blood pressure, and birth abnormalities.
It aids in the prevention of digestive problems such as constipation, hemorrhoids, and colorectal cancer.
Asaana And Sobolo – How to Make a Corn Drink
This tasty Ghanaian beverage is made with fermented maize water and browned or caramelized sugar.
awesome taste all year round. It's best served cold or at room temperature.
Asana drink ingredients
Crushed corn
Sugar
Milk (Optional)
Method:
Firstly, soak the mashed corn for three days to allow it to ferment.
Then, boil the fermented corn for 30–45 minutes on the hub.
The corn is ready when the foamy stuff on top of the boiling corn has dried up.
After that, heat the sugar in a saucepan until it is almost burned.
Strain the water from the boiled corn and pour it into the sugar pot.
Similarly, strain the chaff with a muslin cloth or sieve.
Set it aside to cool before storing it in the refrigerator.
Finally, pour some milk on top.
Asaana And Sobolo – How to prepare sobolo
Sobolo has become a popular drink during social gatherings and occasions, same with Asaana. The cost-effectiveness of these beverages appeals to event planners, and visitors can't get enough of these locally produced beverages.
So, whether you're planning a huge event like a wedding or a birthday party, or just a casual get-together with a few friends, and you want to serve great sobolo to your guests but don't know-how, this article offers everything you need.
Sobolo, which is made from dried hibiscus leaves, comes in a variety of flavors, including pineapple, vanilla, and lemongrass, but for the purposes of this essay, we'll focus on pineapple.
Sobolo Ingredients
1 cup of dried hibiscus leaves
3 tablespoons of sugar.
1 cup of fresh pineapple juice.
Method
Firstly, fill a pot or kettle halfway with water and bring it to a boil.
Secondly, add your dried hibiscus leaves to the boiled water.
At this stage, if pineapple chunks or clean peels are available, add them.
Set it aside for at least 45 minutes.
Then, remove the leaves once the mixture has reached the desired shade of red.
After that, bring one cup of water to a boil, then stir in three teaspoons of sugar. Blend until all of the sugar has combined.
Now, add one cup of pineapple juice to the boiled water and mix thoroughly.
Combine the boiled water and pineapple with the sobolo extracts you produced previously, and whisk thoroughly.
Lastly, allow cooling for about two hours uncovered.
Your drink is now ready. Serve once it has cooled down.
The Health Advantage of Sobolo
Sobolo provides health benefits in addition to its outstanding taste, thanks to the important nature of its main ingredient (hibiscus) to the body.
These advantages include:
Maintaining healthy blood pressure.
Helping the body to maintain a healthy cholesterol level.
Assists in weight management.
So, the next time you're planning a get-together with friends or an event, don't forget to add both Asaana and Sobolo, or separately on your menu.