Fire Roasted Tomatoes: How to Make on Grill
Fire Roasted Tomatoes: How to Make in An Oven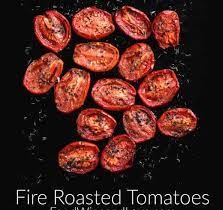 How to make homemade fire roasted tomatoes? don't overlook these tomatoes at the grocery store again
If you ask me, roasted tomatoes are an underappreciated dish. I would think that with how simple it is to make and how great it tastes; more people would be serving it.
Tomatoes that have been fire-roasted have an incredible power to modify and improve your cuisine! They have a smokey flavor and aroma that elevates your dish to new heights.
You can buy canned or chopped tomatoes that have already been fire-roasted, but homemade tomatoes are considerably fresher and less expensive.
Related >>>>
Fire Roasted Tomatoes Recipe
Any recipe that calls for canned tomatoes can be made with fire roasted tomatoes instead.
Even if your recipe calls for diced or crushed tomatoe ingredients, all you have to do is prepare this recipe first and then dice or crush the tomatoes as needed. It's quite easy and only takes a few minutes to prepare them on the oven.
Both the spices and the oven-roasting procedure bring out the distinct flavor of fire-roasted tomatoes. This implies that they add a particular flavor to every meal in which they're used.
The sugars caramelize when tomatoes are roasted, giving them a rich, smokey flavor. When these roasted flavors are combined with additional spice, you get something absolutely unique and different from plain tomatoes.
Fire Roasted Tomatoes Health Benefits
The good news about tomatoes is that, aside from being delicious and simple to prepare, they are also rather healthful.
What I mean is that a tomato contains a lot of Vitamin C, Potassium, and Folate. This is in addition to having a low calorie, carbohydrate, and fat content.
Fresh garden tomatoes are used to produce fire roasted tomatoes, which are delicious in a variety of dishes.
Cooking methods: Grill or Oven or Stove
You can grill or roast them in the oven if you don't have one.
The easiest way to make them is on the grill; they roast to perfection in about 10 minutes.
If you need to cook them in the oven, it will take about 40 minutes.
This recipe is for you if you've ever wanted to cook your own fire roasted tomatoes on grill.
How To Make Best Fire Roasted Tomatoes?
Firstly, preheat the oven to 450 degrees Fahrenheit. After rinsing the tomatoes, cut them lengthwise.
Secondly, place the tomatoes cut side up on a baking pan; they'll cook more evenly that way. In a small bowl, combine the spices.
After that, brush the tomatoes with spices after drizzling the olive oil on them. Then, roast the tomatoes in the oven for 45 minutes, or until they are blackened.
Lastly, set aside to cool to room temperature before refrigerating.
Reheating and storing
The best way to preserve these tomatoes in the fridge is in an airtight container.
For optimal effects, use them straight away while they're still fresh.
What can I make with tomatoes?
Sauces and stews can be made with fire-roasted tomatoes. You can prepare pasta sauce, tomato soup, or a delicious stew, such as this beef or chicken stew.
Uses for Fire Roasted Tomatoes
These tomatoes are incredible in just about any dish you can think of. Here are a few examples of the limitless possibilities.
Pasta sauce – When making spaghetti sauce, use roasted tomatoes instead of canned tomatoes.
chili or soup – These are particularly tasty in Mexican or Tex-Mex cuisine, such as chile con carne.
For breakfast, add them to an omelet or to huevos rancheros.
patty melts or grilled cheese sandwiches — add them to a patty melt or grilled cheese sandwich.
garnishes and recipe add-ins – swirled into a dish of smoked mac and cheese is one of my favorite ways to eat them!
Salsa – of course, roasted tomato salsa is my favorite way to use them.
Alternatively, if you can't wait to use them in a recipe, eat them right off the grater in a PERFECT salad!
Variations and suggestions
Cook the tomatoes for thirty minutes at 400 degrees in your air fryer for this recipe.
These tomatoes can be made on the grill! In a grill basket or pan, place the tomatoes cut side up. Grill for ten minutes, turning halfway through, or until the tomatoes are browned.
If you're going to use these tomatoes in a salad, you should do so cold. If you cook them, the heat may cause your salad to wilt, making it less appealing.
Then, to make it less spicy, reduce the cayenne pepper.
Finally, if desired, add more herbs and spices.
Nutritional Value
The data displayed is an estimate from an online nutrition calculator. It should not be used as a substitute for the advice of a qualified nutritionist.
Calories: 102kcal | Carbohydrates: 5g | Protein: 1g | Fat: 9g | Saturated Fat: 1g | Sodium: 6mg | Potassium: 292mg | Fiber: 1g | Sugar: 3g | Vitamin A: 1025IU | Vitamin C: 17mg | Calcium: 12mg | Iron: 1mg