Garlic Paste Recipe (How to Make, Store & Use)
Garlic Paste Recipe (How to Make, Store & Use) at Home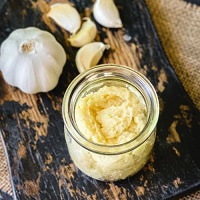 Learn how to make garlic paste at home from scratch in simple steps alongside tips and tricks on how to store it in the fridge and freezer.
It's an easy meal prep staple that saves lots of time the next time you're cooking your favorite recipe!
What is Garlic Paste?
Garlic paste is peeled fresh garlic cloves pureed with a blender, food processor, or even a sharp knife.
The garlic is then refrigerated or frozen for later use or used immediately in recipes. This is also the method that you would use to make ginger paste or onion paste.
The only difficult part of making this paste or puree is peeling the garlic. You can buy ready-peeled ones, but they don't taste as fresh as peeling your own and using them right away.
A teaspoon of the paste/puree should yield about one large garlic clove.
The Advantages of Garlic Paste ~ Garlic Paste Benefits
I love having some garlic paste on hand because it gives me peace of mind and provides a simple, homemade convenience.
Keeping this in mind, I cook with garlic whenever possible because of its health benefits, which include:
Good for blood pressure and cholesterol levels.
Effective against common illnesses such as the flu and cold.
Recipe for Homemade Garlic Paste
Here are a few reasons why you should make your garlic paste at home:
Firstly, you don't have to break the bank to make it; it's inexpensive and quite simple.
Secondly, it is fresh every time and tastes better than store-bought.
Lastly, it is preservatives free and healthy
How to Prepare Garlic Paste
I purchase both peeled garlic and garlic bulbs because I use them frequently in my cooking.
For this garlic paste recipe, I use freshly peeled garlic.
The first step on how to make garlic paste by hand is to separate and peel the garlic cloves. I shared some tips on how to peel garlic hack on my Youtube channel.
Please watch and learn how to make peeling garlic cloves much easier.
After that, add the garlic cloves to a blender/food processor, along with a little oil and salt, and process until pureed or paste-like.
If you prefer it minced, you can process it that way as well. The entire procedure should take between 30 seconds and 1 minute.
The garlic paste is ready. Optionally, blend for longer to make a smoother paste, or leave it slightly chunkier.
How to Store
Here's how to store it in the fridge or freezer:
Fridge: Spoon the puree into a clean jar and refrigerate for up to a week. (To avoid botulism poisoning, do not keep it in the fridge for longer than this time period.)
Freezer: To keep the garlic paste fresher for longer, place it in the freezer for 3-4 months.
To store the paste, use ice cube trays with lids or resealable plastic bags.
Freezing the paste preserves the garlic's vibrant flavor and is the closest thing to using freshly minced garlic in a recipe.
How to Use in Recipes
If you're wondering how to use this paste in recipes, keep reading. 1 teaspoon garlic paste for every 1 large or 2 small cloves
It is not necessary to thaw frozen cubes from the freezer. Simply place the frozen cube in the container and it will thaw in seconds.
FAQs about Garlic Paste Recipe
Garlic-scented hands? Why do hands smell of garlic? 
Rub your hands with a mixture of 1 tablespoon white vinegar and 1 teaspoon baking soda to remove the odor.
Rub your fingers against any stainless steel plate or your kitchen sink instead.
Garlic paste ingredients ~ what is garlic paste made of?
Garlic paste is made in a blender or food processor from blended garlic with a touch of oil or water. It can be kept in the refrigerator or freezer and used as needed.
Where to Buy Garlic Paste Where can I find garlic paste in the grocery store?
The produce section is the best place to start looking for garlic paste. Examine the area around the whole garlic as well as the herb pastes.
Then proceed to the international section. It's common with Latin, Asian, and Indian products.
What can be used in place of garlic paste? What can be substituted for garlic paste?
Can I substitute garlic powder for garlic paste? Yes! Use ¼ teaspoon garlic powder for every 1 teaspoon of paste needed.
Which is the best garlic paste? Best Sellers in Garlic Paste – Amazon.co.uk
The Original Black Garlic Sweet & Savoury Paste 100g
KTC Garlic Paste 210g – Pack of 2.
Epicure Double Concentrated Tomato Puree 130g, Pack of 12.
Aachi Ginger Garlic Paste 100g.
Morrisons Garlic Paste, 115 g x 5.
Shan Ginger & Garlic Paste – 700g.
Garlic paste recipe ~ how do you make garlic paste?
With both hands, hold the blunt side of your knife and drag the sharp side of the blade across the garlic, holding the blade at a slight angle to press and flatten the garlic.
Continue dragging the knife across the garlic for a few minutes, and you'll have a thick, rich, blendable paste ready.
Roasted garlic paste ~ how to make Roasted Garlic in the oven/microwave – using whole heads of garlic or peeled garlic cloves-
Now you may be wondering what the big deal is about roasted garlic.
How to roast Garlic – Two ways
Cut off the garlic head, then add olive oil, salt, pepper, and rosemary and bake
Simply add peeled garlic to olive oil and bake
Ginger garlic paste ~ what is ginger garlic paste good for?
One of the most basic ingredients in Indian cooking is ginger garlic paste. Apart from giving foods a distinct aroma, it also aids digestion and helps tenderize meats.
What is the ginger-to-garlic ratio in the ginger-garlic paste recipe?
2:1
Notes on the Recipe
The ginger-to-garlic ratio is 2:1, but you can adjust the amount of garlic and ginger to your liking.
Preservatives such as salt and oil are used; don't skip them.
Always store in the refrigerator and use a clean spoon for a longer shelf life.
Garlic Paste Tesco ~ Does Tesco sell garlic paste?
Tesco Garlic Paste 90G – Tesco Groceries.
Is garlic paste the same as garlic puree?
Garlic paste is simply pureed garlic cloves mixed with a little oil that can be stored in the fridge or freezer and used as needed.
It's a "trick" that makes it so much easier to prepare Indian food on a daily basis.