Hausa Foods: Top 3 Hausa Food Recipes | How to Prepare
Hausa foods are easy to prepare and do not consume much time. And they are very nutritious. Each tribe in Nigeria is known for its food and unique way of preparing them.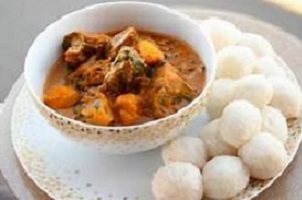 One can easily identify Hausa cuisine along with other ethnic groups in Africa Igbo and Yoruba dishes.
It may be the same ingredients but the method of preparation is what separates them.
Hausa People and their Foods
The Hausa people constitute the largest ethnic group on the African continent.
Hausa's are mainly in western Africa and are found in Nigeria and Niger.
The Hausa's are also found in the Central African Republic, Cameroon, Republic of Congo, Togo, Ghana, Chad, Ivory Coast, Equatorial Guinea, Eritrea, Gambia, Gabon, and Senegal.
Nigeria has the highest population, in the northwestern part of Nigeria, called Hausaland.
They are among the largest populations in Nigeria's major cities and towns such as Kano, Kastina, Bauchi, Birnin Kebbi, Sokoto, Lafia, and Suleja, among others.
Hausa is the second largest language after Arabia in the Afro-Asiatic family (formerly Hamito-Semitic). Hausa people are very diverse but have the same culture
As a people, it is more very traditional for families to live together in a large house (family compound) that includes a husband, his wives, his sons, and their wives and children.
Hence the cooperation of relatives in accomplishments such as farming and trade.
Hausa Foods
Hausa people have various types of food prepared in a variety of ways.
The most common include rice, corn, sorghum, or sorghum, which are often made into flour to prepare a dish known as Tuwo, which can be eaten with any type of soup such as Taushe, Dagedage, and Kaka among others.
Bean cakes also known as Kosai are common among Hausa people.
They have a delicacy of roasted beef like Kilishi, Suya, and many others. Milk from cows known as Nunu is consumed with Fura, which is among the most treasured meals.
Hausa Foods: Top 3 Hausa Food Recipes | How to Prepare Them
Hausa people are known for several dishes; here's the top 3 and how to prepare them.
Tuwo Shinkafa
Tuwo shinkafa is a Nigerian "Swallow" that originates from northern Nigeria, popular among the Hausas. It is a thick pudding prepared from local rice that is soft and sticky.
You cannot be in the northern cities of Kano, Gusau, Sokoto, Minna, Yola, Damaturu, and Kebbi without having a taste of this food.
It is a thick pudding prepared from local rice that is soft and sticky.
It is usually served with different types of soup like Miyan Kuka, Miyan taushe, and Miyan Wake which is simply Beans soup, similar to the popular Yoruba Gbegiri soup.
Tuwo Shinkafa (Tuwon Shinkafa) – is a Nigerian local dish made from raw rice and also with Rice flour.
You can prepare it from scratch with short-grain rice (local rice), however, it can also be prepared with rice flour (which is the easiest & fastest method).
I've also seen varieties of tuwo made from sorghum, cornmeal and yams. Tuwo is like cooked rice for the Asian people.
It comes with a lot of health benefits and a good alternative for Fufu and Eba that is if you're watching your gluten intake or cholesterol.
Tuwo Shinkafa Recipe
The Rice tuwo is cooked into a thick consistency and then shaped into a smooth rounded shape.
Ingredient
Rice (medium or short grain)
Water
Method
Firstly, wash the rice. Then, pour it into a pot, pour enough water just above the rice, and cook on medium heat.
After that, allow the water to dry up, mash it between your fingers to check the softness, if it is still a little hard, and pour more water and leave to cook on low heat.
Thirdly, use a wooden spoon or potato masher to mash the rice to bring it together.
Fourthly, once satisfied, pick the rice in little quantities and mash it with a spatula. Fold until it turns into a mass of Tuwo.
On the other hand, you can continue to stir and mash until it forms a nice lump.
Lastly, cover and leave for two minutes to steam. Mix thoroughly and your Tuwo shinkafa is ready. Wet your hands, mold into balls, and Serve the dish with preferred soup.
Overview of the Food
Tuwo shinkafa or Rice tuwo is a unique Nigerian dish consisting of rice flour or soft, short-grained rice and water.
The combination of those ingredients is cooked, mashed, and formed into large balls.
It is popular throughout the northern parts of the country and is often served as an accompaniment to various soups and stews.
Masa or Waina
Nigeria is a country with different cultures, traditions, and people with that comes assorted food, cooking method, and recipe.
The Northerners are known for their healthy and sumptuous meals and Masa is one of such meals.
Masa or Waina is a rice cake that is from the northern part of Nigeria and is traditionally eaten by the Hausa tribe.
Masa Bauchi is the popular identity for every masa in the north; irrespective of the state or town.
It is used occasionally in ceremonial and festive periods and when combined with suya as snacks/appetizers, the result is simply AH-mazing!
Masa is a fermented puff batter of short-grain species of rice called tuwo rice/millet/ maize or sorghum that is cooked in a pan which usually makes it have the oval shape
The good thing about tuwo rice is that it tends to stick together with one another and retain moisture, unlike the conventional rice grains that tend to stay apart.
It reminds me so much of the Japanese sushi and rice cakes that are incredibly sticky and rice is the main ingredient.
And also Sinasir, a delicacy in Borno, Northern part of Nigeria which is a white rice recipe fried like pancakes. Just like masa, it is made with a soft variety of rice, the type used for Tuwo Shinkafa.
Nigerian Masa Recipe
This recipe shows you how to make Hausa rice cake at home. Once you have the right kind of frying pan, you are good to go.
Ingredients
3 cups of tuwo rice
2 Tablespoons of sugar
Teaspoon of yeast
Tablespoon of oil
Teaspoon of potash
50 ml of vegetable oil
Salt to taste
Masa baking pan as well as basic cooking utensils.
How to Make Delicious Masa
Firstly, get 3 cups of tuwo rice in a bowl. Divide into two equal parts. Then, wash the first part and soak it in a bowl with potash.
Secondly, allow soaking for 8-10 hours. It is best if you soak it overnight.
Thirdly, wash and boil the remaining part of the tuwo rice with just water when you are ready to prepare the meal.
Fourthly, boil it until it is very soft. Then, go ahead and mash it to a pulp.
Then, mix the ground rice with the mashed rice together. Add sugar and salt to taste.
After that, add a teaspoon of yeast, stir and allow frothing for 30 minutes [The batter should be running not thick]
Grease your pan with vegetable oil and scoop your batter into the pan.
Lastly, allow cooking until it is golden brown. Turn the other side with a spoon and also observe as it cooks and turns golden brown.
This is how to make Hausa Masa; you can serve with Yaji (Hausa spiced ground pepper) or miyan taushe (Nigerian pumpkin soup).
Serve as a snack or as a breakfast cake
Variations
How to Make Nigerian Corn Masa?
You can make a Kokoro snack which is masa with corn in case you don't want to make it with rice.
Nigerian Semovita Masa
Semovita is a good alternative to rice masa especially if you cannot reach the ingredients immediately.
Rice flour is another substitute.
Dambu Nama
Last but not least is Dambu Nama, a Northern Nigeria delicacy that you must try at least once in your life.
The Hausa people are livestock herders, and therefore they consume meat in abundance, particularly beef.
Bambu Nama is a delicious dried shredded meat. Dambu Nama meat easily complements Tuwo Shinkafa and Masa, the first two recipes.
Do not forget that the meat needs to be very tender. You will need to boil it for at least 2 hours on medium heat. It should almost melt in your mouth.
Ingredients
Beef – 3 kilos
Salt
Sugar
Pepper
Red pepper
Spice seasoning
Stock cubes
Onion
Hot chili pepper
Ginger powder
Groundnut oil
Preparation Method
Firstly, trim off all visible fat from the meat. It should be clean muscles with no fat at all.
Then cut the meat into big chunks. Rinse the meat and put it into the pot.
After that, get the ingredients together like red pepper, stock cubes, onions, salt, sugar, and cook on medium heat till tender.
Fourthly, you can transfer the meat to the cutting board and shred it properly, then, put it in a large bowl.
Now, add one more stock cube, Ginger Powder, Hot Chili Pepper, and Suya and mix thoroughly.
Finally, get a frying pan and add some oil with the shredded meat and pepper. This does not take much time to cook.
Thus, once the meat is fried, you will need to remove it from the heat straight away.
You don't need the meat to be over baked. That's all! You're Dambu Nama is ready