Herbs And Oils Mix for Bigger Hip & Butt? 'Rubbish,' says Expert
Herbs And Oils Mix for Bigger Hip & Butt? 'Rubbish,' says Expert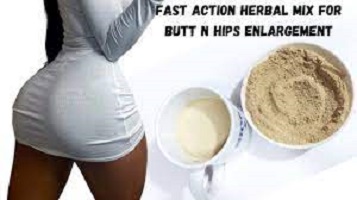 Many women pay particular attention to their breasts and bums for various reasons; not just because they are important bodily parts, but also because these sexual organs are vital to their attractiveness to men.
Related >>>>
Herbs And Oils Mix for Bigger Hip & Butt? But why?
Some women may resort to using various methods to increase these body parts, such as breast enlargement cream and pills and buttocks enlargement surgery, out of a desire to impress or boost their confidence level.
The bigger the better for some younger people, while enormous breasts and bums for some spouses would improve their husbands' appetite for intimacy, especially since men are moved by what they see.
Although some people do it because their breasts haven't fully developed, this is in the minority, according to reports.
However, while some people can successfully increase these bodily parts through surgery, rather than using (expensive) tablets, specialists have warned that going under the knife to enlarge these organs carries inherent risks.
Herbs And Oils Mix for Bigger Hip & Butt? Any Risk?
Such individuals are frequently asked to sign consent documents to ensure that they have been briefed on and understand the potential dangers and complications that may develop.
First, let's talk about breasts. Aside from the astronomical financial expense, several studies have shown that there are frequently difficulties that arise after the procedure, necessitating repeated surgeries to correct the resulting complications.
I Read from this popular blog in Nigeria with a video to support the claim: https://www.lindaikejisblog.com/2021/12/multiple-women-unable-to-sit-on-a-plane-after-getting-butt-surgery-video.html
Sitting position for bigger hips – Multiple women 'unable to sit on a plane after getting butt surgery. Remember ladies, if you're getting a BBL (Brazillian Butt Lift) don't forget about the flight home.
I also read this from a popular blog site in Nigeria: https://guardian.ng/features/health/no-evidence-egg-yolk-cucumber-and-shea-butter-mix-firms-up-breasts-2/ and I quote:
'Natural Treatment for Hips and Butt Enlargement," read a message posted on Facebook. It claims a mixture of powdered fenugreek, fennel, cumin, and maca ingredients, mixed with almond oil, olive oil, and honey, will increase the size of hips and buttocks.
The message says women should drink a boiled version of the mixture and apply a paste of it to their breasts and buttocks.
Herbs And Oils Mix for Bigger Hip & Butt? Are these home remedies, however, backed up by science?
If necessary, seek the advice of a professional cosmetic surgeon,' According to experts While the ingredients may have nutritional benefits, there is no evidence that the remedy works.
The seeds, leaves, and roots of the fenugreek plant, for example, a herb related to soya that is commonly used as a flavoring agent, are considered therapeutic herbs with possible health advantages.
Also used to treat respiratory and gastrointestinal problems are extracts from the fennel plant, a perennial herb in the carrot family.
The assertion, according to Peter Olaitan, a professor of burns and plastic surgery at Nigeria's Ladoke Akintola University, has no scientific validity.
"That's rubbish." He claims that such a mixture "doesn't enlarge hips and butts."
The assertion, according to Olaitan, who is also a reconstructive surgeon, should be ignored, and ladies who want to change their body structure should consult certified cosmetic surgeons.
"These days, people publish all kinds of [remedies] on social media. "We must all exercise extreme caution," he stated.
A similar claim that a mixture of eggs and shea butter will tighten up women's breasts had been refuted by Africa Check.
Reference: