How to Prepare Jollof Rice with Chicken
How to Prepare Jollof Rice with Chicken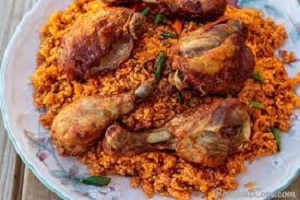 JOLLOF RICE with CHICKEN is an easy yet juicy one-pot dish liked in West African countries.
It's overflowing with flavors from the tomato sauce, scotch bonnet, paprika, and the juices coming off from the well-seasoned chicken thighs.
Serve it over regular nights or as a main course during the holidays!
This spicy jollof rice recipe with chicken drums was inspired by my mini chef's desire for chicken with jollof rice.
It's a one-pan meal derivative of the ever-popular Nigerian Jollof Rice with chicken (Please click here).
And because we always love Jollof Rice with chicken, why not make them both in one pot then? It saves time, and lesser clean-up. Not to remark that it's a family favorite!
In a single pan, you'll prepare the whole meal – rice, chicken, and veggies. What else would you ask for?
Why you'll Love This Jollof Rice with Chicken Recipe
It's really tasty;
It's made with simple ingredients;
There are no superfluous ingredients!
The rice cooks in one pot!
The chicken is tasty.
The chicken can be fried or baked.
It's a dish that impresses!
Recipe for Jollof Rice with Chicken Breast
I've seen recipes advertised as easy Jollof Rice recipes that use ingredients that aren't native to Jollof.
Also, soggy Jollof rice is not the way to go. Authentic Jollof Rice should be fully cooked and fluffy. It's not mushy.
Essential Ingredients
Long Grain Rice: I used Jasmine rice for this dish. Basmati rice and parboiled rice are also excellent choices for Jollof rice.
Tomatoes: Fresh tomatoes combined with tomato sauce or paste make amazing Jollof rice.
Use Roma tomatoes since they are less acidic than other types of tomatoes. Jollof Rice should be tomatoey, but not acidic from the tomatoes.
Onions: Add flavor to Jollof rice with onions.
Oil: Used to sauté onions and make tomato sauce. Any oil with a neutral flavor will do. Light olive oil, vegetable oil, peanut oil, or canola oil all work nicely in Jollof rice.
Chicken: This is essential for flavoring the use. Ideally, the stock used to cook Jollof Rice should come from the cooking of the chicken or beef that will accompany the rice.
Stock Cubes: Stock cubes, often known as bouillon cubes or Maggi, are essential for flavoring Jollof Rice.
Garlic and Ginger: The combination of garlic and ginger does wonders in making Jollof Rice delicious. Do not skip it.
White pepper, bay leaves, dried or fresh thyme, basil, parsley celery, fresh or dried rosemary, curry powder, habanero (or scotch bonnet pepper for heat), smoked paprika or regular paprika, and smoked paprika or regular paprika are some other ingredients that could really take your Jollof Rice to the next level.
Jollof Rice and Chicken Recipe
In this Jollof Rice recipe, I did not use all of the ingredients indicated above. For a taste boost, I combined the main ingredients with some herbs and spices.
I'd like to share with you a variety of herbs and spices that you might use in your Jollof Rice.
Nigerian jollof rice with chicken Recipe
Here are the methods for making Jollof Rice with Chicken drums in a nutshell:
Season the chicken with garlic and ginger paste, onions, salt, and white pepper. To make chicken stock, cook the chicken with seasonings and water.
Remove the chicken from the liquid and either fry or broil till golden brown in the oven.
Puree the tomatoes until they form a paste.
Sauté the onions, then add the cooked tomatoes and tomato sauce or paste. Cook until the tomatoes begin to shrink and adhere to the bottom of the pot.
Stir in the dried thyme, garlic and ginger paste, and white pepper. To blend, stir everything together.
Pour in the chicken stock and water. Combine the salt and chicken bouillon powder in a mixing bowl.
Include washed
Pour in the rinsed rice, cover, and simmer on low heat until the rice is fluffy.
If preferred, add carrots and green beans to the rice. Serve Jollof Rice with chicken and salad
How to cook Ghanaian jollof rice with chicken
Easy Ghana Jollof Recipe: Steps to Preparing Jollof Rice the Ghanaian Way
In this piece, we bring you the Ghana Jollof Recipe in simple and easy steps. Read on…
Ingredients for a serving of 3-4 persons
500 grams of rice (about 2½ – 3 cups)
6 large fresh tomatoes and 3 tablespoons of tomato puree
2 medium-sized onions
5-8 fl. oz of vegetable/groundnut/olive oil
500 grams of chicken (you can use any other desired type of meat or fish)
2 fat cloves of garlic and 1 small ginger root (amount optional)
Spices e.g thyme, curry, nutmeg, bay leaves (optional)
4 chilies/red pepper (reduce or add more as desired)
2 stock cubes
1 or 2 tablespoons of ground crayfish (optional)
Veggies – Green pepper, green beans, peas, carrots (optional)
Salt
Steps
Chicken Preparation
Firstly, wash the chicken and put it in a pot
Then, add salt, about one teaspoon depending on the quantity
Thirdly, blend half an onion, 1 clove of garlic, a small piece of ginger, and pepper; add the mixture to the meat (you may choose to slice the onions instead of blending them)
Then, add 2 stock cubes and other spices/seasonings of your choice, add water also so that the chicken is halfway submerged
After that, steam on a moderate heat for about 10 minutes
Lastly, pick out the chicken from the stock and deep fry it to get a golden brown color
Preparing the Stew/Gravy
Firstly, blend the tomatoes together with the other half of the onion, the remaining ginger, garlic, and pepper
Then, slice the other onion and add part of the oil used in frying the chicken in a dry pot and fry the sliced onions for 2 minutes
After that, add the tomato puree to the fried onions and cook, stirring it continuously for about 6-8 minutes for the moisture to dry up and also to remove the sour taste.
Lastly, add the blended tomato mixture and cook for about another 6-8 minutes, stirring occasionally until the moisture is reduced – what you have now is what is called the stew/gravy.
Note: You can use fresh (plum) tomatoes only to make your gravy. At times, the puree is used to give the jollof rice that eye-catching red color.
How to Prepare Simple Jollof Rice with chicken Ghana
Firstly, wash your rice in clean hot water and drain with a sieve (you may want to parboil subject on the type of rice).
Secondly, remove some of the stew/gravy (this is done for 2 basic reasons – to avoid burning or if there is a need to serve the rice with some gravy beside it.
Thirdly, pour the chicken stock into the gravy; and add a little more water if you feel the stock is not sufficient to cook the rice; add a little more spices if you wish; add the crayfish if you wish, and cook till it boils. Stir and taste for salt and pepper
After that, pour in the rice and stir until it is properly mixed with the stew with nothing sticking to the bottom. Cover the pot, first with a kitchen foil and then the lid.
Allow cooking on reduced heat for about 10 minutes or until the water is dried up (if you do not want to serve the gravy with the rice, pour it in a few seconds before all the water is dried up and stir).
Then, add the chopped veggies (if you have any) into the rice, stir and bring down. Your delicious Jollof rice with chicken Ghana is ready!
You can serve your jollof rice with fried rice and chicken with fried plantain and a crisp green leaf salad on the side. Enjoy!
Authentic Liberian Jollof Rice with Chicken
Jollof rice is a common meal in many West African countries, as well as Liberia, with regional disparities.
Basically made with meat or fish, it also can become vegetarian by leaving out the meat.
Ingredients:
1/2 c. vegetable oil
1 lb chicken, shrimp, fish, or other meat
3-4 c. water or stock
½ c. onion, finely chopped
4 cloves garlic
½ c. green or red pepper, finely chopped 2 cups long grain rice
1 6-oz. can of tomato paste
1 16 oz can tomatoes, diced
2 chopped carrots
1 c. green beans
1 c. shredded cabbage
salt
½ tsp. black pepper
½ tsp. thyme
1 tsp. crushed red pepper or fresh chilies
½ tsp. ground ginger or allspice (optional)
Vegetable optional: you can also add any vegetable of choice or from the following: mushrooms, eggplant, squash
Directions:
Firstly, saute the chicken in a skillet, meat or fish in ¼ c. vegetable oil. Then, take away from heat and put aside in a larger pot.
Secondly, add 2-3 cups of stock or water to the chicken and simmer for 20 minutes. Meanwhile, saute onions and green or red pepper until soft in oil, 4-5 min; then add garlic and saute 1-2 min longer.
After that, stir rice into the onions and peppers, and then add tomato paste, stirring to coat the rice and give it a reddish hue.
Meanwhile, add chopped tomatoes, and let them cook down for several minutes. After that, pour this blend over the chicken, and add carrots, green beans, cabbage, and spices.
Lower the heat, cover and simmer for 20 minutes lastly, serve on a platter, garnish with sliced hard-boiled egg, cilantro, or parsley.