Nigerian Corn on the cob: How to cook by Boiling
Corn on the cob can be prepared in so many ways. There are about 6 different ways of cooking fresh corn on the cob namely:
Microwaving
Steaming
Boiling
Pressure cooking
Oven roasting
Grilling. These are the many methods to change the kernels into sweet and tender bites.
The method you prefer for cooking is built on what's most suitable, the population you are serving, and what taste profile is chosen.
Please Read: Corn Pudding: Nigerian Steamed Corn Moi Moi
Oven roasting and grilling are the most hands-on methods for feeding a crowd and adds the most flavors.
Steaming, microwaving, boiling, and pressure cooking delivers the same textures, giving plump and juicy kernels.
After trying so many methods, I came to the decision that my best way to cook fresh corn on the cob is by boiling.
Boiled corn is simple to make, all you need is your fresh corn, salt, and water.
Two ears per person may seem like a proper serving, but appetites run high when corn is in season and freshly picked.
Corn on the cob makes the perfect side dish to, umm, everything. You get the benefits of a vegetable, with the taste of a dessert!
Best Way to Prepare Corn on the Cob
Firstly, carefully remove all the peels and the silk from the corn into a bowl and rinse with water.
Secondly, place the corn in a large pot and add enough water to completely cover it.
Thirdly, cook the corn for 10 minutes and lift the side facing up with a tong downward so that it cooks evenly.
After that, cook the corn for 20 minutes on high heat until it becomes soft; you can pick one of the seeds with a fork to taste if it is soft.
Now, add a little salt to taste if you love your corn with a taste of salt
Lastly, sieve the corn from the liquid and serve with African bush pear (Ube) or fresh coconut.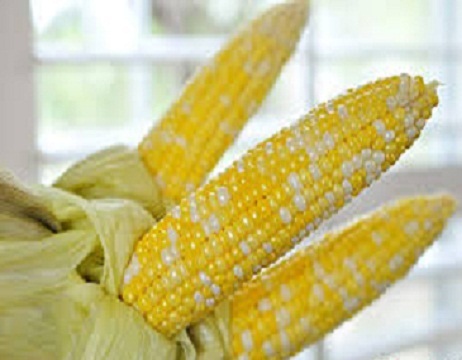 Please Note:
There are so many fun ideas for how to top corn
You can enjoy with a pat of butter and a generous seasoning of salt and pepper.
You can boil the corn with the husk and remove the husk when the corn is ready or you can remove the husk before boiling.
It is better to buy corn in the husk because it is fresher than pre-husked corn
Variation
One of the most delicious and creative ways to cook corn is to boil it with a cup of milk and a half cup of butter.
If you haven't tried cooking corn this way, you should give this delicious recipe a try!