Okpa Recipe: How to make Nigerian 9th-mile Okpa Wawa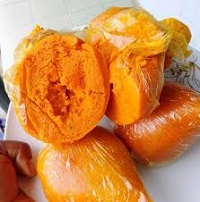 Okpa (made with Bambara nut flour) is an amazing quick recipe, especially for busy Weeknights.
Okpa food is a healthy low-fat dish, Full of flavor, low on fat, and ready in 60 minutes or less!
This simple, satisfying snack is so fast to prepare and very delicious, you'll make them again and again.
What Is Okpa?
Okpa is a traditional Eastern Nigerian dish made using a unique type of bean (Bambara bean).
Bambara Nut/Okpa Indigenous Names
Okpa seed is the Igbo word for Bambara groundnut, Other Igbo names for Okpa are Igba and Ntucha, in Hausa language it is Gurjiya or kwaruru.
Because it is a traditional African meal, okpa does not have a generally accepted English name [What do you think okpa is called in English?]
Igba is also the name of a boiled pudding made from this nut. It is a popular street meal in Nigeria's eastern regions, while other major cities are quickly catching up.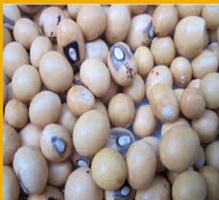 Bambara seed is inexpensive and filling, making it a lifesaver when you're on the road and need affordable, healthy, delicious food. It's also great for dieters and diabetics.
Okpa is undoubtedly a symbol of Enugu State, Nigeria, and there are several locations known for serving delectable, unadulterated okpa, such as at 9th-mile corner, Oji River, New-Haven in Enugu, and others
The taste cannot be likened to anything I've ever eaten (it has a unique taste that grows on you).
My family has always made it a point to return home for the Christmas holidays every year since I was a child.
Related >>> Christmas Favourite Snack – Nigerian Okpa
When you approach close to the Eastern region, you can't help but notice the swarms of Okpa food vendors and yells of "Buy Okpa di oku, Igba Wawa, Ntucha, buy Okpa Ndi Igbo" that fill the air as soon as you pull into any motor park.
Okpa Enugu is made from Bambara seed, which is a leguminous plant with the scientific name Vigna subterranean. This traditional Nigerian dish is high in protein and a popular snack among Nigeria's Easterners.
The Bambara seeds must be ground into a fine powder numerous times before they can be consumed as Igba. Bambara nuts can be boiled in the same way that groundnuts are boiled.
This snack is popular among travelers, as well as students who eat it any time of the day – breakfast, lunch, or dinner.
Ntucha is a staple food, reasonably priced, and very easy to prepare.
Is Okpa Protein or Carbohydrate?
The protein, fat, and dietary fiber level is high. This isn't surprising, given that 'okpa' is a legume-based (Bambara nut) dish made with a lot of red palm oil.
How To Make Okpa Powder | How to Grind Okpa | How to Sieve Okpa Flour
The shell of a Bambara nut is extremely hard, and only industrial-grade grinders can handle it. The seed must be retrieved from the shell, which must be cracked open.
Okpa flour is made by grinding okpa seeds into powder. It is preferable to purchase flour from a reputable vendor.
I say trustworthy because, on occasion, merchants would mix okpa powder with less expensive items in order to enhance profit.
To be safe, I buy the dry nuts and have them ground and sifted at an extra expense in the market. That way, you know exactly what you're eating and have the peace of mind that comes with it.
The Bambara beans can also be soaked in water for a day or two until the skin softens, changing the water in between till the skin softens enough to be separated from the nuts.
Remove the skin and throw it away. The raw nuts can then be mashed into a paste and used in the same way that skinned beans are used in Moi Moi.
I prefer Ntucha made with okpa flour, or perhaps I'm just used to it. For me, the Ntucha created from the paste is too polished with the complete flavor missing.
Does Okpa make you fat? Is Okpa Good for Weight Loss
Yes, Okpa, like all high-protein foods, is thermogenic and aids in weight loss. Thermogenic foods take longer to digest and need more energy from the body. This can help you lose weight since you will be satisfied quickly and will feel full for a longer period of time, as well as drink more water.
Okpa and Diabetes
The glycemic index values for " okpa " and " moin–moin " for non-diabetics were 78 and 38, respectively, whereas the values for diabetics were 59 and 66, showing that " okpa " is a superior diet for diabetics.
It is also listed under Healthy Nigerian Foods for Ulcer Patients
Health Benefits and Nutritional Values of Okpa Food
The Bambara nut Health benefits covered in this article are discussed as follows;
Helps Prevent Malnutrition
Prevents Insomnia & Weight Gain
Boost Blood's Level
Prevents Bone Diseases
Provides Strength
Contains Antioxidants Which Helps Prevent Cancer
Immune System Improvement
Promotes Health Conditions
Other Health Benefits of Okpa:
Reduces the effect of ulcer
Lowers 'bad' LDL cholesterol levels
Prevents diarrhea and other irritable bowel movement syndromes
Regulates menstrual flow
Health Benefits of Okpa in Pregnancy
Okpa is good for pregnancy because it contains vital nutrients for child development.
Nutritional Value
Crude protein and fat content were within a range from 3.4-10.4 g and from 1.7-8.7 g, respectively. Carbohydrate composition is lowest in 'okpa' (11.6 g)
Calories
Energy: 412 kcal. Fats: 6 – 6.5 grams (g) Moisture content: 1.5 – 2.16 g. Protein: 15 – 20 g.
Recipe for Okpa
Okpa Recipe is straightforward because okpa beans (Bambara Groundnut or Bambara Beans) have a naturally excellent flavor, the trick to producing the best recipe is to use as few additives as possible.
Bambara pudding cooked with fresh flour and no additives will have a rich flavor, a smooth texture, and will stay soft even when cold.
It's a really simple dish, however, the rich flavor is what makes this dish remarkable.
Unless it's a particular preference, don't smother it with more ingredients or add anything that will conceal the flavor. However, whole boiled eggs, scent leaves, or ugu leaf are occasionally included.
This flavor is ruined when people start adding lots of seasoning to the meal.
Bambara pudding needs plenty of palm oil to achieve her gorgeous golden hue. To extract the finest flavor and nutrients, it must be cooked for at least 60 minutes.
Ingredients for Okpa – What Is Okpa Made Of?
4 cups of Bambara seed flour
10 tbsp of palm oil
2 tbsp of grounded crayfish
2 tbsp of blended fresh pepper
3 cubes of seasoning
Sliced uziza leaves
Water
Salt to taste
Okpa wraps (banana or plantain leaves, nylon bag, small plastic or stainless plate) The leaves are ideal since they impart a distinct flavor to the pudding.
Others might decline because the color of the leaf's sips into the fluid, which reduces the yellowish color
However, you can use both nylons and leaves to keep the taste of the leaves while retaining the color.
Method
Firstly, sift the flour into a large mixing basin, then add the ground crayfish, salt, and smashed seasoning cubes and mix.
Secondly, pour the oil into the mixture and work it in with your hands until the color is uniform and yellow.
Thirdly, bring the water to a boil in a pot. It should be lukewarm rather than boiling hot.
Fourthly, while kneading, slowly pour the water into the mixture. The amount of water you use is determined by how you want the finished product to look.
If the texture is very soft, use a large amount; if the texture is on the border between soft and hard, use the adequate amount.
Now, stir in the blended pepper and sliced uziza leaves with a turning stick rather than your hands. When you're ready, set it aside.
After that, bring water to a boil in a kettle. Make sure there's enough water to completely submerge the wrapped Igba.
Thoroughly wash the leaves and nylon.
Then, cut the Ntucha into desired sizes and place them in a pot of boiling water.
Finally, bring to a boil for at least an hour and serve immediately
How Okpa (Bambara nuts) can be best served! What goes well with Bambara pudding.
Bambara nut pudding (Okpa) is cooked using the steaming method and can be taken along with soft drinks common among students – minerals (coke, Fanta, & sprite), tea, moi moi, Pap (Akamu or ogi), soaked garri flakes, bread, and others
Side Effects of Okpa
Constipation is one of the most common side effects reported after consuming Bambara pudding. For some people, constipation can be a major source of difficulty, discomfort, and even disability. For the most part, these are food sensitivity issues rather than incurable clinical conditions.