Buffalo Wild Wings Recipe for Fried Pickles
You'll adore this much-desired Buffalo Wild Wings Recipe for Fried Pickles , which will transport you to a Buffalo Wild Wings sports bar!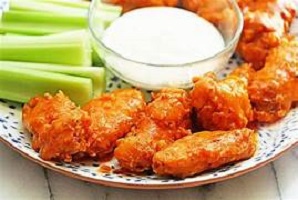 This delicious and nutritious snack comes together quickly and easily. It may be a tasty starter or side dish for your dinner. If you like tangy chips, this recipe for fried pickles is for you!
Checkout >>> Fried Chicken: How to Make Tasty Fried Chicken
Buffalo Wild Wings Recipe for Fried Pickles serves crispy and zesty pickles rolled in a richly seasoned batter and deep-fried to golden perfection for at-home snacking.
It pairs well with a sweet and creamy ranch dip, which adds depth to the dish.
For an authentic Buffalo Wild Wings experience, make this recipe and serve it with homemade Buffalo wings.
A classic pairing is the pickle side dish with the delicious Buffalo wings. The beauty of this dish is that it goes with everything! To make this dish to the next level, dip your fried pickles in your favorite ranch dressing.
What sauce should be served with Buffalo Wild Wings Recipe for Fried Pickles?
Homemade Ranch Dressing: This herb dressing is a smooth, creamy blend of goodness.
Tangy and silky blue cheese dressing It's a great dressing to use.
Avocado Cilantro Ranch: A greenish sweet color is achieved by combining fresh avocado and cilantro.
Buffalo Wild Wings Fried Pickles Recipe
Pickles may be deep fried, baked, or air fried using an air fryer. If you're in the region, the fried pickles at Buffalo Wild Wings are typically delicious.
Ingredients
2 cups whole dill pickles, sliced and drained
½ cup & 4 oz all-purpose flour, divided
¼ cup cornstarch or cornflour
½ tsp italian seasoning
2 tsp cajun seasoning
½ tsp cayenne pepper
Salt to taste
1 cup cold soda water
Vegetable oil, for frying
Detailed instructions
In a wide frying pan, firstly heat 1 inch of oil to 375 degrees.
Then, sift together all of the dry ingredients for the batter in a mixing bowl, then slowly whisk in the soda water until smooth and evenly mixed. Set aside in a cool place.
Now, using a paper towel, pat the pickles dry. Combine the dried pickles with 4 oz all-purpose flour in a mixing bowl. To coat, dredge and toss.
After that, coat each slice in batter thoroughly.
Remove them from the batter with a tong and drop them one at a time into the pan, then fry until golden brown (1-2 minutes).
Using a slotted spoon, remove the fried pickles. Alternatively, you should fish the pickles out of the oil with a mesh skimmer.
Lastly, drain on paper towels after cooling. To drain the pickles properly, you can also use a wire basket.
Instantly serve with ranch or ketchup!
Make sure the pickle slices are fully dry before applying the batter.
To stop limp and greasy fried pickles, make sure the oil is hot enough before frying.