Fried Hot Dogs – How to Fry Hot Dog Perfectly
Fried Hot Dogs – A pan-fry hot dog is a common method of cooking this basic mouthwatering meat because a deep-fried hot dog recipe can be so tasty and flavorful.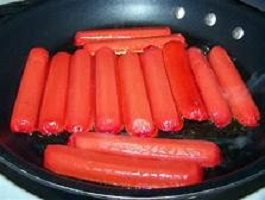 Hot dogs, on the other hand, are already baked, so they aren't technically raw meat and can be consumed as is.
However, depending on the situation, it may be appropriate to reheat your hot dogs; reheating Hotdogs enhances their flavor.
Fried Hot Dogs Recipe – Variety Ways of Cooking Hot Dogs
There are a variety of ways to make and process hot dogs in order to infuse more flavor into the meat, including:
Recipe for pan-fried hot dogs
Hot dogs, boiled
Recipe for grilled hot dogs
Cook a hot dog in the microwave
Furthermore, your hotdogs will taste fantastic regardless of how or in what manner you prepare them.
Ingredients
10 pieces of hot dogs
1/2 cup oil (vegetable)
How to Prepare Homemade Hot Dogs: Step-By-Step Instructions
To begin making deep-fried hot dogs, firstly, pour a sufficient amount of oil or fat into your frying pan.
I used 1/2 cup vegetable oil or soya bean oil to cook 10 hot dogs in a frying pan.
This will improve the taste of your hot dogs and prevent them from sticking to the pan while deep frying.
Then, pour the hot dogs into the hot oil in the frying pan; turn them a few times and cook for 2-3 minutes on medium heat.
Similarly, baked hot dogs are prepared in the same way as pan-fried hot dogs, except without the added fat.
Finally, deep frying your hot dogs will result in a thick layer forming during the frying process, and they will become slightly curved.
Deep fry your hot dogs for 3 minutes in a hot pan. As soon as the color turns golden brown, remove it from the heat.
Serve Sausage Hot Dogs
A fried hot dog is the ideal recipe just like a grilled hot dog,
Please Read >>> Suya – How to Make Suya | Suya Spots In Nigeria 2021
With bread crumbs or fried with cheese, serve them as an appetizer or main dish.
Season them with ketchup, mustard, or mayonnaise for a delicious breakfast sausage recipe, or add eggs for a delicious fried hot dog and egg recipe.