Leftover Mashed Potato Pancakes | Potato Pancakes
Leftover Mashed Potato Pancakes are a quick and easy recipe that only requires a few basic ingredients and can be prepared in under 30 minutes.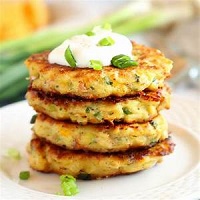 They're great for breakfast, lunch, or even dinner because they're so filling.
On the outside, these simple breakfast appetizers are beautifully CRISPY and golden brown, but on the inside, they're SOFT.
Miniature versions of potato pancakes with leftover mashed potatoes will be perfect as appetizers or side dishes.
The Best Thing to Happen to Leftover Mashed Potatoes Is Crispy Pancakes
Look no further than these potato pancakes leftover mashed if you're drowning in confusion after all the guests have left.
This is a fantastic way to use up leftover mashed potatoes. I've never been a fan of reheated mashed potatoes, but they're delicious when fried in a pan as a potato pancake.
Depending on how many mashed potatoes you have leftover, you might need to change the ingredients.
However, they are one of the best leftovers to repurpose into something different. The most delicious thing you can do with leftover mashed potatoes is to shape them into patties and pan-fry them.
Here's how to bring them together.
Leftover Mashed Potato Pancakes Recipe
How to make potato pancakes with leftover mashed potatoes?
You can easily make a mixture of potato pancakes that can be turned into patties by adding an egg, cheese, and a few chopped fresh chives.
If your original mashed potatoes were already well-seasoned, there's no need to add salt and pepper.
Ingredients
2 cups mashed potatoes
An egg
1 teaspoon ground black pepper
¼ cup dry bread crumbs, or as needed
1 tablespoon oil
Tablespoon butterDirections

Firstly, in a mixing bowl, combine the mashed potatoes, egg, and pepper.

Secondly, fill a small bowl halfway with bread crumbs. With wet hands, shape the potato mixture into 3-inch patties and cover evenly in bread crumbs.

After that, in a nonstick skillet, heat the oil and butter over medium heat and then, cook the potato cakes on both sides until cooked through and browned, around 4 minutes per hand.
Recipe Note: 
Depending on your preferences, you can also add garlic, cayenne pepper, or spices to the mashed potato mixture.
Nutritional Information:
Per Serving:
373 calories; 8.8 grams of protein; 47.4 grams of carbohydrates; 16.8 grams of fat; 101.3 milligrams of cholesterol; 805.2 milligrams of sodium
Storage:
Leftovers can be kept in the refrigerator for up to 3 days in an airtight container.