Christmas Favourite Snack- Nigerian Okpa
Christmas is filled with celebrations and family reunions. Nigerian Christmas is usually celebrated in style, with lots of delicious and
scrumptious home-cooked meals. Travelling for Christmas is another adventure altogether. Going home for the Christmas holiday every year is a must for my family while growing up. On getting close to Eastern region, you cannot help but notice the rush of Okpa sellers and shouts of- buy Okpa di oku, nutritious Okpa di oku, Okpa Ndi Igbo chants that fills the air immediately you stop at any motor park.
Okpa is made from Bambara nut also called Bambara seed or beans a leguminous plant scientifically named Vigna subterranean. This food is very rich in protein and a special snack among the Easterners in Nigeria. Okpa seeds are grounded many times into fine powder before it can be used for food as Okpa. Bambara nuts can be boiled just the same way you boil groundnuts. I made a video of Boiled Groundnuts: 3 Health Benefits You Might Not Know
Travellers like this snack a lot, likewise students who use it for breakfast and even lunch. Okpa is a staple food, affordable and very simple to prepare. During the Christmas holiday, my mum prepares it as a snack, or to be eaten with pap, garri or tea.
3 HEALTH BENEFITS OF MY CHRISTMAS FAVOURITE SNACK – NIGERIAN OKPA
       1.  Okpa flour contains Lysine a vital element that helps in growth development. Lysine aids in the manufacturing of carnitine which helps in the breaking down of fatty acids. It provides energy and lowers the cholesterol level in the blood. Lysine also helps in the absorption of calcium for the proper growth of the bones in the body.
Okpa flour is perfect for the management of malnutrition, especially in children. This is because the nuts have high contents of proteins, carbohydrates, calories and other minerals that enhance the growth of the body.
These nuts are a good remedy for insomnia because they contain amino acids that encourage the release of serotonin from the brain hence bringing about mental peace that leads to the ability to fall asleep.
CHRISTMAS FAVOURITE SNACK- OKPA DI OKU INGREDIENTS
Okpa is very easy to prepare and needs just four basic ingredients;
3Peak milk cups of Okpa flour
15 tablespoons palm oil
Salt (to taste)
Habanero pepper (to taste)
NOTES ON THE INGREDIENTS
Okpa may be easy to prepare, but it needs good cooking skills. Okpa does not require much seasoning hence the ingredients listed above is all you need.
The seeds are hard and can easily be grounded into powder using heavy duty industrial grinder.
Okpa needs a generous amount of fresh palm oil enough to make it pop.
COOKING DIRECTIONS
Pick out specks of dirt/particles from 3 peak milk cups of Bambara seeds. Grind using heavy duty industrial machine to a fine powder. Sieve the powder 3 to 4 times.
Pour the white powered Okpa in a bowl, Make a hole at the centre and pour enough fresh red palm oil.
Mix thoroughly until no white colour or lump can be found in the mixture, then pour warm water gradually until you get the right texture.
Add salt and stir, then add sliced pepper. Seeing strands of red fresh pepper in Okpa gives it a beautiful colour combination (golden yellow and red) and makes it more appealing to the eye.
Now to a major step: wrapping the Okpa! This can be done In 3 ways using:
the banana/plantain leafs
foil paper
Whatever method you choose to use, please make sure that the ends are tied with a string or folded very well before putting wrap in the pot to avoid spillage afterwards.
Cover the wraps with more leaves or plastic bags when you're done with scooping the mixture. Cover the pot, add enough water and cook with medium heat for an hour.
After one hour, your Okpa should be ready for eating. Serve Hot and Enjoy!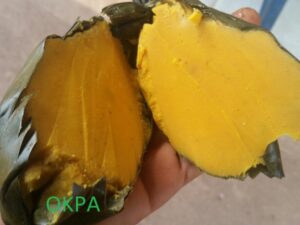 MERRY CHRISTMAS TO EVERYONE!