One Pot Coconut Chicken and Rice Recipe
One Pot Coconut Chicken and Rice Recipe
Creamy, tasty, and flavourful, this Thai-inspired one-pot coconut chicken and rice made is packed with incredible flavor and will become your new favorite 30-minute weeknight meal.
The 30-minute, one-pot Thai coconut chicken rice recipe is best for nights when you crave something warming and tasty without a whole lot of fuss.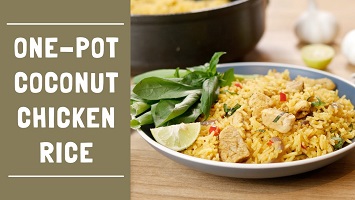 Who doesn't love one pan Thai coconut chicken and rice dinner?
The chicken is soft and covered in a creamy coconut curry sauce and will have you eating bowls and bowls of rice.
This Coconut Chicken also tastes fantastic the next day, making it perfect for meal prepping!
Why not give this creamy coconut chicken a try, I promise you will be making it every week.
One Pot Creamy Coconut Rice and Chicken Recipe
Amazingly flavorful Thai-inspired chicken and rice made in one pan with plenty of veggies, protein, and delicious flavors from coconut milk, garlic-smoked paprika, onion, salt, and bay leaves.
This easy one-pan chicken and rice are great for meal prep!
Ingredients in One Pot Rice:
Chicken: using boneless skinless chicken thighs is remarkable; they cook up like a dream and are full of flavor.
Rice: you can make use of any white rice you'd like for this recipe, any long-grain rice will work great.
Coconut: coconut milk and shredded coconut add flavor to this dish
Smoked paprika, bay leaves, onion, salt, and garlic: these are adding tons of flavor to the dish.
Minced Tomatoes and Pepper: these aren't just garnishes, but taste enhancers, don't skip them.
As soon as you learn this recipe's one-pot technique, you can swap out ingredients conditional on what you have on hand.
Ingredients
3 cups rice
12 pieces of chicken
400ml can of Coconut Milk
Teaspoon each: smoked paprika, onion, salt, and garlic (to season the chicken)
1 bay leaf
1 tbsp coconut Oil
Small minced Onion
Minced Tomatoes and Pepper – to taste
Directions
Firstly, season the chicken with salt and spices
Secondly, place a large skillet on high heat to heat up the oil.
Then, add in chicken pieces and sear on all sides. Add also, onions, tomatoes, and peppers.
After that, stir in coconut milk and rice and season with salt and spices.
Lastly, simmer covered until the rice is cooked through.
FAQs
What is meant by one pot coconut chicken curry meal? Rice, coconut milk Instant Pot
A one-pot meal means that the whole thing is cooked in 1 pan or pot. It makes it simple to cook and clean up. We want more one-pot meals in our life.
What Do I Serve With Coconut Chicken And Rice?
These meals can totally stand alone if you want, but I like adding a side dish of vegetables too.
Green salad, broccoli, or green beans would complement this dish effortlessly.