Peppered Snails-Spicy Nigerian Peppered Snail Sauce Recipe
Peppered Snails-Spicy Nigerian Peppered Snail Sauce Recipe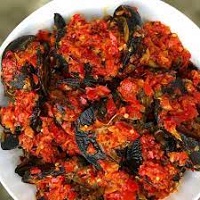 How to make crunchy peppered snails
Nigerian peppered snails make a great finger food or appetizer that will have you licking your fingers!
Sautéed with peppers, onions, and garlic, they're served as little chops at parties and are a crowd-pleaser, with the peppered snail tray being swiftly depleted.
In Nigerian slang, Congo meat is referred to as pepper snail. Though I never got around to asking or finding out why it's called Congo meat as a child, and I'm still intrigued, so if anyone out there knows, please educate us.
Peppered Snail Price in Nigeria
peppered snail is a cheap source of protein in Nigeria and it cut across all the states namely, Lagos, Abuja. Even in restaurants near you
Pepper snail is a spicy Nigerian snail meal that's simple to make and has a savory flavor that defies its ease of preparation.
It is commonly served at upscale Nigerian events and parties where the caterer is eager to show off their gastronomic panache.
Therefore, making you not forget the hot stew taste mixed with just the proper combination of pepper and caramelized onions.
The snails used in peppered snail dishes are giant African snails, which are native to Africa.
The snails used in peppered snail dishes are giant African snails, which are native to Africa.
Snails have a chewy texture and an earthy flavor, and they soak up any sauce you choose to cook them in. Snails have a flavor and texture similar to mushrooms.
If you like oysters and mussels, you'll probably enjoy eating snails as well.
Fresh Snails: How to Clean and Prepare Fresh Snails for Cooking
Cleaning fresh snails may appear to be a difficult task, but it is not. I normally purchase de-shelled and cleaned snails.
Even so, I give the snails a brisk wipe with lemon juice to remove any remaining sliminess.
To clean the snails from scratch, first, boil them for about 5 minutes in a large pot.
Then, drain the water and remove the snails from their shells with tweezers, placing them in a bow.
After that, squeeze some lemon juice into the mixture and set it aside for 5–10 minutes.
Finally, scrub the snails with lemon juice until they are no longer slimy. Lastly, rinse well with cold water.
Health Benefits of Snails
There's a lot to enjoy about snails, no matter which species you eat—they're healthy, nutritious, and delicious, low in both carbohydrates and fat, and some even consider them to be an aphrodisiac and antidepressant.
In reality, for indigenous Nigerian coastal communities like the Yorubas, Efik, and Ibibio, these mollusks provide an important, though inexpensive, source of protein.
Zinc, iron, magnesium, calcium, phosphorus, potassium, and sodium are all abundant in them.
Ingredients used in making peppered snails
Snails: I buy cleaned snails at a seafood market or an African store. Fresh or frozen edible snails are available. I prefer frozen snails because they are usually cleaned when they arrive.
Red bell peppers, habanero peppers, garlic, and onions are among the vegetables. This recipe has a powerful and spicy kick thanks to the habanero pepper!
Bouillon powder, black pepper, ground crayfish, cayenne pepper, and salt are among the spices used.
Ground crayfish is an African condiment that is commonly used in Nigerian cooking. If you don't have any, you can omit it or replace it with fish sauce.
Olive oil for sautéing the vegetables.
Not forgetting that snails are cleaned with lemon.
Ingredients
1 lb snails de-shelled
½ red bell peppers
1 habanero pepper
½ onions
1 tsp crayfish substitute with 1 tbsp of fish sauce
2 tsp bouillon
1 tsp black pepper
2 cloves garlic
1 tsp salt to cook
2 tbsp olive oil
1 tsp cayenne pepper
1 lemon to clean the snail
To cook the snails
Firstly, in a pot, combine the snail, water, 1 teaspoon bouillon, salt, and pepper.
After that, cook the snails for 20–30 minutes, or until they are soft.
Alternatively, fry the snails until they are crispy (about 10 minutes).
How to Make Snail Sauce
Mince the garlic and chop the habanero pepper, bell pepper, and onions.
Then, in a skillet, sauté the onions and garlic in olive oil until aromatic.
After that, combine the red bell pepper, habanero pepper, 1 teaspoon of bouillon, cayenne pepper, and ground crayfish in a large mixing bowl.
Sauté for 5 minutes.
Add the snails, cover the pot, and simmer for about 10 minutes on medium-low heat.
Finally, taste for salt and spices about halfway through and adjust as needed.
Serve and have fun
Serve it as a side dish to Fried Plantains or Jollof Rice if you're entertaining guests or having dinner with the family. You can also serve them with a refreshing beverage.
For parties, serve as Small Chops.