Recipe for 100 Pieces of Cupcakes; 100 Pieces Cupcake
Recipe for 100 Pieces of Cupcakes ~ 100 Pieces Cupcakes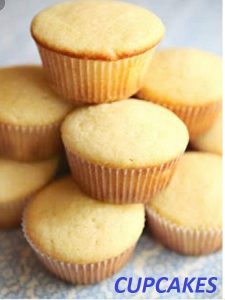 Cupcake Recipe for 100 Pieces; Bulk Cupcakes
Having a go-to cupcake recipe will come in handy for a variety of occasions throughout the year!
Cupcakes are typically one of the first recipes that new bakers learn to make, whether as a child or as an adult.
Cupcakes are extremely simple to make from scratch, requiring only a few simple ingredients.
Recipe for 100 Pieces of Cupcakes Ingredients
5 jars of butter
5 cups sugar
1 crate of eggs
10 cups flour
2 ½ tsp baking powder
Flavour (lemon zest)
Steps
The first step is to combine the butter and sugar in a mixing bowl and whip until soft and fluffy.
All you have to do is add the eggs and flavoring to the whipped butter and thoroughly mix them in.
Another thing you should do is sieve the flour and add it gradually so that you have a free-lump batter
Now is the time to preheat your oven, then put the cupcake papers in your cupcake pan, use a spoon to pour the batter into the papers, and bake it for 20 minutes.
When the cupcakes are ready they will have risen and be a golden brown color.
An Easy Cupcake Recipe ~ How to Make Cupcakes
Ingredients
125g butter softened/margarine
125g caster sugar
2 large eggs, beaten
125g self-rising flour
1tsp vanilla extract
Instructions
Firstly, preheat the oven to 180°C
Secondly, in a mixing bowl, combine the butter and sugar. Incorporate the beaten eggs and vanilla extract.
After that, sift in the self-rising flour and stir until combined.
Then, fill the cupcake cases halfway with the mixture and bake for 20 minutes in the oven.
Lastly, when the cupcakes are done, they will rise and golden brown in color.
If in doubt, test for doneness by inserting a metal skewer/cocktail stick and seeing if it comes out dry.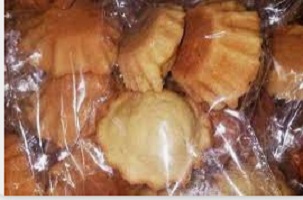 Commercial Cupcake
Ingredients
500g Flour
350g Sugar
500g Butter
450g Eggs
1Tablespoon Baking Powder
2 Teaspoon Butterscotch flavor
2 Teaspoon vanilla Flavour
½ Tablespoon Preservative.
This gives you 70 pieces of queens' cupcakes for N100
Method
1) Firstly, grease and flour your cupcake pans, or line them with cupcake liners.
2) Preheat the oven.
3) After that, sieve the flour into a mixing bowl and add the ingredients all at once. (Butter, eggs, baking powder, sugar, preservatives, and flavorings.)
4) Then, set your timer and turn on your mixer, then go to high speed and cream it until done. The batter will be light and fluffy, almost white in color.
5) Afterwards, pour your mixture into a prepared Cupcake Pan and bake for 15-20 minutes.
Please keep in mind that baking Cupcakes does not require much time.
6) Then, allow the cake to cool completely before removing it from the pans.
7) Lastly, place it on a tray and cover it with a clean towel to prevent drying, allow cooling completely before Packaging it
Other queries related to Recipe for 100 Pieces of Cupcakes
Recipe for 100 pieces of fish roll
Samosa recipe for 100 pieces
Recipe for 100 pieces of egg roll
Recipe for 100 pieces of buns
Spring Rolls Recipe for 100 pieces
Sand Pie Recipe for 100 pieces
Recipe for pie crust mix
Recipe for 50 pieces of cupcakes
Puff Puff Recipe for 50 piece
Recipe for 50 pieces of samosa
Recipe for 50 pieces of buns
How much does it cost to make 100 cupcakes?
The ingredients for a standard yellow cake cupcake with white frosting will most likely cost around $.45 per cupcake.
It should be noted that this does not include the cost of baking it or the cost of baking pans. So the average cost for 100 plain frosted cupcakes would be around $45.
How many eggs for 100 cupcakes
1 create egg
What do I need to start selling cupcakes?
How to start a cupcake business: The ultimate guide
Choose a cupcake business format
Write a business plan
Choose a business entity
Choose a business name
Find the right location
Get the appropriate licenses and permits.
Register for taxes and obtain an EIN.
Brand your cupcake business
Separate your business finances
Secure business funding
Master your recipes
Get Social
How do you preserve cupcakes for sale?
What is the best way to store cupcakes? Always keep them in an airtight container to prevent contamination and drying out from the air.
They can be stored at room temperature and out of direct sunlight for a day.
What does it require to start a cupcake business? How much does it cost to start a cupcake business?
Depending on the size and equipment requirements of your retail space, the cost of constructing a bakery can range from $30,000 to over $100,000.
Finding a space that was previously used for food services, such as another bakery, a pizza shop, or a restaurant, is a good idea.
How do you monetize cupcakes? How do you make money off cupcakes?
You might want to start selling your cupcake creations online or at local events before opening a physical store.
You can profit from your cupcakes by charging enough to cover your costs of production.
To remain competitive in the market, compare the prices charged by other cupcake vendors.
What should the price of a cupcake be?
However, if you still need a starting point, consider this: Set the price of a standard-size cupcake at $2 to $2.25.
Naturally, this is dependent on your ingredients and market.
Do I need a food hygiene certificate to sell cupcakes?
You do not need to register as a business or plan for an EHO inspection if you are planning a one-time bake sale for a charity or good cause.
However, the Food Standards Agency still recommends that home bakers learn about food safety, even if they only sell cakes on occasion and do not intend to profit from them.
Is it profitable to sell cupcakes?
Starting a cupcake business can be a lucrative venture. You can achieve great success with proper planning, execution, and hard work.
The following sections will teach you how to start a successful cupcake business.
Importantly, completing your business plan is a critical step in starting a cupcake business.
How do I start a cupcake business from home?
Let's get started.
Draft a Solid Business Plan
Obtain License and Permits for Food Businesses
Learn How to Bake Professionally
Complete the Necessary Baking Tools And Equipment Needed
Come Up With a Good Marketing Strategy
Get Baking With Sweet Artist Academy