100 Easy Picnic food Ideas for Couples, Family, Friends, & Kids
100 Easy Picnic food Ideas for Couples, Family, Friends, & Kids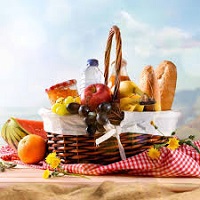 A picnic is a pleasant outing or a type of excursion in which a packed meal is eaten outdoors with friends and family.
At a picnic, everyone gathers in an open area, such as a park, a beach, or a resort with enough open space for fun activities
Growing up, I was always a fan of elegant picnics. Who doesn't, after all? Best picnics are always involved in some of the happiest childhood recollections.
It's usually a fun-filled experience whether it's with family or friends enjoying basic meals ~ snacks or fancy sandwiches, picnics in the backyard, or a park outside of town.
It's also a wonderful way for kids to spend quality time with family and friends. People who go on luxury nice picnics cook food and eat lunch together, play games, and spend the entire day having fun and making memories.
What is the Purpose of Picnic? Picnic food Ideas
We can improve our physical health by spending time outside. Children with respiratory issues, such as asthma, benefit from breathing fresh air on a picnic outing.
Vitamin D and calcium absorption are aided by a picnic on a sunny day, which helps to create strong bones and teeth and avoid disorders like osteoporosis and rickets.
What To Bring on a Picnic Date ~ Picnic food Ideas
1. Old-school picnic basket.
2. Insulated cooler for things that need to stay cold
3. Cheese knife
4. Umbrella
5. Serving spoons
6. Wine glass
7. Bottle opener
8. Cloth napkins
9. Trash bag
What Food Do You Bring on a Picnic Date? Nigerian/African/English? Picnic food Ideas
Picnics are all about taking advantage of the beautiful weather, environment, excellent company, and delicious food.
And so, to make your last-minute food picnic ideas more extra special, gathered here are Picnic Food Ideas to bring in your next picnic getaway. Quick and easy to make comfort foods that will surely bring joy to everyone. (Also see my collection of 15 Best Nigerian Finger Foods that Upgraded to Small Chops for other choices.)
Let's go!
Healthy Nigerian Picnic Snack Ideas ~ Picnic food Ideas
Fruits
Vegetables
Sandwiches
Cakes
Baked Samosa
Chicken Balls
Banana Bread
Over-ripe Plantain Waffles
Doughnuts
Roasted Potatoes Wedges
Crunchy Fried Chicken
Fish Barbecue
Fruit Juice
Salad
Yogurt
Bread
Popcorn
Cookies
Pie
Sausage rolls
Pizza
Chocolates
Nuts
Roasted pumpkin seeds
Hot Picnic Finger Foods ~ Simple picnic nibble ideas
Sausage Rolls
Chicken Tortilla Pinwheels
Flaky Homemade Biscuits
Homemade Tortilla Chips
Beef Empanadas
Lemon Blueberry Scones
Eggs
What can vegetarians eat at a picnic? Good vegetarian picnic food ideas
Nut butter with fruit.
Cheese sticks. Cheese sticks are a portable and convenient snack perfect to help curb cravings on the go
Bell peppers with hummus.
Roasted chickpeas.
Popcorn ~ easy recipe
Yogurt with fruit
Kale chips.
Picnic Drink Suggestion ~ Picnic food Ideas
1. Lemonade
2. Orange juice
3. Southern sweet tea
4. Homemade pineapple juice
What Should I Make for a Picnic Date? Romantic Picnic Food Ideas ~ Picnic Date Ideas
Egg salad sandwich
Pita bread
Watermelon salad
Chicken and salad sandwich
Sandwich with tuna salad, cheese, tomatoes, and avocado
Cucumber sandwiches
Chicken sandwich
Scotch eggs
Caribbean potato salad
Chicken Tortilla Pinwheels
Sausage rolls and chicken
Fresh spring rolls
Pasta salad
Focaccia Bread
Chicken Dip
Mango Salsa
Chocolate chips cookies
Homemade Tortilla Chips
Grape Salad
Picnic Ideas for Couples ~ Places for Romantic Picnic Ideas
Local lake or beach
Backyard
Stargazing
Canoeing
Rent a rowboat
Frisbee golf
Picnic Food Ideas for Couples
Make a wine and cheese toast.
Make a sandwich for yourself.
Host a barbeque
Bring a box of chocolates to share.
Prepare a home-cooked dish
Participate in some online cooking class
Take some pictures
Picnic Ideas for Family
Regardless of where you find yourself, it is vital to eat with your family.
There's something fascinating and enjoyable about taking your favorite foods, fruits, and snacks outside and choosing the ideal area to sit and enjoy them.
Picnics with the family is indeed a great way for families to bond.
Family Picnic Food Suggestions
With the Picnic snacks idea and drink suggestion listed above, add it to this
Cucumber salad meal
Goat-cheese ham sandwich
Oven-fried chicken drumsticks
Grilled corn salad
Tuna pasta salad
Family Picnic Ideas
Bring a meal from home
Host a barbeque
Share a box of chocolates
Play question tags
Drink a homemade pineapple juice
Dance to countryside songs
Eat a sandwich all together
Prepare a home-cooked dish
Take some pictures
Picnic Food Ideas for Friends
Make a delectable meal by stacking bacon, spinach, ham, sauce, and cheese on a picnic baguette, or make a vibrant vegetable sandwich.
Picnic Ideas for Friends Activity
Play the ring toss game
Have drawing Contest
Play a hide and seek game
Play truth or dare
Sit in a circle and play a keep the ball in the air game
Walk around in twos talking about life issues
Take photos together
Picnic Ideas for Kids
Banana cake
Pizza whirls
Sausage rolls
Chicken kebabs
Fruit kewas
Tuna salad with pasta.
Fruit Pizza
Savory muffins
Picnic Ideas for Kids Activity
Get a flapjack- This is a great choice for a picnic and it is a fun and quick way to make up with the kids.
Come along with a homemade dish
Create an art competition
Play the balloon golf
Have a picnic of popcorn and pizza with a projector to watch a movie
Take some pictures
People also ask
What is good food to bring to a picnic? Sandwich Picnic Food Ideas
Caprese Sandwich. Good picnic food doesn't have to be complicated, and this Caprese sandwich is here to prove it
Chickpea Salad Sandwich
Romesco Cauliflower Sandwich
Fresh Spring Rolls
Tomato, Basil, and Artichoke Picnic Sandwich
Best Egg Salad
Heirloom Tomato Sandwich
Vegetarian Club Sandwich
What is the best thing to bring to a picnic? 7 Easy Things to Bring to a Summer Picnic
Strawberry Pretzel Yogurt Salad Cups
Chopped Chicken Salad with Pickleback Dressing
Easy Caprese Picnic Sandwiches
Strawberry Lemonade Cookies
Creamy Kale Caesar Pasta Salad
No-Bake Oreo Chex Cereal Bars
The Ultimate Three-Meat Picnic Sandwich
What do you need for a simple picnic? These include:
A Blanket.
Napkins
Utensils
Corkscrew
A Bag to Carry Everything
Clean Up Supplies
What do I need for a 2 person picnic? What to bring on a picnic date
Find a fun, old-school picnic basket.
Use an insulated cooler for things that need to stay cold (use frozen water bottles—they acts as freezer packs and you get water out of the deal).
Bring any flatware you need, try to avoid plastic (cheese knife, serving spoons, etc.)
Pack cloth napkins.
What is the most popular picnic food? 7 Best Picnic Foods
Fried Chicken. You would be hard-pressed to find a more perfect picnic food than fried chicken
Pasta Salad. The first thing you need to do when making the perfect pasta salad is to pick your pasta
Lemonade
Brownies
Deviled Eggs
Watermelon
Sandwiches
How can I make a picnic special? 8 Clever Tips for Hosting a Perfect Picnic
Pick the right spot
Pack right
Don't forget about a surface to rest your food
Transport food in Mason jars
Don't forget a cutting board
Pick the right blanket
Make some shade
Pack throw pillows
What food do you put in a picnic basket? Try these healthy picnic basket ideas:
Try yogurt cups and homemade granola.
Pack whole wheat English muffins spread with natural peanut butter.
Pack individual-sized low-fat milk.
Bring fresh fruit like bananas, apples, peaches, or pears, or fruit cups packed in water or light syrup.
What do you do during a picnic? 8 Things to do on a Picnic
Play a game of freeze tag or hide and seek
Children love to run and play with their parents
Go fishing
Play a board game on the blanket
People watch
Have a water balloon fight
Find different types and colors of leaves
Sing Songs
Walk around the park talking about life issues