African Palm Nut Soup ~ Nigerian Banga Soup Recipe
The African palm nut soup is a type of dish made from palm fruit that is popular with the African community. It comes from the Urhobo tribe in Nigeria's Delta state. The palm nut soup has evolved into a continental soup.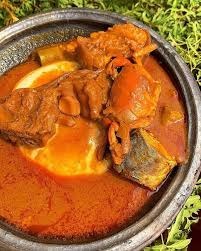 My favorite West African soup is palm nut or palm butter soup. It is a popular meal in many African countries. Try eating fufu and palm nut soup and thank me later!
Related >> How to Make Homemade Soup: Ofe Akwu/Banga Soup
In Nigeria, the Urhobo/Niger-Delta region calls it Banga soup, whereas the Igbos call it Ofe Akwu.
In Cameroon, it's known as Mbanga soup, while in Ghana, it's known as Abenkwan soup, and in Congo, it's known as Moambe soup.
Ofe Akwu, or palm nut soup, is a delightful African delicacy. Made with a creamy palm oil extracted from crushed palm nuts (Locally known as Mkpuru akwu)
Palm Nut Soup Nigerian is packed with many health benefits, nutritional value, and side effects because of the red oil concentrates especially if your diabetic and during pregnancy.
Just be mindful of how to consume because of the calorie content.
The palm nut (also known as palm kernel) is the fruit of the oil palm tree, which you can see in West and Central Africa as well as Asia. It gives this soup a deliciously nutty and ethnic flavor!
Palm Nut Soup Recipe
There are minor differences in how this soup is prepared in different regions, but PalmNut is a common ingredient in all of them.
Banga, or palm nut soup, is a traditional Nigerian dish that requires a lot of effort and time to prepare when it comes to extracting the palm fruit oil – the ofe akwu
Luckily, using store-bought palm fruit concentrate makes this soup easier and faster to cook.
You can as well make palm nut concentrate from scratch if you don't have access to store-bought concentrate.
Though homemade is a little more time-consuming, you can do it yourself with a little patience and some elbow grease, you can do it yourself.
This will necessitate the use of a large mortar and pestle.
How to extract palm fruit oil/juice for Ofe Akwu and Banga soup
Firstly, wash the palm fruits and place them in a pot with enough water to cover them.
Secondly, drain the water from the pot and pour the palm fruits in batches into a mortar.
Thirdly, pound the seed until the husk comes off.
Fourthly, scoop the pounded fruit into a large mixing bowl in batches.
Now, add hot water in batches (water that isn't too harsh on your skin).
Then, squeeze the palm fruit juice from the kernels gently.
After that, strain the squeezed juice into a clean pot using a colander. If you think there's more juice left to squeeze, add some more clean water and squeeze again.
Lastly, boil the juice until all of the water has evaporated. You can use the palm nut concentrate that remains in the saucepan for Ofe Akwu, Banga soup, Peanut Soup, Atama soup, Black soup, and other dishes.
How to make African Palmnut soup 
Ingredients for Palmnut soup
1 can Palm-nut concentrate
2 lbs catfish (some use chicken)
8 oz shrimps
1 tbsp bouillon powder
A tsp cayenne pepper
1 tbsp ground crayfish
½ tbsp Banga spice
1 tsp salt or to taste
Method
If you bought your catfish whole, cut and clean it, or use any protein of your preference.
Then, in a pot, pour the palm nut concentrate – whether store-bought or homemade
Now, cook for 10 minutes after adding the shrimp and spices.
After that, cook for additional 15 minutes after adding the catfish.
Finally, your Banga soup is ready when the oil from the palmnut begins to rise to the surface.