Ofe Nsala with Chicken – White Soup Recipe from Igboland
Ofe Nsala with Chicken – White Soup Recipe from Igboland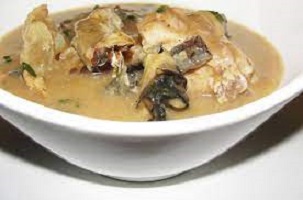 http How to cook white soup
How to cook Nsala soup with meat
Ofe Nsala recipe with chicken and catfish
How to cook Nsala soup with assorted meat
Homemade Nsala soup with chicken meat
How to cook Nsala soup with goat meat
how to make white soup with fresh meat
Related >>>>
Nsala soup recipe is a super delicious and unique soup that originates from the Eastern part of Nigeria in West Africa;
Ofe Nsala also known as the White soup is a delicacy usually made by the Igbos and some parts of Delta state.
White soup is known to be made particularly for women who have just given birth, and also during special occasions.
Basically, Ofe Nsala Soup and pregnancy are mostly referred to as five and six, because pregnant women always look forward to it when they deliver their baby.
So, after pregnancy comes the almighty white soup for nursing mothers
Ofe Nsala with Chicken – Benefits of White Soup
White soup spices have a variety of health advantages and can help with nutrient absorption.
It's been proven that white soup improves circulation and lowers the risk of heart disease.
The things we eat can either help us live a healthy lifestyle or make us sick. Food that is nutritious and tasty contributes to a person's appearance and health.
Meanwhile, this homemade Ofe Nsala soup is simple to prepare and does not require much time to season.
When the chicken is soft, the soup is ready since the next step is to thicken the soup and add the vegetables. This Igbo white soup, on the other hand, is very similar to the Calabar white soup.
Today you will learn the recipe of this particular yummy dish in Nigeria. Find out how to cook Ofe Nsala Soup with Chicken right now!
Ofe Nsala with Chicken – Nsala Soup Variation
Moreover, while catfish are commonly used, it can also be cooked using goat meat, fresh fish, assorted meat, a combination of goat and chicken meat, or chicken meat, like in the recipe below:
Why it is called White Soup
Ofe Nsala soup is called white soup because it doesn't require the use of palm oil or any other oil.
It is just like pepper soup, except that in this case, it is usually thickened. Some people prefer the soup thick, while others like it light and just slightly thick.
Whichever one, your choice is okay and acceptable.
Soup thickeners for Ofe Nsala – White Soup Recipe
Pounded Yam
Achi
Ofor
Ede (Cocoyam)
What to serve white soup with Chicken
You can enjoy the soup with Fufu, Eba, Semo, or even pounded yam. Ofe Nsala with pounded yam is my favorite
How to make Ofe Nsala Soup – Ingredients for Nsala Soup
Chicken
Small-sized raw Yam cubes OR Yam Powder
1 handful chopped Utazi Leaves/uziza
3 tablespoonful ground Crayfish
1 medium chopped onion
20 g smoked/dry fish
3 medium yellow pepper (habanero)
2 Stock/Seasoning cubes
Salt
How to prepare Ofe Nsala Soup – Method

Firstly, set aside the washed chicken, smoked fish, and dried fish. Then, season and cook the chicken with the dried fish, seasoning cube, and salt to taste. Cook until everything is done.
Secondly, peel and cook the yam cubes until soft, then pound to a smooth paste with a mortar and pestle.
Alternatively, if you don't have a mortar and pestle, throw the cooked yam in a food processor/blender, add a little boiling water, and blend until smooth.
After that, add the yam paste in small amounts, stirring constantly, until the paste is completely dissolved and the chicken is cooked through. Add the pepper, crayfish, and smoked fish at this point.
Finally, add the utazi/uziza leaves, season with salt, and cook for 30 seconds.
The Ofe Nsala Soup with chicken is ready. I'm guessing that by now, the aroma would have filled your nostrils. Why don't you try it out sometime soon?