Banana Rice ~ How to make Rice Banana Pudding
Banana Rice Recipe: How to make Rice and Banana Pudding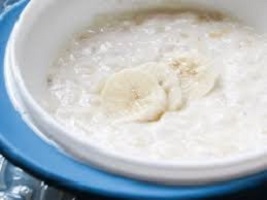 The banana rice recipe is always a wonderful and delectable meal, and only a few high-end restaurants can provide such a delicacy.
The tomato stew, white rice, and luscious yellow banana combine to make a delicious rice and banana dish.
Banana Rice Pudding Diet
African banana and rice diet is a traditional Somali cuisine that is also popular in Mexico; eating rice with banana is one of the greatest ways to enjoy a traditional rice dish that is suitable for lunch or dinner.
Ripe bananas and honey give this creamy rice pudding its sweet flavor. It's a terrific way to make a simple and tasty dessert out of leftover rice.
Make a warm, soothing dish using an overripe banana and leftover rice. It will fulfill your sweet taste while avoiding the use of refined sugar.
Mashed banana rice pudding would be an excellent snack or healthy dessert. Heck, it'd be a great breakfast, too! It is appropriate for both toddlers and adults.
Basically, there are days when you want to eat a banana mashed with rice and enjoy the sweet taste of this delicious combination.
A ripe yellow banana can be used as a side dish in rice dishes, particularly Nigerian Jollof Rice.
However, for this recipe, we're going to make white rice, tomato stew with chicken or beef, and banana as a side dish to go with it. You Can bake as well.
Banana Fruit Nutritional Benefits
Folate, calcium, potassium, iron, magnesium, B6, niacin, and riboflavin are among the vitamins and minerals found in bananas.
This complete vitamin contributes to the appropriate functioning of the human body in order to maintain a healthy lifestyle.
Because of the high potassium level in bananas, they are considered superfruits.
Health benefits of Rice
Rice, commonly known as Oryza sativa, is one of the oldest cereal grains on the planet. It is the primary source of energy, depending on the rice strain.
Rice is high in fiber, vitamin B, magnesium, and iron, all of which are essential nutrients.
It has the potential to contribute to the battle against malnutrition as a result of all of these components.
Health Benefits of Banana Rice
Bananas and rice both have low fiber content and are soft, making them easier to digest and aiding in the binding of other meals in your stomach.
They also provide important nutrients that are lost during frequent bouts of diarrhea.
Potassium is abundant in bananas, which is good for your heart and blood pressure.
Bananas can assist with stomach disorders including diarrhea.
Banana and rice porridge – the Ideal "power food" for your baby.
The milk's calcium promotes good bone growth, while the sweet banana provides a firmer bowel movement.
Ingredients
¾ cup milk
3 tablespoons rice flake (about 20 grams)
¼ ripe banana (about 50 grams)
Steps in the preparation process
Firstly, in a small saucepan, combine 100 ml (about 1/3 cup) of milk and rice flakes. Bring to a boil, stirring frequently, and simmer for another 1-2 minutes.
Then, turn off the heat and pour in the remaining milk.
After that, place a banana on a platter after peeling it and cutting it into pieces. Using a fork, mash the potatoes.
Lastly, combine the banana and rice mixture in a mixing bowl, check the temperature, and feed.
How to Make Banana Rice Recipe
Ingredients
2 cups of Rice (white, Basmati, or Brown rice)
½ teaspoon curry, Thyme each
1 tablespoon ground pepper
1 kg chicken or Beef
2 seasoning cubes
1 sachet of Onga seasoning stew
Salt to taste
2 ripe yellow bananas
2 cups of fresh tomato puree
100mg tin tomato paste
2 large onions (finely sliced)
¼ teaspoon nutmeg
½ cup veg oil
Banana Rice Preparation Techniques
To start with, wash and cook your rice until it is totally soft, then remove it from the fire and set aside.
Secondly, wash the meat and season it with onions, seasoning cubes, curry, thyme, and salt before cooking it until it's soft and delicious.
Then, remove the pan from the heat and fry the meat, if desired; otherwise, set aside.
Thirdly, heat the vegetable oil, add the chopped onions, and fry for approximately 2 minutes
After that, pour in the tomato puree and cook for 5 minutes before adding the tin tomatoes and fry until dry, turning regularly to avoid burning.
Now, add the meat stock and meat, a little water, and season to taste with pepper, Onga stew, seasoning cube, nutmeg, curry, thyme, and salt.
Then, cook the tomato stew for another 10-15 minutes until all of the ingredients are well combined and the stew emits a delicious scent.
Lastly, the stew is now ready to eat. Remove from heat, cover, and set aside for 2 minutes to cool.
Serve and enjoy your meal with 1-2 ripe yellow bananas
FAQ
Is it healthy to eat bananas with rice? White rice vs. banana 
When you have diarrhea, the last thing on your mind is to eat a banana and rice, yet this meal combination is actually helpful for various reasons.
Bananas and rice are two of the most important ingredients of the BRAT diet, which is frequently suggested as part of diarrhea treatment.
Is it true that bananas are healthier than rice? A good combination?
White rice is heavy in calories; however, bananas have 32% fewer calories per 100 grams.
White rice has 130 calories per 100 grams, while bananas have 89 calories.
White rice has an 8:91:2 macronutrient ratio, while bananas have a 5:93:3 protein, carbohydrate, and fat-from-calorie ratio.
Is eating a banana every day healthy?
Bananas are one of the most widely consumed fruits on the planet.
They're packed with essential nutrients, but eating too many could cause more harm than good.
Excessive consumption of any single item can lead to weight gain and nutrient deficiencies.
For most healthy persons, one to two bananas per day is considered a moderate consumption.
Why should you avoid bananas at all costs? Side Effects
Bananas have more calories than other fruits (about 105 calories) and less fiber, so you won't feel as satisfied for as long.
In small amounts, bananas are excellent for your heart, but too many bananas can cause hyperkalemia.
This indicates that you have an excess of potassium in your blood.
Is it possible to combine bananas and rice?
Is banana and rice a good combination?
Yes!
The combination of bananas and rice is good because it is soft and low in fiber, making it easily absorbed and capable of aiding in the binding of other foods in your stomach.
Why is rice pudding nutritious? Healthy
Notwithstanding, rice pudding provides the body with essential vitamins such as B1 and B2, as well as potassium, magnesium, and other minerals.
One portion of rice pudding contains vitamins A, B, D, E, and K, as well as calcium, iodine, and zinc if the rice is cooked with cow's milk.
What kind of rice is used in the pudding?
White Rice
Although some recipes emphasize different varieties or flavors, traditional rice pudding uses White Rice.
Who consumes bananas with rice?
Somalis serve an optional banana with lunch and dinner, sliced up and mixed into the rice or pasta rather than eaten separately.
How to Make Condensed Milk Rice Pudding ~ Rice pudding with condensed milk
Firstly, wash the rice thoroughly, drain and place it in a large saucepan with the water
Then, bring to a boil and then reduce to low heat for 25 minutes, stirring occasionally.
After that add the condensed milk, nutmeg, and cream and bring to a gentle simmer.
Now, simmer for a few minutes, or until the rice pudding reaches the desired thickness.
Lastly, remove from the heat and top with jam.
How to make banana pudding with condensed milk instructions for homemade banana pudding
Place one package of chessmen cookies in the bottom of a 13×9 baking dish. Top with sliced bananas on top.
In a mixing bowl, combine cream cheese and sweetened condensed milk and beat until smooth. Add in the pudding mix and milk. Beat for several minutes, scraping down the sides of the bowl as required.
Fold in the cool whip and spread on top of the banana layer.
Garnish with the remaining package of chessmen cookies. Refrigerate for 4 hours, covered with plastic wrap.