Banana Rice Pudding Recipe – Easy Baby Pudding in Nigeria
Banana Rice Pudding Recipe – Easy Baby Pudding in Nigeria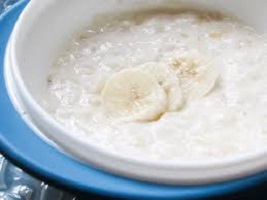 Banana rice pudding is a delicacy made with rice, water, or milk, and other ingredients like cinnamon and vanilla, with freshly sliced bananas and served with whipped cream.
Desserts and dinners are both served with variation so banana rice pudding is usually paired with a sweetener like sugar when served as a dessert.
The essential fact is that the rice you use produces a smooth, creamy and soft outcome. This delicacy is popular in Thai, Japan as well as Africa.
It can also be dairy-free/with condensed milk/coconut milk or caramelized, prepared with a slow cooker, instant pot, or crockpot depending on choice.
Checkout >>>
3 Ingredient Strawberry Banana Smoothie
About Rice and Banana Benefits ~ Banana Rice Pudding Recipe
Rice  
Rice, also called Oryza sativa, is one of the world's oldest cereal grains. Depending on the rice strain, it is the principal source of energy.
Rice contains an adequate source of fiber, vitamin B, magnesium, and iron.
As a result of all these components, it has the capability to contribute to the fight against malnutrition.
Banana
While bananas are high in potassium, vitamin C, and vitamin B6, they also include a variety of minerals and vitamins.
Bananas contain a great deal of potassium.  A potassium supplement or diet can help individuals with high blood pressure by regulating their blood pressure and improving their health benefits.
Health Benefits of Banana Rice Pudding ~ Is it healthy to eat bananas and rice together?
Bananas and rice are both low in fiber and soft, making them easy to digest and aid in the binding of other foods in your stomach.
They also offer essential nutrients that are lost during persistent diarrhea occurrences.
Bananas are high in potassium, which is beneficial for your heart and blood pressure.
Bananas can aid in the treatment of gastrointestinal problems also help with diarrhea.
Nutritional Benefits
While this is a dessert, it does have some nutritional advantages, including over 10 grams of protein and 15% of the daily calcium intake.
Does Rice and Banana Taste Good?
The wholesome banana rice recipe is always a wonderful and delightful dish, and with different flavor combinations, it tastes much better.
An excellent mouth-watering dish rarely fades away, no matter the occasion!
It can be a fantastic breakfast, a wonderful snack, or an excellent healthy dessert, and it is suitable for both adults and infants.
Just a few elite restaurants offer such a delicacy, and you'd love to prepare some yourself.
Banana Rice Pudding Recipe
This is what you'll need to prepare banana rice pudding.
Ingredients
5 cups of white rice
3 fully ripe bananas
A gallon of whole milk
1 teaspoon of honey
pinch of salt
1 tsp vanilla extract
1 cinnamon stick
While serving, add more cinnamon
Banana Rice Pudding ~ How to make Rice Banana Pudding
Rice Banana pudding can be mashed or baked, either way, it does not only taste pretty good, but it also pulls people together and creates a peaceful, comfortable environment.
As the adage goes, some delightful dishes will keep your visitors coming back for more.
Here are some steps to making your really tasty banana rice pudding –
Firstly, in a blender, combine the banana, milk, honey, cinnamon, and salt, blend until creamy.
Secondly, combine the rice and banana mix in a saucepan.
Thirdly, bring the mixture to a boil, then lower to a medium heat
Then, cover with a lid and simmer for 30 – 35 minutes, stirring occasionally until the rice is cooked and the mixture is creamy,
After that, add some water if an extra liquid is required. Remove from the heat and mix with vanilla extract.
Finally, garnish with an additional sprinkle on top.
Rice pudding can be served warm or cold, it all comes down to personal preference.
Most people would prefer their rice pudding warm, but you don't really have to microwave leftovers. Serve your dish with candied nuts or homemade whipped cream on top.
Banana Rice Pudding for Babies
Rice pudding is the best recipe for people of all ages. This weaning rice pudding dish was made with newborns and toddlers in consideration, suitable from 6 months to adult.
It's creamy and delicious, and it's quite simple to make.
Baby Pudding Recipe
1/2 cup of rice (cooked)
1 small ripe sliced banana
1/4 cup of full cream milk
1 tablespoon of raisins
2 tablespoons of apple juice
Cinnamon
A drop of vanilla extract
Rice Pudding for Babies
Firstly, to soften them, soak raisins in apple juice for 15 minutes,
Secondly, in a food processor, combine the rice, banana, milk, cinnamon, raisins, and vanilla.
After that, blend for a minute or two, or until the mixture is smooth.
Lastly, serve & enjoy