St Patrick's Day Cookies: Amazing and Super Easy Recipe
St Patrick's Day Cookies: Amazing and Super Easy Recipe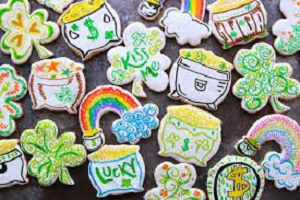 Is there a more adorable way to commemorate St. Patrick's Day than with colorful cookies? Because our simple sugar cookie recipe keeps its shape while baking, you can rest assured that all of your leaves will be perfectly round and defined.
We like to use royal icing to decorate our cookies, but you could also use a simple buttercream frosting for a quick and easy finish.
These are the most adorable St. Patrick's Day cookies I've ever seen. Green, delectable, light, and brimming with the ideal white pebbles (white chocolate chips).
What Is St. Patrick's Day All About? St Patrick's Day Cookies
The arrival of Christianity in Ireland is commemorated on St Patrick's Day, an Irish national holiday.
Ireland is a Catholic country whose patron saint is St Patrick. Every year on March 17th, not only in Ireland but also in the United States, St Patrick's Day is commemorated. I was curious about the connection between the color GREEN and St. Patrick's Day, and I came across this fascinating article.
Why You Need To Make These St Patrick's Day Cookies
These St. Patrick's Day Cookies are a hit with everyone.
Taste amazing – Everyone loves these St. Patrick's Day Cookies
Easy to make – A great cookie recipe to make with kids.
Festive and fun – the bright green color of these cookies makes them perfect for St Patrick's Day get-together or even a class party.
How to decorate St Patrick's Day cookies
Using fondant and the same cookie cutter you used to cut out your cookie is a simple method for making wonderfully decorated St. Patrick's Day sugar cookies.
Recipe:
Ingredients for St Patrick's Day Cookies
¾ cup butter
1 3 oz lime or apple-flavored gelatin
¾ cup white granulated sugar
2 eggs beaten
1 tsp pure vanilla extract
2 drops green food color
2-½ cups all-purpose flour
1 tsp baking soda
½ tsp of salt
1 cup white chocolate chips divided
How to Prepare St Patrick's Day Cookies
In a mixing bowl, combine flour, salt, and baking soda; set aside.
Combine the butter, gelatin, and white sugar in a mixing bowl.
Whisk together 2 drops of green food color, the vanilla flavor, and the eggs until well combined.
Stir in the dry ingredients until they are thoroughly combined (do not over mix).
Stir in a third of a cup of white chocolate chips.
Form the dough into a single ball and chill for at least 2 hours or overnight.
2 hours later preheat the oven to 350 degrees Fahrenheit.
Scoop a heaping tablespoon of chilled dough out of the refrigerator. Place on a cookie sheet lined with parchment paper or a silicon mat, 3 inches apart.
Lightly press down the cookie dough and top with the reserved chocolate chips.
Bake for 15 minutes at 350°F.
Remove cookies from the oven and add more white chocolate chips while they are still warm.
Allow cookies to cool for about 8 minutes on the cookie sheet before transferring to a cooling rack to cool completely.
FAQ on St Patrick's Day Cookies
On St. Patrick's Day, what foods are customarily served?
Corned beef and cabbage is a traditional St. Patrick's Day dish in the United States.
What is the typical Irish St. Patrick's Day dinner?
Without a doubt, there is one meal that we Americans consider to be a must-have for St. Patrick's Day Irish fare: corned beef and cabbage. Cabbage with Corned Beef
What are the St. Patrick's Day customs?
Patrick's Day has been honored in a variety of ways throughout history.
Foods like corned beef and cabbage are prepared, musical gatherings called "céils" are held, and symbols like shamrocks and leprechauns are used to decorate.